Actor Yasir Hussain calls her Pakistan's pride.
Mountain biker and adventure athlete Samar Khan started a much needed conversation on the treatment of athletes in Pakistan after she called out the host of a local TV show for not treating her with respect.
To start with, everyone knows if you are a Pakistani athlete who isn't a member of the national cricket team, you aren't given even a fraction of the respect and admiration you deserve. If you're a woman athlete cut that respect in half.
Khan is a mountain biker and extreme sports athlete. She's also the first Pakistani to summit Mount Kilimanjaro and the Biafo Glaciers in the Karakoram Range on a bike.
She recently posted a video on Twitter in which she spoke about her experience being interviewed on a TV show.
In her caption for the post she revealed some of the conversation with the show's host including where he reduced her achievements to "she rides in all the country". He didn't do the same for the male guest, who got a complete introduction.
Khan didn't name the talk show host or the channel but people definitely wanted her to name and shame.
"The host didn't know my name or profile but they wanted me on their show. I just participated in a race where the athletes were put together in one room like farm animals but the people who were put up in top notch facilities near the slopes were ones who had large fan followings on social media," she said in the video.
"And this isn't the first time. In the past four to five years it has happened often and I'm not the first athlete. It's really common that athlete's races or our shows are are hijacked by people who have a larger fan following on social media," she said.
"I just have one message — if fan following is everything, then send these so-called influencers to championships, to the Olympics so they can get gold medals for you, put them in parliament so that they can make decisions for you just because they have more followers. Call them on TV shows as analysts so they can talk about gender discrimination, law and order, climate change and solve these issues, because with their rising followers, in two days they also get knowledge and wisdom.
"They get degrees from big universities and experience in every professional field. Pakistan will really prosper, because with our priorities as they are, cheap entertainment is everything and fan following is everything, no?" she asked.
"[I have] no more tolerance for bulls**t after going through discrimination all these years!" she wrote in an Instagram post. "When international channels/journalists can research about our profiles before calling us on TV shows or sports programmes, then anyone can do it," she wrote. And she's absolutely right. Interviewing someone without reading up about them first is unprofessional and disrespectful.
This isn't the first time Khan has spoken about the mistreatment of athletes in the country. She has been vocal about the need to support and promote less popular sports.
Actor Yasir Hussain also defended her on his Instagram Stories.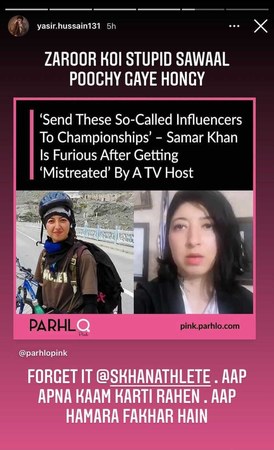 They must have asked some stupid questions, he wrote. "Forget it Samar Khan, you keep doing your work. You are our pride," he wrote.
And she is! Khan is a total badass. She bikes, snowboards and does MMA. She has also been featured in international campaigns representing Pakistan as an athlete.
She has participated in lots of races and has also been spreading awareness about extreme sports in Pakistan.
In 2017 she became the first Pakistani to climb the 6,250-metre Burbucho peak in Shigar district. After her climb, the peak was named the 'Samar Peak'. In 2016 she became the first woman to have cycled on the 4,500-metre Biafo Glacier in the Karakoram Range.
Underrepresentation of women athletes and athletes from lesser known sports is an issue that has been around for a long time.
The real question is why don't we appreciate incredible Pakistanis when they're right in front of us? Why does it take some terrible tragedy or them being highlighted in the international media for us to wake up and appreciate how amazing they are?
Khan is right when she says people appreciate individuals with large fan followings more than others. That's not to hate on influencers or content creators, but there are a lot other people in Pakistan to be proud of too.