"Being in character used to really affect my personal life — so now when I leave work, I leave work. I've learned to let go."
At the corner of a bus-stand near Allahwala Chowrangi, Sheheryar Munawar Siddiqui chases after a girl and her best friend. Like most young ne'er-do-wells, he gets a good piece of her mind. Dejected and shot down — like his ilk, the stubborn roadside Romeos — he persists.
A brief lunch-break and a quick zuhr prayer later, Sheheryar is at it again: this time, replacing his cool-denim jacket and jeans is a shalwar, a gaudy T-shirt and bitingly bright, coloured sunglasses. He runs out of a corner house a few blocks away from our last location on Sharae Faisal, gets on a heavy bike and chases the girl again. This time, she's in a van, returning from college, and his expression is different; he is smiling from ear to ear.
We're at a different point of time, but that's how dramas are shot: non-linearly.
The sets of iDream Productions' drama Pehli Si Mohabbat (PSM) could have been run-of-the-mill… only they're not. The shoot is an unhurried affair — much like the one between Sheheryar and the girl he chases, Maya Ali, his co-star and the female lead of the serial.
It's a simple love story of people you may already know, or maybe you once were, but yet there's something different.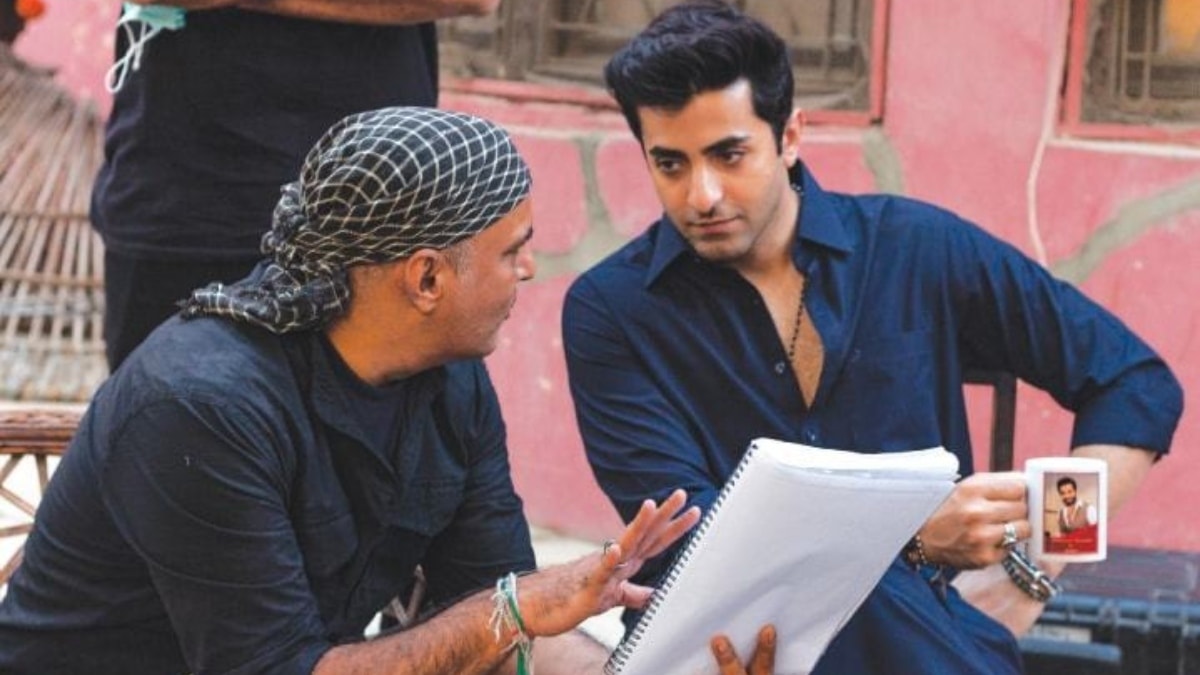 The man I meet on the street, and then at the house, and then a week later at another house, is not the same Sheheryar I once knew. Gone is the shy, earnest, excited young man, who would often ask for re-takes, and whose method-acting approach I appreciated.
In his stead is Aslam, his on-screen avatar for PSM. A cocky, restless, over-optimistic, grandiloquent ruffian with a matching fashion sense. Gone are the retakes and the method acting. In their place is a new, perhaps much better actor.
It is there in the naturalness of his new-found approach. In one particular shot, he gets into a distraught state of mind while the assists prep the lights on set. It hardly takes the actor two minutes to nail the emotion.
Aslam has really taken over Sheheryar on set — and not just with the way he emotes. The actor's sense of humor has taken a dramatic, mischievous 180-degree turn. His crude, tongue-in-cheek banter flies hard and fast at me, without being insulting.
"I am sorry," Sheheryar apologises five minutes into his teasing. "Tell me, have you ever seen me like this? No, right?!? This was Aslam. Sheheryar would have never been able to talk to you like that… but Aslam… well Aslam can," he grins.
That's just great, I tell him with mock-surprise. I had finally attuned my senses to the old Sheheryar, and out pops a new version. Honestly though, I like Sheheryar's new avatar. It's edgy.
PSM's director, Anjum Shahzad (of serials Satrangi, Khuda aur Muhabbat, Khaani and films Mah-i-Meer and Zindagi Kitni Haseen Hai) wants him to perform with a free-flowing, instinctive, promptness he says. I was already pre-warned by Anjum a night before to expect a dramatic change.
"With Anjum I've learned to let things go," he explains. "But only because it is also a part of the character I am playing," he says as I pick up a cup of tea. I notice that that his mug has PHL's Sheheryar — the actor's namesake character — printed on it.
PHL's Sheheryar's was a different extension of the person I knew; in fact, the actor shifts and appends parts of his personality on to his characters, he told me once…but doesn't every actor?
Still, a striking revelation hits me as I notice a particular trend: he mostly plays leading men who are confused about who they are, or what they want from life. Arhan from Ho Mann Jahan was trying to find his way. PHL's Sheheryar was unsure of the relationship he wanted. 7 Din Mohabbat In's Tipu sought the girl of his dreams without knowing who he was searching for. Project Ghazi's Zain was…well, let's not talk about Zain.
Aslam isn't like the others, he tells me. "Sheheryar from Paray Hut Love had a different set of limitations," he starts. In fact, he challenges me to find similarities in the performances of the aforementioned characters from his films. "It's not Shah Rukh Khan doing what Shah Rukh Khan does in a film," he says.
"For Aslam, I enjoyed going free-flow. Anjum said bring your walls down, and I did — I trusted him to bring those walls down with me but, at the same time, I had already etched out my character beforehand, so I knew what my character would be doing, what he wouldn't be doing.
The difference is that [PHL]'s Sheheryar had a smaller margin. His problem was that he kept his emotions hidden, but when he blurts out, he erupts.
"Aslam has this big margin," he says expanding his hands, "and he wears his heart on his sleeve, and I've played him like that: instinctive, reactive, volatile. Sheheryar from [PHL] was controlled. Even when he was flirty, he underplayed that emotion."
There are certain "rules of engagement" in play between creative people, Sheheryar explains — especially when we talk about what's conceptualised in the screenplay by the writer and what's performed by the actor. "In these rules of engagement, there's something called subtext that's apparent in the tone you perform in between lines of dialogue. As an actor, that subtext is my territory."
He gives me a crude example of a scene. When he ends the scene, I ask him if the lines were there in Faiza Iftekhar's script. He tells me that he was ad-libbing at times when he felt like it. "Aslam is hazir jawab, prompt in his replies, so those things were naturally coming to me," he says.
"I've pumped a lot of personality into this character," he adds. "Either the writer will be happy or she'll get a heart attack," Sheheryar laughs.
The personality bit includes a bracelet of beads and threads on his wrists and a locket hanging off his neck, to perfect his half-ruffian look. In the scene with the T-shirt and shalwar, where he chases Rakshi — Maya Ali's character — on a bike, the character didn't have the chance to change. His impulse gets the better of him.
Speaking of Maya, Sheheryar clarifies that their re-casting is a mix of happy circumstances. He had been involved with the project when it just had three people attached: him, producer Abdullah Seja, and Anjum.
Maya joined later, partly because of the script, partly because of the director, and partly because the lead pair had great chemistry in PHL. Because this is a change of pace for television — the show is about innocent love; I am told it's hardly melodramatic — the casting made sense.
Coming back to the conversation at hand: Sheheryar tells me that Aslam's get-up is very important for him but, unlike his last few roles, he doesn't take his characters home with him anymore.
"I needed to have that differentiation [between me and Aslam]," he tells me. "I dress up when I come on set, but when I take Aslam's accessories off, and wear my watch, become clean-cut, I feel like Sheheryar again. Even if it's just to sit in my car and go home. That's my way of getting out of character.
"Being in character used to really affect my personal life — and these past few months, when I went through certain things, I tried to figure out a lot of things. So now when I leave work, I leave work. I've learned to let go, and I am happy about that. I am happier when I go home," he explains.
Although we don't discuss personal lives, I know Sheheryar has been through a lot. In October, the actor had dislocated his shoulder and torn muscles and ligaments in a motorcycle accident on the road between Gilgit and Hunza.
The recovery took time, he gained weight, his hair grew out of control, but he gained perspective.
"People often get confused between wisdom and age. Your experiences, give you wisdom. Baal kabhi kabhar hafton mein bhi safaid hojaatay hain. (Sometimes your hair turns white in just weeks)," he quips.
"I'm speaking in one-liners today," he laughs, retorting to his own quip."I think I was so critical of myself that I stopped enjoying life. I used to worry about a lot of things. Before acting, I was also working as a producer. It was my job to worry," he adds in a sombre tone. "By the grace of God Almighty, I am now at this stage of my life when I am living in the moment," he says, relaxing a bit.
"I am at a good place with my God as well. I used to pray once or twice every day, now I pray five times a day. I've understood the balance."
Sheheryar needn't have told me. On my frequent visits to his set, I've seen him slip away to pray between takes. In fact, now that I notice, God's name is all around the room — literally; huge calligraphy of ayats hang on the walls around us. I am sure it's a sign, as well as a part of the show's production design.
"I think the year has been one of general detox for me," he says. He is consciously making an effort to give up smoking. "This is the year I am switching gears."
I use this moment as a segue to take us into a flashback.
Around the time of PHL's press junket, Sheheryar and I ganged up on Maya Ali and Zara Noor Abbas. The debate we had was this: should actors — especially the ones sitting at that roundtable — work exclusively in film?
Both Maya and Zara were stunned, because at the time both Sheheryar and I believed that there should be some novelty for film-going audiences. Seeing the same faces on film and television doesn't give you much incentive to buy movie tickets. Everything, however, changed with the coronavirus.
"Insaan experiences se hi seekhta hai (People learn through experiences)," Sheheryar sighs. "What I said at that time, was true. But as an actor, as a human being, I have to adapt to the circumstances, otherwise I would stagnate.
"It's like the saying: Peechhay murrh ke nahin daikho, warna pathar ke ban jao gey (Don't look back, lest you turn into stone). I have to look at the future. As an actor, I have to act. Cinema is a habit. When movies open again, it would take time for the audiences to make it a habit again. If that habit takes two years to develop, what would I do in the interim?"
Despite his renewed interest in television, Sheheryar is not writing off making or acting in films. "Right now, acting — and just acting — feels like a vacation. I am going for my second surgery after the fifteenth of this month, then I'll take some time off and think about what I am doing next. Until then, I just want to enjoy Aslam."
This piece was originally published in Dawn, ICON, January 10th, 2021