The narrow, congested lanes of the main Mozang bazaar of Lahore have several tales to tell as part of the old city.
Various small shops line the bazaar, cramped together, selling all kinds of wares from fish and poultry to tobacco and paan. You'll see charpoy makers and hardware stores next to pakorra sellers, standing over large woks of hot oil. It's easy to walk past a shop you're looking for and miss it in this strange medley of sound and smells.
That's exactly what happened while I was looking for Mujahid Taj Din Naan Bakers. Retracing my steps, I found the humble tandoor and learnt of its long-standing tradition and history. The owner, Sikandar-i-Azam, belongs to the third generation of this family business.
Much like his own imposing name that belies his soft-spoken nature, Sikandar-i-Azam proudly tells me the easily-missed naan shop has a prominent history in Pakistan, dating back to pre-Partition: "We have one of Pakistan's biggest tandoors, though it may not seem so from the size of the shop."
It is named after his father Mujahid Taj Din. "My grandfather, Jalal Din, started this business in the 1850s," he tells Eos. "We're a typical Lahori family and all my forefathers and were born and bred in the Walled City."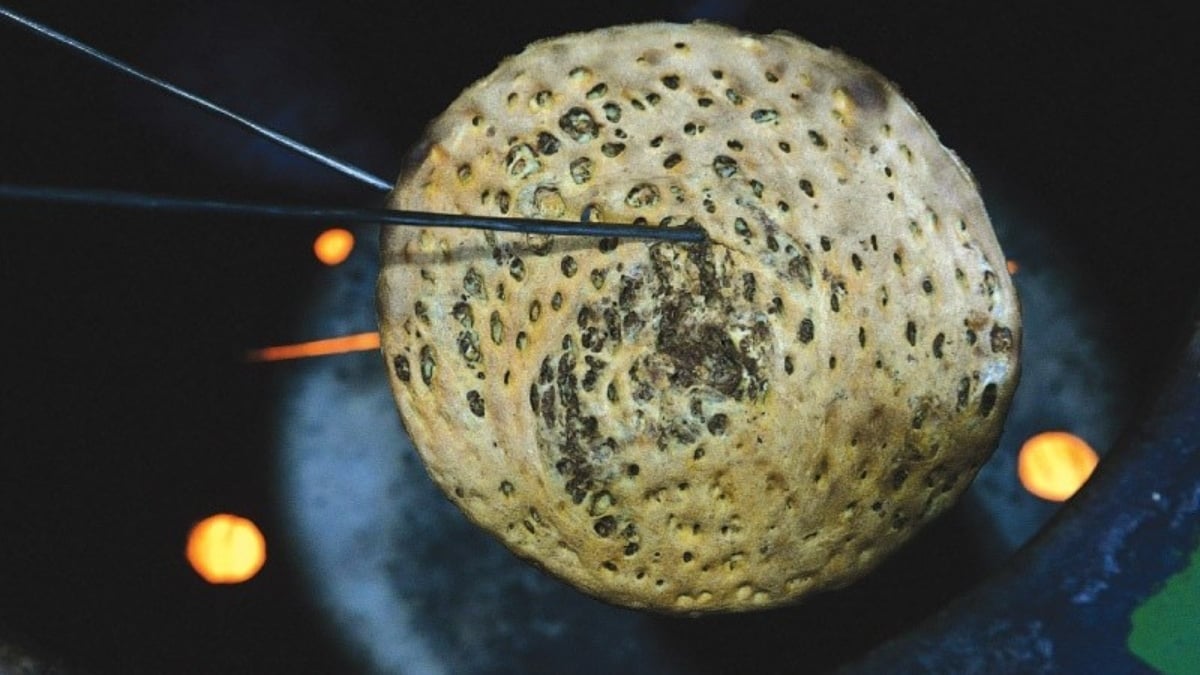 From the looks of it, the small, rustic shop seems to have maintained its old roots and has been through renovation only once in the 1960s.
"This property has been here [in the family] from the time of Queen Victoria," Sikandar says. "The ceiling of the original shop was made of wood and brick but it was reconstructed in 1964."
A black-and-white photograph of Jalal Din, sitting in the shop with his workers, hangs high on the wall above Sikandar. The picture was taken only eight days before he died, it is claimed, at the age of 133 years. It is as if the progenitor continues to overlook the running of the tandoor to this day.
An ordinary-looking, cramped tandoor in Lahore boasts a business history spanning nearly two centuries, and a secret family recipe that has won over generations of customers
"Dada jee was a trader," Sikandar tells me, "he used to purchase wheat and sell in the market. Later, he started selling daal [pulses], roti and kulcha [flatbreads]. At that time, five kulchas would cost two aanas, and five naans four aanas," he says, while lacing ghee on a naan and handing it to a customer.
Although the shop remains a constant for the late Jalal Din's family, some things have inevitably changed since his era. For instance, the menu; the tandoor doesn't sell roti, plain naan or kulcha anymore.
The most basic naan on offer is the roghni [butter naan]. Then there are beef, chicken and mutton qeema [mince] naans, as well as aaloo [potato] and besan [chickpea flour] ones; a sweet khashkhash [poppy seed] naan, that remains fresh for a month, and the gulbahar (made-to-order with dried fruit and candied fruit preserve or murabba) are very popular among customers.
Sikandar says his father introduced the stuffed naans after he took over the running of the business in the 1930s. He also claims that it was Mujahid Taj Din who introduced these special naans to what is now Pakistan.
"My father started going to the shop with his father when he was a teenager. When he took over, a decade before Partition, we were the only ones in present-day Pakistan selling roghni, qeema and other stuffed naans. People were only used to plain naan and kulcha until then.
My father really wanted to expand and modernise the business and introduce new items in order to make a mark. That's when he came up with the qeema naan. It was sold for 12 aanas a piece."
His father was indeed successful in leaving a legacy behind. During our conversation, a young customer came to the shop and placed an order for a beef naan.
A resident of Sahiwal, Sheikh Asher was visiting the tandoor for the first time, though he had had their naans multiple times at his relatives' in Lahore.
"This time round, I was tempted to visit the shop myself," Asher tells me, "I recently saw videos [of Mujahid Taj Din Naan Bakers] on Facebook and wanted to see how they made the naan so special. My family has been a customer for decades. I have never had a better beef naan," he says.
Their customers aren't just limited to ordinary citizens; the shop has served foreign dignitaries and heads of states visiting on official tours and catered for events at the Fort and Shalamar Gardens.
"When Pakistan hosted the OIC Summit during the Bhutto era, we got the order for naans for all the meals for the guests. We have also baked naans at the President House for many events during that same era. I recall we were provided accommodation at the Punjab House. I also remember travelling to Islamabad with my father and a few workers."
A special memory that stands out for Sikandar is catering a state dinner that former president Fazal Ilahi Chaudhry had hosted for the British prime minister.
"We saw the visiting dignitary appreciating our naans and we even received an appreciation certificate," says Sikandar recalling the days of glory.
What has set their naan apart over the decades is that it is light and crispy; it doesn't leave you feeling full. "The secret lies in our recipes for the khameer [yeast] and the masala for stuffed naans that my father developed," Sikandar explains.
"The recipes haven't changed ever since, which is why people come from afar, and some old customers even return after decades, only for our naans, acknowledging that the quality is the same.
The Covid-19 pandemic and the subsequent lockdown has not spared even the tandoors that provide bread for a most basic meal. But trouble started even before this for Sikandar. "Since this government took over, our business has only dwindled — or any business for that matter. Customer demand has fallen.
"My father always instructed me not to compromise on either the quality or the recipe. He used to say that the day you're unable to maintain the standard, just put up a banner saying 'Khuda Hafiz' ['Goodbye'] and close shop]. We make the khameer ourselves. I assure you that, no matter how many of our naans you have, your stomach won't get upset or uneasy. We make sure our masala can be eaten and digested by both children and adults."
It's not just the shop that has carried the legacy of Jalal Din over a century-and-a-half; some of the workers, too, follow in the footsteps of their forefathers who worked with Jalal Din back when he set up the shop.
"Aurangzaib here has been with us for over 55 years," says Sikandar, pointing towards the most senior worker there. "He came when he was around 14 or 15 and has literally grown up and learnt everything here. He's almost my age."
The Covid-19 pandemic and the subsequent lockdown has not spared even the tandoors that provide bread for a most basic meal. But trouble started even before this for Sikandar.
"Since this government took over, our business has only dwindled — or any business for that matter. Customer demand has fallen. Every kind of business linked to the food industry is suffering. But even the lockmaster next door has suffered. When people don't have spending power, both the customer and the business are troubled," he laments with a sigh.
On the bright side, he is happy that his loyal customer base still seeks out Mujahid Taj Din Naan Bakers of Mozang bazaar, no matter what part of the city they live in.
"Even if our customers have shifted to far-off localities, they still come to the shop or they call us up to place their order," says Sikandar.
"Those that have moved abroad, always visit when they're in town. Every Muharram, we get an order from a particular family for a special besan naan that's not in demand otherwise, because it's very different from a regular besan naan. A customer, who has now moved to Faisalabad recently stopped by, in his Fortuner, to buy the beef naans that he has been having for years."
Now, he claims, even some of the younger "fast-food generation" are hooked to the signature stuffed naans the tandoor offers. A regular customer, Rubia Moghees, tells me that her family has been Taj Din loyalists for decades.
"I think our family has been buying naans from the shop for not less than 30 years. Their naans are a staple for our family picnics and, in the past, Basant celebrations. The balance of spices and quality meat is their forte, and the quality has remained consistent all these years."
The writer is a member of staff
Published in Dawn, EOS, November 29th, 2020
Email