Almost a month ago when my city of Houston shuttered all "nonessential" businesses, I had a sudden, unplanned breakup with my cadre of grooming specialists.
I'm now over a month into no access with my hairdresser, nail salon, facialist and the lady who threads and waxes me to baby seal smoothness and it's embarrassing how preoccupied I have been with thoughts of how to tackle my unshapely eyebrows, rapidly fading balayage and unsightly cuticles.
With life at pause as we live in lockdown, we have had plenty of time for personal reckonings. For me, it's been the embarrassing, ungodly realisation that I am, in fact, a very high maintenance human.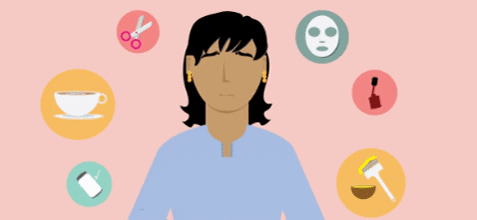 Apparently, I can be both really worried for the world's well-being while also being really worried about how badly my hair needs a toner.
Turns out I'm not the only one.
Around the country, people are panic buying boxed hair dye, hairdressers are holding Facebook Live tutorials for their black clients with braids, and Instagram is peppered with DIY face mask recipes. Even the world of celebrity is not immune.
Recently, Kylie Jenner announced that, for the time being, she is wig and acrylic nail-free. Ariana Grande showed off her shoulder-length brown curls - a major departure from her usual high glam, sleek ponytail while Kelly Ripa debuted her grey roots on social media and Teri Hatcher shared a video of her box dyeing her hair at home.
Local celebs have also let beauty take a backseat. The usually impeccably groomed Ayeza Khan posted a picture of herself in 2020's hottest lewk: a facemask while Iqra Aziz shared a video of her having her hair braided by quarantine-time hairstylist, husband Yasir Hussain.
Saba Qamar and Mahira Khan both posted selfies of themselves makeup free with undone hair while Urwa Hocane's Instagram looks a lot like my days and nights: nonstop pajama parties.
With even the most consistently glamorous and meticulously groomed of us feeling the fallout of social distancing from our hairstylists, eyelash technicians and Botox-administrators, I wonder: will we all emerge from this fundamentally altered, permanently changed? Plainer looking yet somehow better people?
Like all things related to the novel coronavirus, only time will tell.
Truth be told, I haven't been this consumed by my appearance since my more unsightly headgear-rocking preteen years.
And while I am sure that some of you reading this are likely thinking how my priorities could use a check because, with the world facing down a deadly pandemic, brassy hair and unsightly cuticles are hardly of consequence, allow me to argue this: it's not really about my having to miss a haircut or indefinitely delaying a hydrafacial appointment.
More than the state of my split ends or unwaxed legs, it's the constant fear and anxiety of a socially distant life in quarantine that is distressing to me.
Routinely scheduling in some time for self-care (even if that act of self-care consists of a purely appearance-based exercise in vanity) can do wonders in reassuring us, of letting us feel in control of something even when reality tells us we control so little.
Just like I don't need to have an overpriced cup of coffee or meet girlfriends over a plate of basic eggs and toasts that we so fondly photograph and post as #SundayBrunch, I don't really need to have my eyebrows threaded bimonthly.
But, as someone with Generalized Anxiety Disorder, what I do need, is a way to keep a check on my mental health. Studies have shown that the consistency of a routine is a powerful tool to help people with a host of mental illnesses to thrive.
Just like routinely eating well, exercising, meeting with loved ones and paying bills on time can help alleviate feelings of stress and anxiety, routinely scheduling in some time for self-care (even if that act of self-care consists of a purely appearance-based exercise in vanity) can do wonders in reassuring us, of letting us feel in control of something even when reality tells us we control so little.
This is why I am no longer classifying my nightly eight-step skincare routine as a case of frivolous, unchecked vanity. For the time being, acts of self-care and self-grooming are classified as a necessity. They are my daily reminders of happy past days and my hope for future happy days.
So while Newton discovered gravity in quarantine and Shakespeare wrote King Lear at the peak of the bubonic plague, the most I plan on accomplishing in these trying times is learning how to thread my own eyebrows while testing out Hailey Bieber's homemade face mask and toning my tresses with a bottle of this.
In these grim times, as we fight to stay alive and to stay afloat financially, I am not embarrassed to admit that I am also fighting my appearance-conscious ego. But, it's in the name of personal wellness and mental health, which is why I am here to say: stick to your beauty routines and skin care regimes.
Even if you feel a little frivolous and plenty vain. And remember, we are all in this together.
---
Illustration by Mushba Said.
Email