Due to the lockdown measures brought on by Covid-19, many daily wage earners in the country haven't earned a single rupee in weeks —and entire communities and neighbourhoods are going hungry.
The pandemic and its social isolation have exposed our worst anxieties and fears, but in the same breath, it has also brought out a spirit of generosity among fellow citizens and countrymen.
As soon as reports of the first few confirmed cases of coronavirus infections started trickling in, people started banding together to assist the less fortunate in unique, creative and inspiring ways.
Starting small
Recently, two individuals, Azeema Ilyas and Syed Faizan Raza Rizvi, started running daily ration challenges on their social media handles, with a different target every day.
Based in Islamabad, Rizvi is a Design Researcher for social and developmental projects at a human-centred design firm, in addition to writing & community engagement projects on the side.
Ilyas works as a Young Parliamentary Officer with an institution attached to the Parliament of Pakistan, with a focus on Parliamentary Outreach and Public Engagement. She is also a street and portrait photographer.
Speaking to Images, Rizvi says, "When the lockdown measures started around three weeks ago, a couple of friends reached out to help with their fundraising. I had built a decent social media following through the community projects I had done over the years so I had periodically raised funds for different causes."
"But this time the scale was much bigger so I had to do more than just share their posts and try to really engage people in the movement. There were all these fitness and pushup challenges that sprung up on Instagram, and I got the idea of using a similar gamification technique to push people to donate for ration drives across the country. That's how #TheRationChallenge started."
"The idea was to do multiple fundraising challenges. Each challenge had a minimum target to achieve for a specific drive. Once that target was achieved, I moved on to the next challenge. These challenges were carried out on Twitter and Instagram."
He continues, "Azeema, came on board early on too and helped execute it alongside me through the following she had as a photographer. Throughout each challenge, we kept updating people on the amount raised and how much was left through our social channels. This is what kept people involved, and how we often had the same donors donating twice and even thrice because they wanted us to complete the challenge."
Through the help of their friends and social media family, they'd always achieve their targets, that started small but eventually ranged between Rs50,000 to Rs75,000 daily.
In a few days, with the help of their social networks and endorsements by influencers, they were able to distribute the funds to places all over the country.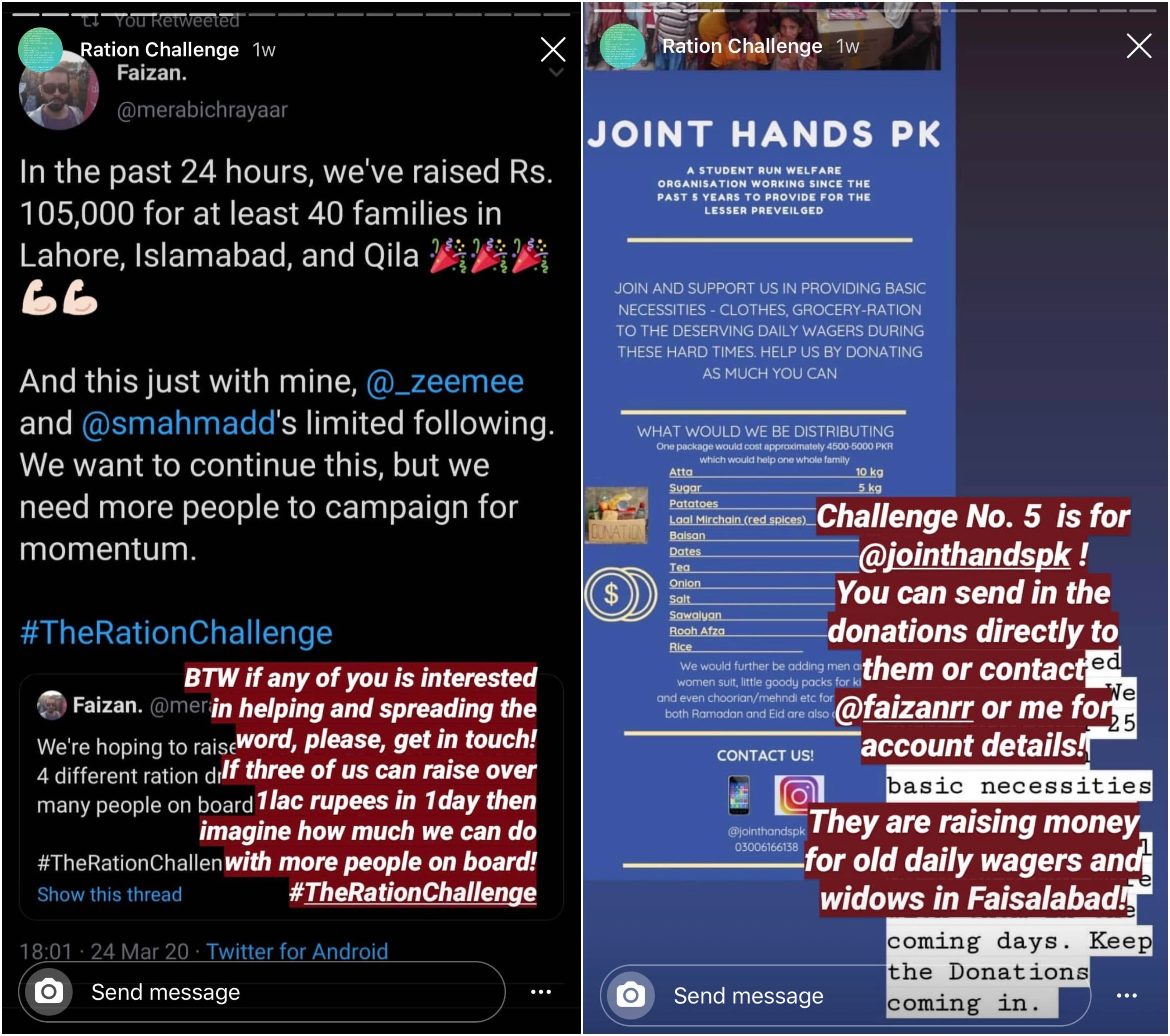 Taking it to the next level
As the coronavirus crisis escalated further in Pakistan, Ilyas and Rizvi reached out to their followers and online colleagues to further expand this model.
Together they established a website and named the campaign/fundraiser EhsaasKaroNa — the "Karo Na" part being a play on the words 'Corona.'
Rizvi says, "We soon realized there is a long way to go and we need all the support we can get. So Azeema reached out to several influences on Instagram and got them on board the movement to promote it among their followers."
"We renamed the campaign to #EhsaasKaroNa at this point because, in addition to rations, we also wanted to provide PPE to medical workers."
They've even set up a PayPal and Venmo donation option for folks living abroad looking to contribute.
Within 5 days, they managed to raise Rs1,885,179. Half of the funds are allocated for ration drives and the other half for purchasing personal protective equipment for the medical workers working on the frontlines.
Bilal Hassan, a volunteer with the campaign, says "I've been one of the many folks who've been using their social media platform to get the word out and help in the collection of donations. At the end of each day, we post a photo of the updated collected and already distributed figures on our respective stories to keep the audience engaged and in the loop."
He says they posted about it on their social media stories, and much to their surprise they managed to get the attention of many well-known faces, both at home and abroad.
To name a few, Matthieu Paley, a National Geographic Photographer; Jahan Yousuf, one half of the Krewella, the popular EDM duo; and actors and models Sajal Aly, Ayeza Khan, Minaal Khan, Sadaf Kanwal, Ainy Jaffery, Eman Suleman, Sohai Ali Abro and Mansha Pasha.
Rizvi says their initiative has managed to have a far-reaching impact, "Through #TheRationChallenge and #EhsaasKaroNa combined, we have raised over Rs 38 lakhs."
"Of this, we have already distributed ration worth 28 lakhs through efforts in over 40 cities, towns and villages throughout the country since 23 March. This comes down to almost a 1000 families served so far, each with an average of 6 members."
The fundraising campaign is inching closer to their targets, while also looking for ways to further expand the model and keep the momentum going so that they can help more people during Ramzan.
Reaching out to people on the ground
It's difficult to flag areas and localities that need support, so the team doesn't carry out ration drives themselves, they pick drives that are already happening and need help.
Rizvi says, "This is either through them reaching out to us directly, or us keeping a lookout and reaching out to ones that are doing drives in neglected and smaller areas to assist them."
He continues, "The drives that we help are either vouched for by mutual friends or have preexisting credibility in the community so we know the money is being used right. Some of these are by proper organizations, and some of these are individual efforts."
People also identify areas and families that need help, so they reach out to people on the ground and ensure those areas are served.
"Particularly for areas surrounding Islamabad, Rawalpindi, and Lahore, the core team members are reaching out to people themselves to deliver ration. These people are referred to us by our personal contacts. We first check with the organizations we have helped if they can cover those families if they can't then our team members take up the task themselves."
The campaign supports multiple drives all over the country through funds, so there isn't a standard ration package. But they more or less all have the same essentials: Flour, rice, pulses, sugar, oil, tea, powdered milk, spices, soap.
The price per bag also varies according to the size of family and local rates, but on average it's between Rs.3,000-Rs.3,500.
According to Rizvi, "We have so far focused more on individual efforts who do not have enough reach and audience to raise funds on their own. So we're supporting them through the connections we have."
He says since this crisis is a marathon and not a sprint, they're open to any collaborations to continue their collective efforts in the next phases.
---
You can access the #EhsaasKaroNa fundraising campaign here.
Email