We have the complete schedule for the three-day fest.
The eight edition of the Lahore Literary Festival will kick off this weekend.
The LLF, taking place from February 21 - 23, will feature book launches, panel discussions, poetry and performances from across the world. Taking place at Alhamra Arts Center, the event boasts over a hundred speakers and 60 sessions this time.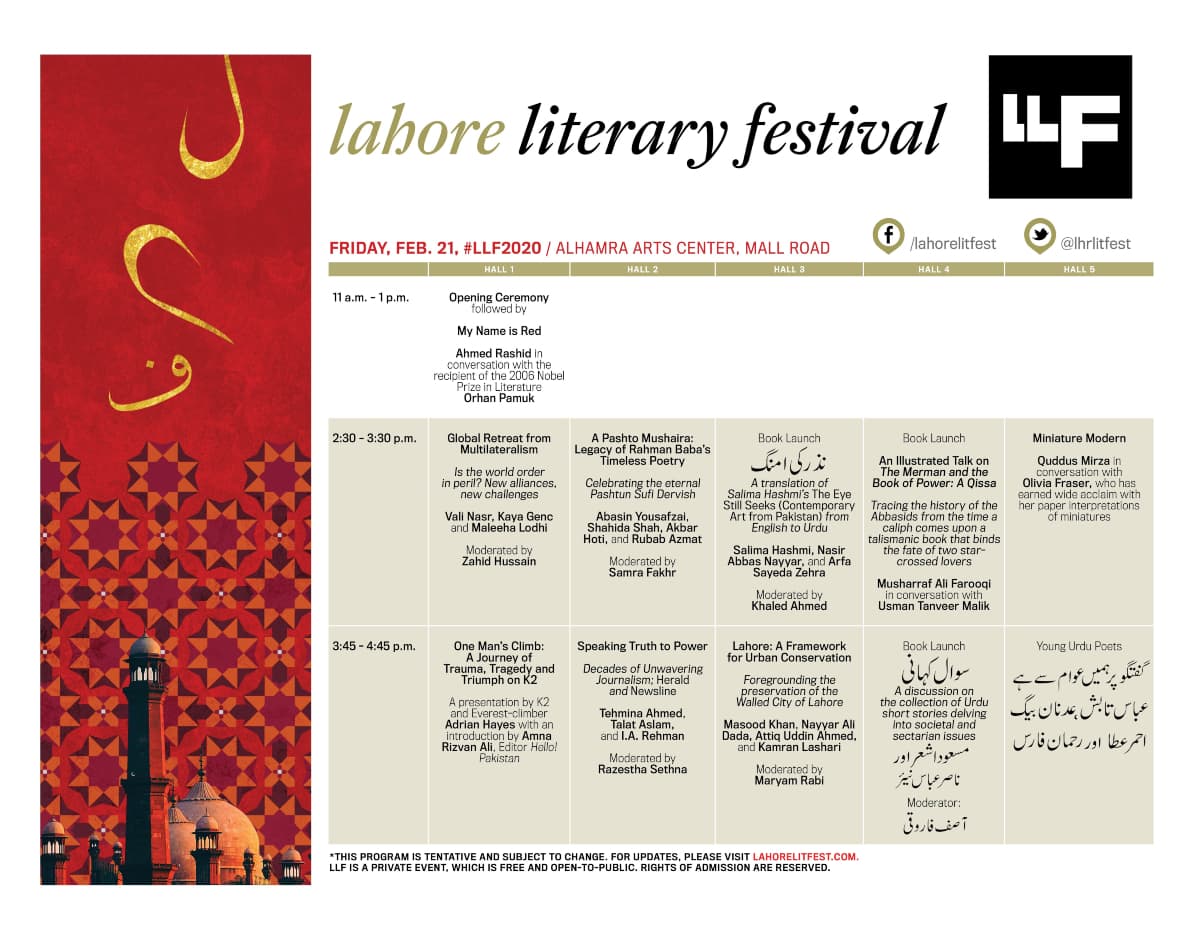 One of the many interesting speakers will be 2006 Nobel Prize winner Orhan Pamuk. The Turkish author's conversation with Ahmed Rashid will follow the opening ceremony on Friday. Pamuk will also have a session with author Mohsin Hamid where the two will discuss how literature can be used to shape a more democratic world.
Iranian-American academic and author Vali Nasr is also part of the roster, making a return to LLF in 2020 after six years. He will be partaking in around four sessions, one of which is 'Global Retreat from Multilateralism' with Madeeha Lodhi and Turkish author Kaya Genc.
Srilankan writer and Man Booker Prize short listee Romesh Gunesekera is also set to attend and discuss his 2019 novel Suncatcher.
Salman Sufi, known for launching the Women on Wheels through his foundation, will have a session about the movement that aims to empower women by improving their access to mobility, provides subsidised motorbikes for women, as well as training and road safety lessons and networking opportunities.
Mahira Khan will also be partaking in the event. The Superstar actor will have a one on one with Fifi Haroon in Pakistan's Brave New Cinema.
Other notable speakers also include William Dalrymple, Asghar Nadeem Syed, Punjabi scholar Asma Qadri, author Musharraf Ali Farooqi, Nigerian author Oyinkan Braithwaite, Spanish translator Rocio Moriones Alonso and new novelist Anita Mir.