Fashion shows aren't just about the clothes. The truly fabulous shows also pack in plenty of style statements via hair and makeup trends, shoes, bags and statement jewelry.
Designers often have specific visions for the looks that they want to project on the catwalk and over time, some of these trickle down to the latest street-styles. Lucky for those of us who want to look fashionable but are too lazy to go shopping for clothes!
We've been scouring the catwalk of the recently concluded Hum Showcase, zoning in on some of the accessories and some of the hair and makeup created by the team at Nabila's. And here are our notes on some of the trends that can make you look like you've stepped right off the catwalk.
Let your eyes shine white!
Thick white eye-liner was applied full-socket to the eyes of models in Mahgul's show on the second day of Hum Showcase and it added in a dash of drama to the designer's evening-wear.
The statement lip
For some reason, most of the designers opted for nude, pale pink lips. This was a bit disappointing, especially having seen some very flamboyant lip colours just a few days ago in Fahad Hussayn's show at the PFDC Sunsilk Fashion Week.
At HUM Showcase, Sadaf Kanwal's fluorescent pink lips in Hussain Rehar's show were winners. And Outfitters show was fun with all the many lip shades complementing the brand's street-style: tangerine, vermilion and lilac, among them!
Let your hair clips do the talking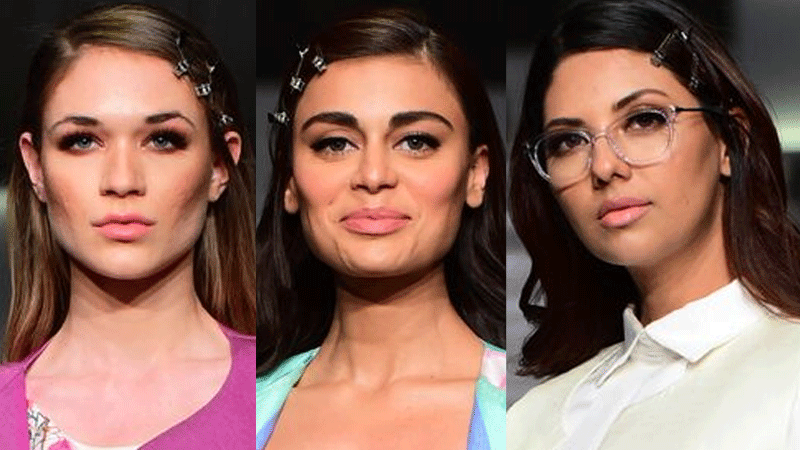 Hairstyling can be such a pain and we spotted some fun hair accessories on the catwalk. The models' hair in Zonia Anwaar's show hung loose, pinned on the side. And the accessories in Outfitters' show were great fun.
Neon on the eyes, any time!
Neon's trending all over the world and Ayesha Omar's eyes, painted a neon orange shade, looked fabulous. This trend is not for the faint-hearted and of course, the very adventurous, super-stylish Ayesha Omar carried it off easily.
Neon accessories, any time!
We also loved the neon accessories that popped out on the catwalk. There was plenty of neon to be spotted in Nine Line's eccentric lineup: bags, clothes and even translucent, neon-hued boots!
Hangbag kitsch
In these days of fast fashion, many of us don't want a statement bag boasting a prodigious label. We'd rather opt for some kitsch and colour. Spotted in Nine Lines' lineup: a bag that declared 'Blogger Hoon', others shaped like old-school television sets, discs, polka dots and cars!
We also loved the briefcase carried by Shehzad Noor in Emraan Rajput's menswear show; etched with a skyline dotted with skyscrapers.
The tiny 'it' bag
Implausibly tiny little bags are all the rage internationally, best associated with Jacquemus' show at Paris Fashion Week earlier this year. Zonia Anwaar brought the trend to the runway in collaboration with handbag brand The Wraps. Too tiny to hold anything more than a lipstick of your car keys – but quite on-trend!
Earring inspo!
There was a lot of ear-candy. Khaadi Khaas' gypsy vibe was accentuated by large jhumkas and the models wore the quirkiest earrings in U & I By Umer and Imrana's debut show: molded into geometric shapes and even tiny boats!
Here are some of the other earrings that we liked: the big pearl earrings in Zaheer Abbas' show, there were lightning bolts, emojis and multicoloured tasselled earrings in Nine Lines' show, ethnic jewelry by Allure by MHT in Images' showcase, gorgeous metallic rectangles in Mahgul's show, huge white tassel earrings in Rizwan Beyg's show, pretty florals dangling from the ear in Natasha Kamal's show, some of the funkier hoops spotted in Sana Safinaz's show and beaten gold in geometric shapes created by Haya Lutfullah for Wardha Saleem's show.
That's a long list to take inspiration from!
Put a ribbon in your hair!
The organza ribbons wound about low ponytails in Neelo Allawala's show were so pretty. And in Zaheer Abbas' show, beneath those huge sombreros that the models were wearing, you could see neat braids, wound by bright ribbons. Such an easy breezy hair statement for the summer!
The 'it' braid
For those of us with long hair, braids are a great idea when the weather begins to swelter. Zaheer Abbas' show featured braids with ribbons while in Sana Safinaz's show there were braids wound about carefree top buns.