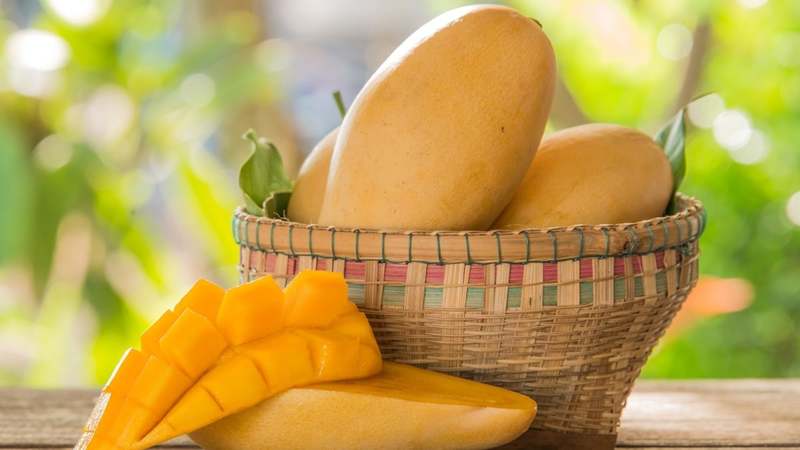 A new specie of mango was introduced at the three-day 'Mango Festival' on Friday.
The seedless variety was introduced at the festival at the Centaurus Mall along with other mangoes.
"The seedless mango is under development stage at Multan University and our research centre has acknowledged that this variety can be promoted at commercial level," said a university official.
The seedless mango is a large fruit with significant amount of pulp and its seed is very small. The variety was developed accidentally at a private orchard in Shujabad area of Multan.
"We are experimenting with the variety and it could take three to four years to be finalised," the official added.
A new specie of mango was introduced at the three-day 'Mango Festival' on Friday
The festival also showcased export quality Sindhri mangoes weighing up to 750gms each. The other varieties exhibited included Chaunsa, Anwar Ratore, Langra and Dusari. Many less known varieties were also displayed which are exported.
The festival was inaugurated by UAE Ambassador Obaid Ibrahim Salim Al-Zaabi, Punjab Minister for Agriculture Malik Nauman Langrial and Punjab Board of Investment Chairman Sardar Tanveer Ilyas.
The festival was organised in collaboration with the Mango Research Institute Multan and Pir Mehr Ali Shah Arid Agriculture University.
Speaking to media, Sardar Tanveer Ilyas said the festival was organised to facilitate dignitaries from foreign missions to directly interact with growers, researchers and exporters.
"The dignitaries will have direct access to the vast varieties of mangoes produced in Pakistan, as most of the foreigners avoid travelling to the cities of Punjab where such exhibitions are traditionally held," Mr Ilyas added.
With a cultivation area of over 170 million hectares, Pakistan is the fourth largest producer of mangoes and the harvest accounts for more than 1.70 million tonnes per annum out of which around 64,112 tonnes are exported.
Originally published in Dawn, July 27th, 2019
Email