You'd think the Lux Style Awards receiving criticism over a number of nominees having dropped out in support of the #MeToo movement would be the award show's biggest problem.
The LSA received backlash when they revealed their nominations, having an alleged harasser in the list. Celebrities who took a stance against sexual harassment started withdrawing their nominations, with Eman Suleman taking the lead.
The LSAs happened on Sunday and made sure to play it safe amidst all the controversy but they couldn't escape the backlash as a few celebrities had a lot more to say about the event and it wasn't pretty.
Make-up artist Omayr Waqar threw shade at some winners who owe him money
In a Facebook post, Waqar lashed out at members of the industry - who apparently have won the LSA this year - who don't deserve the award and actually haven't paid him for his work.
"Someone who doesn't have enough work or clients anymore, hasn't paid me for shoots since last 3 years (and some models too) are winning non deserving awards. that's why I have stopped competing."
Waqar hasn't named anyone - we're definitely curious - but he had a few words for candidates who deserved the awards but didn't win.
"Don't get disheartened. Lux has never given awards on credibility and work and never will. So either stop participating or stop taking it to heart."
He ended his note with, "Thank you industry for making us cruel."
Another MUA, Fatima Nasir wants the fashion industry to have their own award shows
In a letter to the fashion industry, makeup artist Fatima Nasir decided not to just call out the problems withing these award shows but also gave ideas that could help her constructive criticism.
Nasir started off by saying "We need an award show for the fashion industry exclusively."
For Nasir, the idea was derived from the point that members of the fashion industry don't get the spotlight in award shows nor the same treatment as actors from film and TV.
"Last year, not all the nominees were getting airline tickets and stay until a journalist stepped up for all of us... It's quite the opposite for actors."
While asking "why do the same people (favourites) keep winning the awards?", Fatima came up with an answer that suggests a way to improve the award shows: "We need to introduce more genres for each category."
She went on to say, "All those who keep telling us that the most talented artists never managed to win an award are part of the problem. System is corrupt and needs to be fixed."
"This isn't about me or any individual... someone needs to at least start a conversation, to make changes for a better future for all of us."
Model Farwa Kazmi opened up about the cost of an award
In an Instagram post, Farwa Kazmi called out award shows for their bias and according to her what actually goes down in selecting candidates and winners.
"I've been a part of this industry since 6 years now and from the very first day I learned how unfair these awards are," she wrote.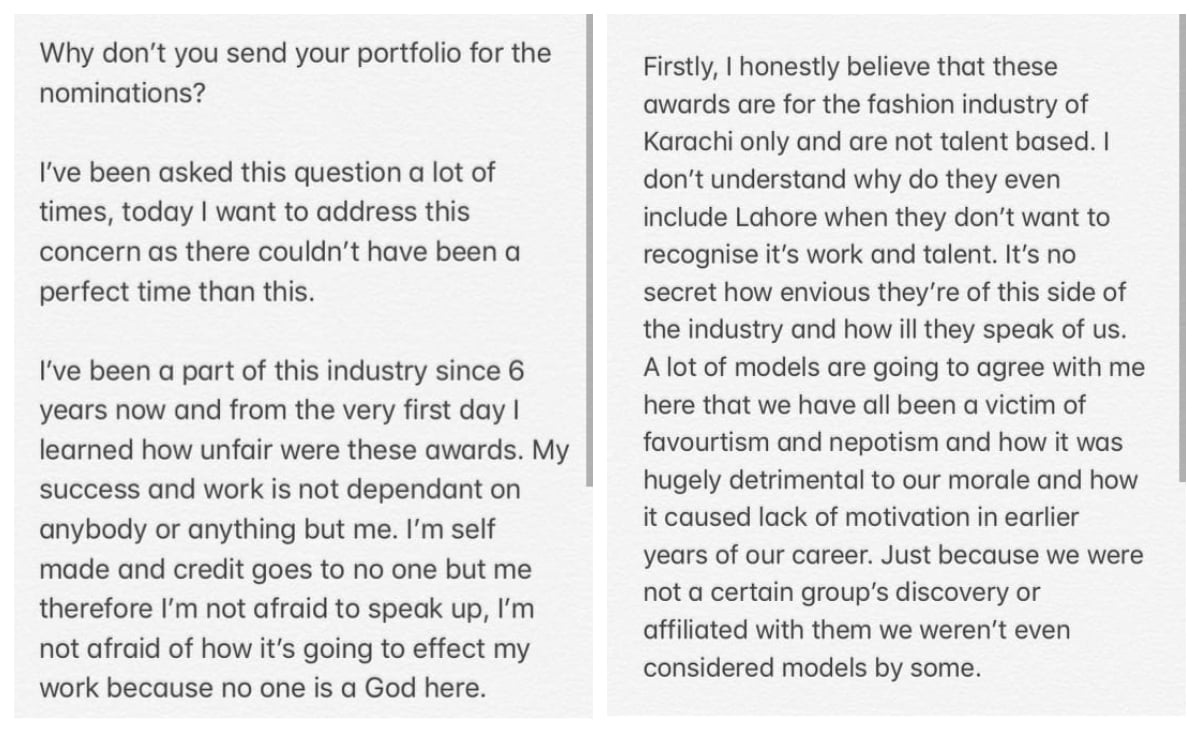 The model opened up about the Karachi vs Lahore bias, saying, "A lot of models are going to agree with me here [in Lahore] that we have all been a victim of favouritism and nepotism and how it was hugely detrimental to our morale and how it caused lack of motivation in earlier years of our career."
She added, "You have to go through a process where you have to prove your loyalty to a certain group... you can't stand for what you believe in."
Kazmi hasn't thrown her hat in the ring and it looks like she won't be doing so in the future either.
Fashion designer Maheen Khan is upset at not even being invited
One of the biggest names in the Pakistani fashion industry, Maheen Khan does not shy away from voicing her opinion and that may have caused a riff between her and the LSAs.
On her private Facebook account, the fashion designer called out the award show for not even inviting her to the LSAs because of her criticism of the controversy surrounding the event.
"Not to say I'd go but some courtesy is demanded here despite my criticism and support to the sexual molestation cause. I'm disgusted."
Maheen Khan has a strong stance on sexual harassment and had called out the LSA on their nominations at many occasions. It is rather surprising that the organisers would cut off a veteran designer over such matters.
Email