The popular franchise from Dubai has opened its doors in Karachi and the menu truly spoils you for choice
The mandi trend in Karachi is still going strong and we're not complaining.
This Arabic rice and meat delicacy has been the talk of the town for a long while now but there are still people asking me: "Yaar, where can I get mind-blowing mandi from?"
And when it's not mandi, all they want to know about is where they can find the best kunafa.
While I can't really give a definite answer, much due to the subjectivity of taste than my own indecisiveness (although that constitutes a significant portion of my reply too), my rather immediate answer lately is Bait al Mandi.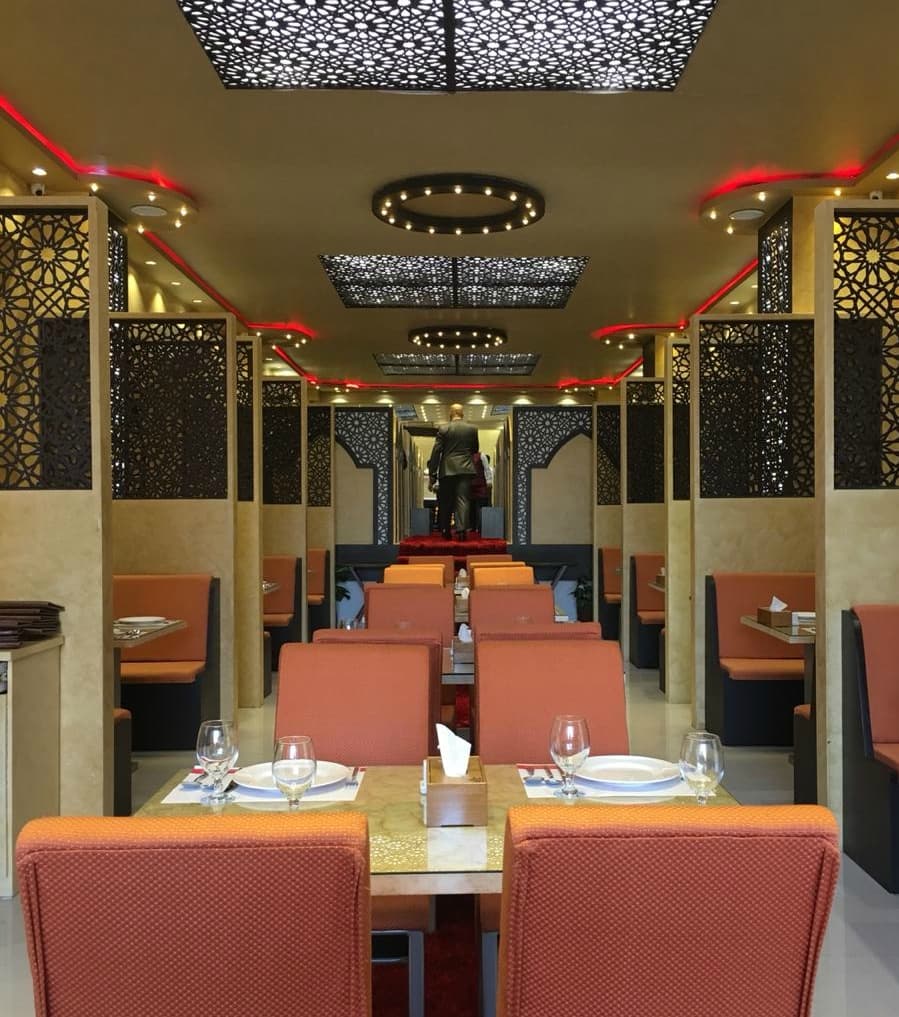 Where to go?
Bait al Mandi has recently opened its doors in the bustling metropolis on main Shah-re-Faisal near Habitt.
It's kind of hard to miss while buzzing past. The extravagant interior is welcoming but what's more welcoming is the staff's warmth which instantly make you feel at home.
The Jordanian manager Adnan H Alomari, a cheerful-spirited soul shared, "There are other restaurants going by the same name but this is the ONLY original franchise of the popular Dubai-based eatery."
His hearty hospitality is reminiscent of true Arab culture and his grip on the Middle Eastern cuisine commendable.
The seating is well thought out; there is jalsa, baithak-style compartments (not too roomy but enough for a party of 4-5) and a special, VIP lounge to help you soak some Arabian traditions.
When to go?
Bait al Mandi operates from 12 pm to 12 am.
What to order?
The menu spoils you for choice; there's something for everyone on it but the dishes all have Middle-Eastern origins.
Our hasty picks on a famished stomach were chicken mandi and chicken and mutton madfoon. We skipped hummus (forgive me fellow foodies for I have sinned) but did order a fattoush salad for pre-game.
Before our actual order came, they served us complimentary yakhni. This lukewarm broth really helped sooth my sore throat and build the mood for the grub to come.
Next came the fattoush salad: crunchy veggies with sumac, piquant pomegranate drizzle and crispy fried pita chips (which I actually liked more than croutons).
Not exactly the kind of item we would recommend on a sore throat but this zesty mix is definitely recommended if you're big on greens.
Rule of thumb when you're going out for mandi: starve yourself before the extravaganza. Don't get me wrong, of course you can have some light bites in between but it's recommended to build up your appetite.
The salad was followed by chicken mandi which is slow-cooked, baked chicken with a light spice rub, and madfoon which is marinated meat cooked underground.
First impressions? The presentation hit the mark; it's a neat bed of rice with veggies and a variety of meat atop. The only thing we felt missing were steel platters mandi is usually served in for legitimate regal feels.
The meat is no-nonsense; it's crisp and char-grilled on the outside but so tender you can cut in with your fork. It's subtle on spices, nothing like the masalaydaar tikkas available locally (the flavourful juices are seared in instead), which is one great thing about Bait al Mandi; the food is not altered to suit local taste-buds but they surprisingly end up liking it.
We were also impressed by the perfectly cooked rice, fragrant, slightly firm and aromatic. You can totally eat them on their own without getting bored (useful information considering the order includes bottomless rice).
Next we tried their madfoon in mutton and boy, was it good! We liked it even better than chicken because the meat was juicier and more satisfying, constituting the perfect, Arabian delicacy. The plus point again was the subtlety of flavour, rendering the meat almost spice-free but still really tasteful at the same time (you feel me?).
You can also throw in some chutneys and the complimentary broth for a bomb, self-creation.
As for the serving size, we felt it was ample for two very hungry people or three light eaters. Given the prices for the platters, it's good bang for the buck.
All in all, the food served was splendid but the special Bait al Mandi drink has to be the star of the show. It's a beautifully-presented, concoction of fruits, honey, nuts and whipped cream which ensures a gratifying slurp. It ensures a variety of flavours with a satisfying consistency throughout.
Definitely the drink we need this summer.
You know the feeling when you're half a bite away from your insides actually combusting, but you still push it? That was us at that moment but we still had to order dessert. I mean, duh.
The list of dessert at Bait al Mandi is another impressive feat; it's a dessert lover's (middle-eastern) dream come true. Feeling particularly adventurous, we tried deviating from our usual dessert régime but their unavailability brought us back to good, ol' kunafa.
The crispy, golden pastry looked fancy but I felt there was too much hubbub of nuts and stuff on top which didn't quite leave a lasting impression. (In all honesty, it reminded me of paan masala). Too sweet for my palate but can use some cream cheese for an added oomph.
Damage on the pocket
The appetizers range from Rs350 - Rs400 while the mains range from Rs750 - Rs1400.
The platters are meant for sharing so per head charges can range from RsRs650 - Rs1200, depending on what you decide to order.
We say go for it. It's a nice place to hang out and chill with your friends, exchange some gossip over a steaming serving of rice. The staff is hospitable and well-informed so there's not going to be any unpleasant run-ins (hopefully).
Just a heads up, get a reservation made beforehand.
---
Aliza Anees is a food blogger. Find her on @foodieshoodie.