Polish artist DJ Practical and French DJ Samifati will collaborate with Zulfiqar Faqeer and Ejaz Sarhadi
The lawns of Pakistan National Council of the Arts (PNCA) once again opened their doors to crowds of people as Face Music Mela kicked off on Friday.
A number of programmes are lined up for the two-day event which will have music of various genres, theatre, dances and food.
The organisers of the Foundation for Arts, Culture and Education (Face) Music Mela described the event as a premium cultural festival showcasing music, films, theatre, dance, two international acts from Poland and France along with artisans and food stalls.
The festival is being held every year in Islamabad since 2014. In 2017 and 2018, the festival was also held in Hunza and Lahore.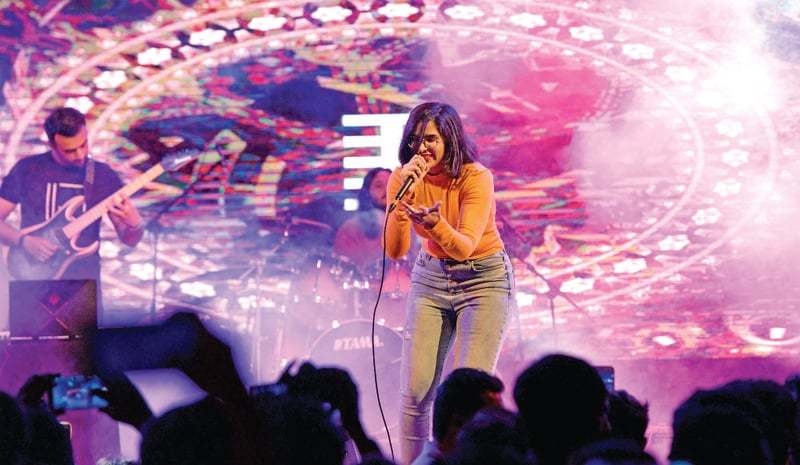 The organisers said the mela was about celebrating cultural diversity through the universal language of arts and connecting people and building bridges through music.
"The mela is considered as a pioneer and the largest festival of Pakistan attracting some 20,000 people every year. Like last year, the festival is also envisioned to travel to Hunza in mid-2019," said the founder of the festival, Zeeja Fazli, on the opening day.
As in the past, the festival includes live music performances and from all regions of Pakistan.
Besides digital gaming lounges, a startup expo, art installations, folk musicians and cultural performances were the main features on the first day of the event.
The day saw cultural performances by Jil Band and Naseer Afridi, rock performances by Roots, pop and Sufi rock acts by Kashmir, Dyra and Dhool.
Next in line were the all-girl Sufi band Saakin and qawwali performances by Farid Ayyaz and Abu Mohammad.
Face has been curating collaborations between Polish and Pakistani artists for the last five years, and this year DJ Practical, a Polish artist, will collaborate with Zulfiqar Faqeer.
French DJ Samifati will be collaborating with Ejaz Sarhadi, said the festival's director Zeejah Fazli.
"This year the event has provided an interesting platform for gamers called PTCL Gamer's Hub. We endeavour to bring people together and celebrate life with common interests.
"Music has the incredible power to heal, shape, change and unite all types of people. The mela is bringing all backgrounds of music to the centre stage," said Fazli.
---
Originally published in Dawn, April 13th, 2019