Being a fan of Japanese cuisine, I've always been iffy about the options available in Karachi.
We don't really have many Japanese restaurants that serve more than the usual sushi and teppenyaki and there's so much more to the cuisine than that. Mind you, I love my sushi and teppenyaki but the country has the highest number of 3-starred Michelin restaurants in the world, it can't all be 'cos of two dishes.
I miss kamameshi, onigiri, tamagoyaki and so much more. When Makotoya claimed to be an organic Japanese cafe, branching out from Tokyo, I knew I'd be there with hopeful yet cynical expectations.
We met with owner Rie Mihara who revealed that her grandmother opened Makotoya in 1957. Mihara may have started the cafe now but has been working on Makotoya's second business: bringing Japanese skincare products to Pakistan.
Makotoya's focus is organic and healthy and Mihara san accomplishes this by curating her menu based on locally sourced ingredients. For ingredients that are uncommon in our region, she either makes them in-house or imports the specific ingredients from Japan, that too as a last resort.
Where to go
Makotoya is located at Main Bukhari commercial, in the same lane as Chai Wala and pan-Asian restaurant Market.
The restaurant has a minimalistic design, with a shelf dedicated to Makotoya's imported skin care products.
When to go
Makotoya is open from 1pm - 11pm.
What to order
While we did ask Rie Mihara for suggestions, there were items I noticed immediately and could not resist ordering such as the dashimaki-tamago and the chawan-mushi.
We started off with the peppered beef salad. I was concerned whether the pepper seasoning would make the beef feel heavy but the salad overall was surprisingly light. The thinly sliced beef was cooked well and the quinoa added a nice touch to the dish.
The wasabi and basil prawns, while cooked well, did need a touch more of wasabi. Now, I'm not saying the wasabi should be really strong but the basil flavour took over in the marinade and even the earthy flavour of mild wasabi was lost in the prawns.
The chawan-mushi won my heart and palate. The savoury egg based custard with prawn was warm and inviting and not only did it make me want winter back so I could enjoy it more, it tasted absolutely authentic. Also, to those afraid to try it out because savoury pudding sounds unconventional, you'll be glad you tried it. I do wish the serving was more generous, I'm all for portion control but I do want a better portion.
The dashimaki-tamago is a Japanese omelette, also known as rolled omelette. Makotoya's omelette is light, fluffy and perfectly seasoned. I wish Makotoya had more than one style of serving the tamago as it is listed in starters. Maybe add a few sides to it and serve as a complete breakfast option? I would be very happy with that.
The maguro - bluefin tuna - steak was a hit at the table. A light soy based marinade coated the evenly grilled fillets of tuna.
What we love about Makotoya's cuisine is how everything is filling but light. I didn't feel disgusted or heavy afterwards but I was satisfied, without being left hungry.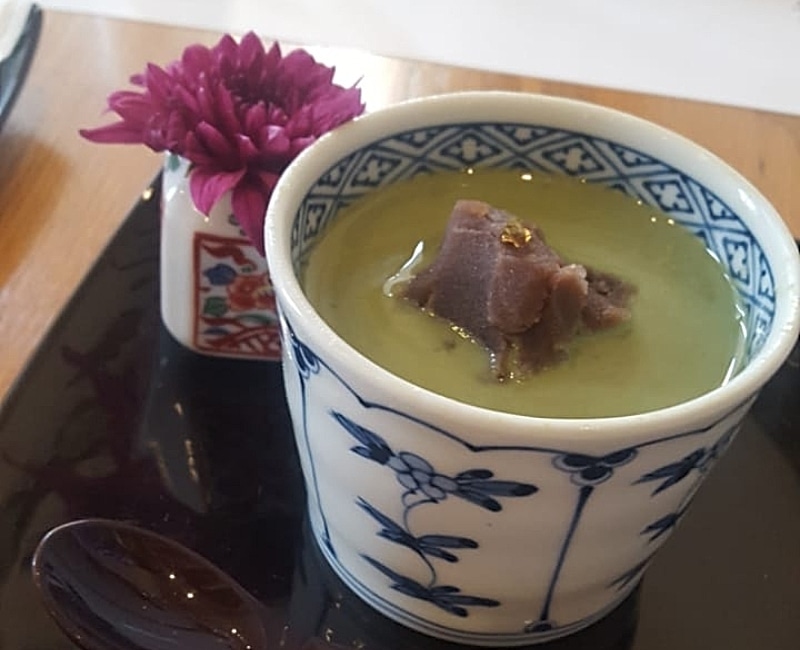 Mihara san suggested the matcha pudding for dessert and we couldn't resist. The pudding was served with a matcha glaze but what won me over was the addition of anko. Anko is a sweet paste made of azuki (red beans) and a flavour very common in Japan.
Damage on the pocket
Makotoya definitely feels steep with its price range varying from Rs380 - Rs1600 with the average dish costing Rs900. Keeping mind Makotoya's focus on health and high quality ingredients, I am willing to understand why the place is costly but I do think a 20% increase on their portions would make the place more approachable to those willing to try it out.