The menu boasts dishes inspired by cuisines of various destinations the owner explored modified to suit the local palate
This past week, I was drawn towards a restaurant because not only did its name sound unusual, but also the concept behind it. Dock27 is located in the ever-burgeoning Phase 5 market in Defence, Lahore.
As the name suggests, Dock27 is based around the travel and tours around the world of the person behind it. And that theme reflects both in the menu and the ambiance.
The four-storey restaurant is created to resemble the rustic, wooden structures of ships replete with metal chains, wooden floors and furniture; barrels placed as stools; a basement lounge with sofas, a piano in one corner, dim yellow lights and soft music in the background, creating a comfortable, homely vibe; also in the basement is a faux bar; and a cool top 'deck' with plants and white wooden furniture resembling an indoor garden.
Similarly, the wide-ranging menu boasts of dishes inspired by cuisines of various destinations – from the Americas to Asia to the Far East – the owner explored over the years, slightly modified to suit the local palate.
What's really on the menu?
A friend and I kicked off the meal with the Tuscan Salad – a refreshing, crunchy treat that could be a relief in the upcoming summer months. It had slices of fresh strawberry, corn, grilled chicken, butter lettuce, avocado, caramelised walnuts, pomegranate kernels and pineapple chunks. You can't have enough of this one.
We then ordered the Smokey Chicago Beef and Ebi Kabocha Tempura as appetisers. Inspired by a Montreal breakfast treat, the Chicago beef is a slice of mini garlic bread layered with rich cheese mousse with a succulent piece of beef resting on it that's topped with caramelised onions and a fresh salsa and all of this drizzled with balsamic vinegar. The various textures and sweet and sour flavours are best savoured in one bite.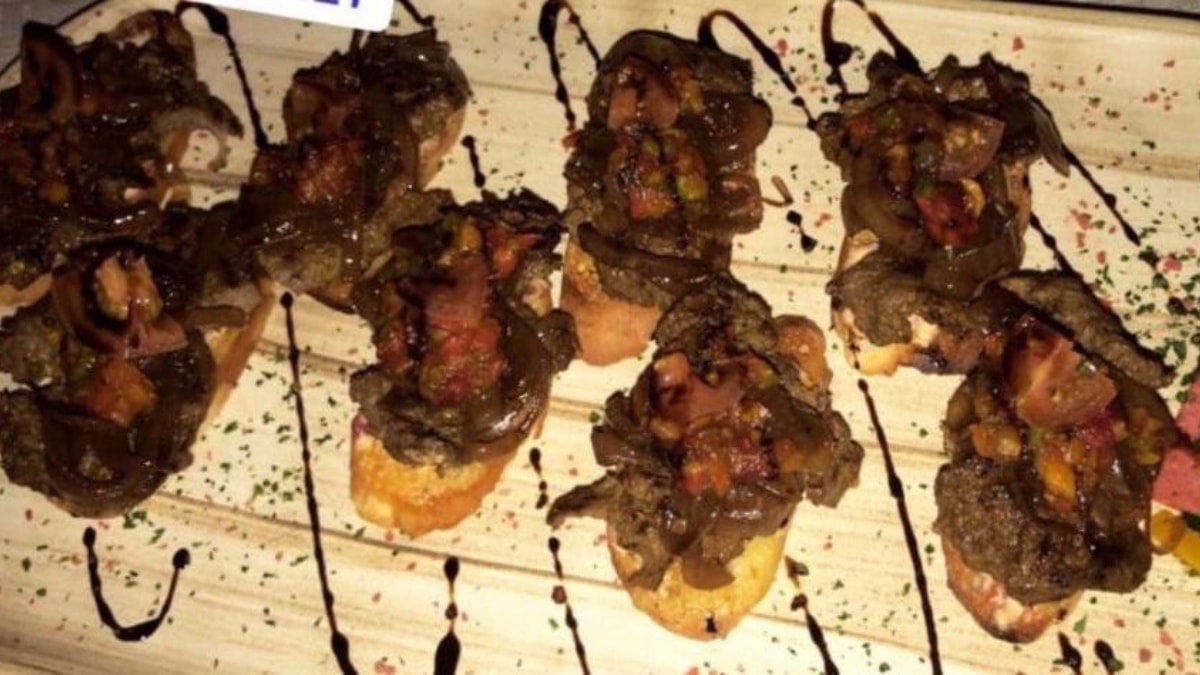 With vegetables on the side, the tempura prawns were fried in a thin crispy batter retaining the essence of the prawns without overpowering them with other flavours. The kick is provided by a punchy dark vinaigrette with black olives. Full marks for the cooking, but I could give these a miss on any future visit(s).
Tampa Chicken was the first of the main entrées. Char-grilled chicken leg and breast pieces, one of which was a bit tough to chew, were topped liberally with a luscious, shining, zesty in-house BBQ sauce. On the side were sautéed vegetables, mashed potato and some delicious stuffed mushrooms. While one could taste the char on the subtly flavoured chicken, the BBQ sauce was a bit too intense.
The subtly-flavoured Beef Scaloppini tasted as good as it looked. Juicy, tender beef strips rolled and stuffed with a delicious blend of wilted spinach, cheese and mushroom were topped generously with a light, creamy herb sauce with sautéed vegetables and potato gratin on the side. This was surely one of the highlights of the day.
Inspired by a Viennese dish, the Crispy Sole Medallion, as the name suggests, is fish served as medallions. Soft rolls of fish covered in a crispy batter, stuffed with carrots, capsicum and cabbage reminded me of the classic spring rolls. Sitting on a thick creamy red pepper sauce, these rolls were sprinkled with fried potato shreds and on the side were yummy potato chunks and veggies.
The Fiery Cocktail Pasta was true to its title. The pasta was mixed with chilli garlic sauce along with shallots, black olives, capsicum and a cocktail of chicken, beef and shrimps.
A hot delicious conclusion to a meal.
Time for dessert
Moving on to the sweet ending. The Apple Strudel was a soft, flaky pastry filled with apple and nuts and served on the side with a scoop of French vanilla ice cream and a delicious crème anglaise. A hearty dessert.
The Cappuccino Mousse Entremet was a disappointment. It looked stunning with equally sized layers of brownie at the bottom and then chocolate, coffee and white chocolate mousse topped with chocolate sauce, strawberry and cream all enclosed with shards of white and dark chocolate. On slicing into it I realised how tough it was, as it was as I took a bite; mousse is supposed to be soft and smooth. A letdown here.
Dock27 has positioned itself as a fine dining restaurant and the food is, obviously, priced as such. But there's something for everyone: light, subtle flavous as well as hot and spicy. The quality and presentation are great, but you may still end up wondering what was missing in the food.
Pay it a visit and decide for yourself!
---
Originally published in Dawn, March 24th, 2019