First things first: if you think NESCAFE Basement has totally won over most desi music fans with season 5, you're far from alone.
Celebrating some of the most popular tunes and musicians from the past and present, NESCAFÉ Basement, gave Pakistani music fresh flavour, unique voices and unforgettable remixes with its 5th edition.
We feel, in an industry as competitive as ours, NESCAFÉ Basement brought together singers, belonging to different age groups and backgrounds, under one roof to learn from each other's skill and produce tunes that add to Pakistan's talent-rich music industry.
Highlights from season 5
Here's a quick look at some interesting bits we picked from the show:
1. Hadiya Hashmi's Bol Hu tune became one of the top tunes of season 5
Beginning her journey with the very soulful 'Bol Hu', Hadiya Hashmi won us over with her talent this season.
NESCAFÉ Basement, in an attempt to set a new trend in the industry, revamped Hadiya's music school to encourage formal education of the skill, and we feel other music platforms in the country should follow suit.
The internet seems to be praising the 8-year-old to the skies for her power-packed performance with Soch the band.
Have a look at the song here:
2. An all-kids band performed their own rendition of Fakhre Alam's classic pop number
In a first for NESCAFÉ Basement, this song formed an all-kids band and gave fresh flavour to one of the greatest melodies of the '90s, Pyar Diya Galan which was originally performed by Fakhre Alam.
As many as 22 kids, belonging to different age groups between 7 to 18 years, performed the song with creative additions to the lyrics and melodies.
3. A wide variety of musical instruments were used for this season's performances
We couldn't help but notice the wide number of musical instruments each performance made use of.
From sitars to guitars, each song had talented musicians playing a number of tunes that were carefully chosen to befit the musical layout.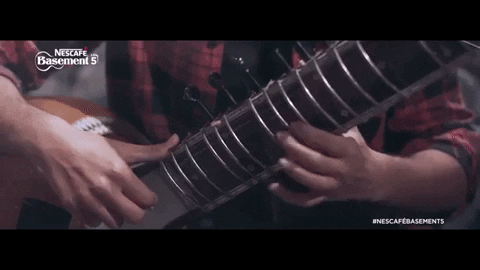 4. Mehbooba became one of the season's most loved tunes with over 5 Million views on YouTube
Performed by Ali Asghar, Ali Tariq, Hamza Tanveer & Sinan Salman, Mehbooba was a pleasant surprise to everyone celebrating season 5's renewed look at classic songs.
Have a look at it here:
5. Saathiya singer, Ali Khan, made a comeback with his latest release
Just when we were praising the effort that went into producing such creative mixes this year, NESCAFÉ Basement released Ali Khan's comeback number 'Teri Yaad'.
The tune is a soft, romantic and sentimental song that makes use of Ali Khan's befitting vocals.
Have a look at it here:
6. 18-year-old Abdullah Siddique debuts with an original tune
In a truly electronic setup curated by Sync, Abdullah Siddique gave season 5 of NESCAFÉ Basement brand new flavour in 'Resistance'.
The performance hemmed the musical arrangement with a variety of visual elements arranged and shot live in studios.
Watch full song here:
7. The season ends with a remake of Abida Parveen's iconic Gharoli and Ghoom Charakhra tunes
Performed by Tahseen Sakina and Baluch Twins, we feel this remake is a befitting homage to Pakistan's favourite sufi musician, Abida Parveen.
The tune mixes up notes of pop and sufi music to bring out what appears to us as the most apt ending to this year's NESCAFÉ Basement show.
Watch full song here:
To check out fun BTS videos, full songs and other details on season 5, head over to NESCAFÉ Basement's YouTube channel.
---
This content is produced in paid partnership with NESCAFÉ Basement and is not associated with or reflective of the views of IMAGES or DAWN.com and its editorial staff.
Email