All Pakistani designers really wants to show on the catwalk is bridal-wear.
They want to shower bling onto fabric and wax lyrical about sequins, craft and Swarovski crystals and if they are good at it – and if they're lucky – they're able to attract in a steady clientele and earn big profits. Basically, wedding-wear's lucrative potential is what makes the wheels of Pakistani fashion go round and round.
It was, then, a smart move by the Fashion Pakistan Council (FPC) to dedicate the third and final day of Fashion Pakistan Week (FPW) entirely to summer bridals. If that's what designers want to show and what the audience wants to see, then why not slot it for an entire day?
Read: Young fashion brands showed promise at Fashion Pakistan Week Day 2
Also, dividing wedding-wear and pret into different days streamlined the shows. The fashion no longer ran in a confusing, haphazard assortment. Pret and luxury-wear was the focal point on the second day and on the third day, you braced yourself for a steady flow of bling.
To be honest, as a critic, I really don't look forward to a show dedicated entirely to bridals. More often than not, it means that a constant parade of shimmer and floral embroideries will dominate the catwalk, frequently without any coherent geometry or design to them. Halfway through an event, I have often felt cock-eyed by all the endless, uninspiring catwalk glitter.
And here's an insider's secret: all you have to do is throw around a few words, like 'stunning', 'Swarovski' and 'sequins' and you could be declared a bona fide reviewer of bridal fashion. This is just how predictably commercial a fashion week dedicated to bridals tends to be – unless the opening act of the day is by Nomi Ansari.
Then, as was the case this time at FPW, there's magic in the air…
Nomi Ansari
If design could sing, it would have been yodeling exuberantly from rooftops, to the tune of lilting flutes and perhaps an occasional blare of trumpets. Mirrors twinkled, thread embroideries were wound into myriad florals and truck-art prints peeped out in the multicolours that are Nomi Ansari's leitmotif.
Like a kaleidoscope, the designs shifted with every movement, a mix of light and color played out onto impeccably crafted silhouettes. Despite the familiar spin of the color wheel, this was very evidently an all-new collection with innovations within the details; a slight twist to the embellishments and a tapering of the silhouette, for instance. And under Nomi's gimlet eye, the cancan falls just right under a full skirt, the bustier fits perfectly and the boot-legged pant splays out neatly.
There could have been no better opening act for a day dedicated to bridal fashion. Maya Ali as showstopper was merely the icing on a dazzling collection that showcased the designer at his finest, a couturier who knows his craft and who refuses to get lost in the increasingly crowded market for bridal-wear, paving his own path, singing his own tune.
Huma Adnan
Huma Adnan dabbled with a varied palette of colors, presenting traditional-wear that was very wearable. There were combinations of white and gold, an all-peach lehnga and burnished orange and red that were pretty. Unfortunately, there weren't many innovations within the profusions of floral embroideries or the silhouette. It was, ultimately, a retail-friendly collection but not an innovative one.
Amir Adnan
It was only inevitable that the heroes in Amir Adnan's fashion week collection would be the sherwanis and the fitted coats.
Adnan, after all, is a pro at creating the classic sherwani. I also liked some of the monochromatic looks in his collections; pairing a single-tone kurta shalwar with an embroidered waistcoat in the same shade. The urbane all-white and all-black sherwanis were the winners but the goldens, the shiny sea-greens and the conventional embroideries weren't as appealing. You win some, you lose some.
Saira Shakira
Saira Shakira have slowly and surely been building their business, identifying themselves with the wedding-bound modern woman. I imagine that their clientele appreciates the tiny tweaks that they add to a garment, managing to add an edge to age-old cutwork and sequined embellishments.
Uplifting their 'Euphoria' at fashion week were laidback luxe jackets, a slinky long shirt with a chevron lining peeping out from the slits and a heavily worked column shirt paired with sleek pants. There were certain other designs that were more curious: an embellished shirt in black and gold with a single pointy embellished swathe added at one end or lame pleats running down a shirt worn by Sunita Marshall.
The embroideries were heavy-duty and quite literally glinted on the runway but I do hope that the designers create newer patterns in their next show. Cutwork, crystals and a pastel color palette are wedding-wear staples in Pakistan but how will a brand carve a stronger identity for itself if it doesn't steer these techniques towards newer, more exciting directions?
In fact, Saira Shakira need to work towards more exciting territory overall. They need to experiment so that their clothes are more easily decipherable as their own. They've worked for long enough now and they've worked hard. It's time now to get bigger, better.
Zainab Chottani
Zainab Chottani achieved a coup of sorts by getting one of the hottest present-day 'it' couples to take to the catwalk for her. Asim Azhar – who, by the way, loves playing showstopper – stalked out, lip-synching his current hit 'Jo To Na Mila' and he was followed by Hania Aamir – who is allegedly dating Asim but won't say it - in an all red bridal dress.
They roamed down the catwalk together and at one point, Hania patted him on the cheek. Mobile phone cameras went into a frenzy and the images and the videos went viral. Great marketing for Zainab.
Also, not so great because, was anyone looking at the clothes?
A fashion showcase, after all, is essentially about design and while the showstoppers gave the audience a lot to talk about, Zainab needs to make her clothes do the talking. Cybil Chowdhry opened the designer's show with a dreamy silver and light pink lehnga, worked with very pretty florals.
Later in the show, silver cutwork, sequins and crystals took over on a canvas that ran the gamut from pastels to deep reds. The monochrome red on red embroideries were pretty but I wouldn't be able to recognize them as Zainab's if I saw them off the catwalk. The designer needs to develop a more distinctive ethos.
It seems to me that almost all the craftsmen in the country, from those working with upper tier designers to those sitting in Liberty Market, are currently slaving over merging sequins with cutwork. How does one tell which design is created by which designer? It's all quite beautiful, yes, but on the catwalk, it's important to make a sartorial splash.
And showstoppers make a splash, yes. I just prefer it when they don't take attention away from the designs.
The Pink Tree Company
The models wore mayoon and mehndi clothes; yellows and burnished oranges worked with thick gota, bright, feisty kurtas, chiffon lehriya dupattas and a dash of chata-patti. And all the while, old shaadi songs resonated in the air. How quintessentially Pink Tree.
There's something timeless about a whimsical silk kurta splattered with gota flowers. It appeals, not just because of its beauty, but also because it triggers a sense of ownership in all of us for. These were the clothes that our mothers and grandmothers used to wear and treasure. Old-school nostalgia is now an indelible part of The Pink Tree Company's aesthetic and the brand dipped and dived into it with relish.
Their collection was one of the most enjoyable of the night; presenting options that were so very wearable, immediately eye-catching and intrinsically Pakistani.
Tena Durrani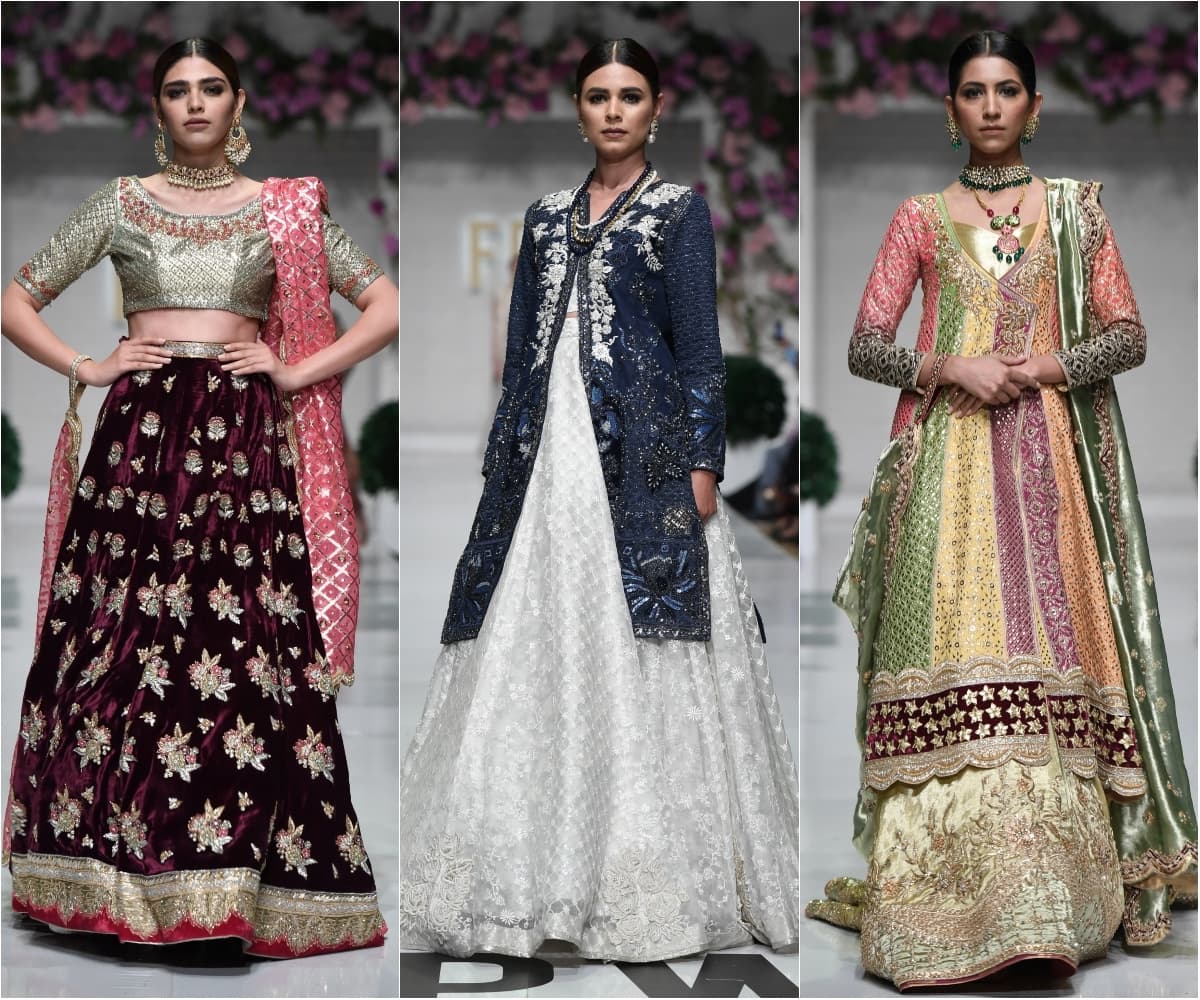 The last show of the night started at nearly 11 p.m. And when the clock ticks on for so long, the grand finale just doesn't seem so 'grand' any more. Fashion councils need to make an effort towards improving timings so that a designer's hard work doesn't go unnoticed just because the audience has begun to fidget, yawn or simply leave because it's way past their dinner time.
And Tena Durrani had worked hard. The designer now has a steady market for wedding-wear and she catered to it with her latest lineup of very heavily embellished clothes. Silver and gold lame predominated, paired with brighter colours; azure blue, tea-pink and maroon among them. As is the case with most wedding-wear, the designer opted for floral embroideries and traditional silhouettes.
The clothes are very likely to be a hit with Tena's clientele. Beautiful if not cutting-edge.
Also, the hair and makeup of the shows could have helped thing along but it didn't. I assume that it must be particularly difficult to improvise with makeup for wedding-wear. The models are weighed down by heavy clothes and often, tricky colours and have to strike looks that are glamorous enough for the catwalk but also beautiful enough to suit the conventional clothing.
The mostly basic eye and lip colours – and the tightly wound-up braids in Nomi Ansari's show - were uninteresting and by the end of the day, the girls just looked tired. A dash of lipstick or more dramatic eyes could have helped spruce things up?
Then again, perhaps that's easier said than done. How can you spruce up multiple lineups that are happily ingrained in a sequins-Swarovski-pastel bubble? I think it's a bridal fashion dilemma that won't ever get solved.
Email