The red carpet made waves as men and women broke gender stereotypes while making fashion statements
The Academy Awards this year were not just a home run for minorities and women, the red carpet made waves as men and women broke gender stereotypes while making fashion statements - and we're so ready for this.
These celebs prove that you don't need to wear gender conforming outfits to look good. You can work a dress or suit irrespective of gender, or better, mix a tux and a dress for the best of both worlds, like Billy Porter.
Billy Porter
Porter wore a "tuxedo gown" by the designer Christian Siriano. "My goal is to be a walking piece of political art every time I show up. To challenge expectations. What is masculinity? What does that mean?" he said about his outfit.
"I was having a conversation with the world. It's time we have this conversation. This conversation is about authenticity and acceptance and honouring of people's humanity even when you don't get it or understand it. I don't need acceptance. I don't need tolerance, but what we demand is respect for our humanity," Porter told Entertainment Tonight.
Jason Momoa
Aquaman star Momoa wore a velvet Fendi suit in pale pink, to break the association of pink as a feminine colour and he wore a matching scrunchie for his long tresses. It's cute how he matched with his wife Lisa Bonet.
Chadwick Boseman
The Black Panther actor wore a suit gown by Givenchy.
Boseman's glittering black and blue blazer came with a tail which caught everyone's eye. He paired it with a black cape shirt and trouser.
Elsie Fisher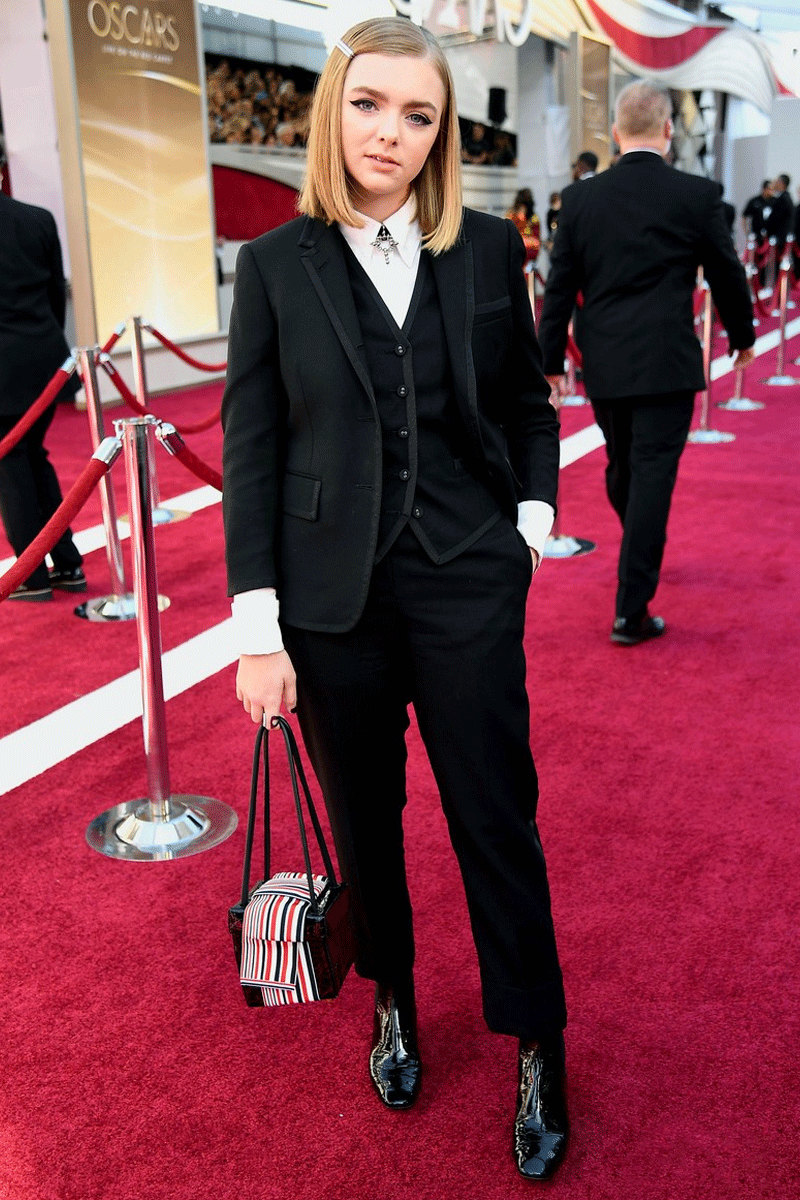 Fisher wore a black Thom Browne three-piece suit.
Though this isn't a first time a woman wore a suit to the Oscars, but it definitely goes to show that one doesn't need to conform to gender irrespective of the event. The actor styled her suit with boots and a trendy barrette, because why not?
Awkwafina
The "Crazy Rich Asians" star wore a Dsquared2 periwinkle pantsuit with a bow.
It's not just the power suit which stole the show, the star's accessory doubled as a drink holder and no points for guessing what was in the purse-bottle.
Amy Poehler
Poehler wore a black ruffled top, coattail jacket and trousers by Alberta Ferretti Limited Edition.
The star chose to go simple yet bold with a statement suit,bold eyes and tied up hair.
Email