In the world of motion pictures, love sells. Take the example of JPNA or PNJ, even Bin Roye.
In the world of motion pictures one undisputed fact reigns supreme: love sells. Even in midst of giant robots destroying cities, or superheroes fending off superior alien invaders while cities are ravaged, the main story is almost always supplemented by an underlying, if sometimes faint, love story.
Pakistani cinema is no different. With the exception of WAAR — the only out-and-out action title that made money at the box office — romance is an irrefutable prerequisite that is ever-present in Pakistani films, even if it doesn't lend itself wholly to the story.
Take Jawani Phir Nahin Ani (JPNA) for instance — a blockbuster that milked the mid-life crisis of its male characters. Essentially an adult comedy, the film's lead (Humayun Saeed) is a conflicted romantic who can't make up his mind between his two heroines. By virtue of plot, the story features a romantic subplot; by virtue of emotion and execution, romance takes a backseat.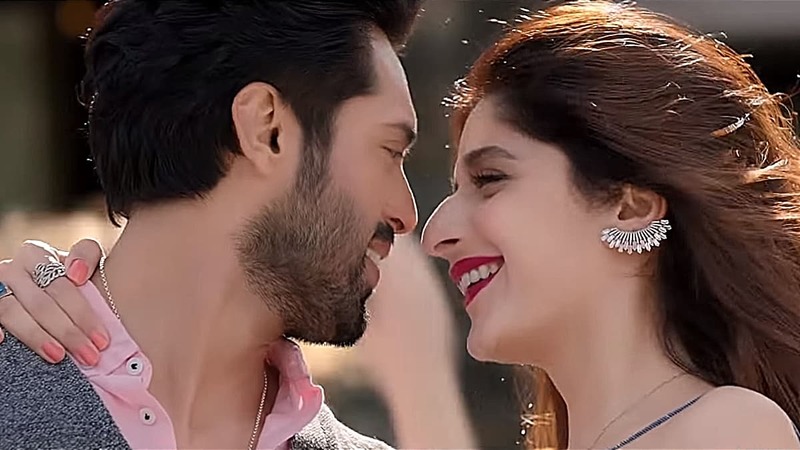 In JPNA 2 — the highest grossing film in Pakistan till date with 540 million rupees in domestic ticket sales alone — the romance, though better highlighted than JPNA, is still overshadowed by the zany shenanigans of the supporting cast.
Also read: JPNA2 is absurd, but in a really good way
This mindset is not exclusive to this franchise. Punjab Nahi Jaungi (PNJ), Parwaaz Hai Junoon (PHJ), Teefa In Trouble, Karachi Se Lahore, Wrong No., Mehrunisa V Lub U, Actor In Law, Na Maloom Afraad, Janaan, Ho Mann Jahaan — with a collective domestic box office of two billion rupees — all relied on action, comedy or drama to enhance the saleability of the idea of love and romance without solely banking on it.
A lone exception to the list is 2016's Bachaana, an old-school romance masala formula starring Sanam Saeed and Mohib Mirza, playing an Indian woman on the run in Mauritius and a smart-aleck cab driver, respectively. The film that came out a week after Valentine's Day was an off-season box-office success, grossing nearly 100 million rupees in Pakistan. However, Bachaana is just one example.
Also read: Luckily, Bachaana is a film that doesn't need saving
"We don't make pure love stories in Pakistan" says Satish Anand, CEO of Eveready Pictures. "Qayamat Se Qayamat Tak, Bobby, Kedarnath, Aashiqui 2 — now these are pure romantic films. Films that embodied the spirit of Romeo and Juliet."
In Pakistan we have an angle of love in stories, like the one in Load Wedding for example. Mostly though, we are producing rom-coms that have an element of love within stories that have action, songs and item numbers," Anand says.
Jerjees Seja, CEO of ARY Digital Network and producer of JPNA and PNJ doesn't agree. In a detailed conversation on the specifics of genre in movies, Seja clarifies the distinction between romance as an element, and comedy, action and drama as genres. A film can be in either genre, he argues, and the romantic element can work more or less the same.
Seja calls JPNA a rom-com, and PNJ a romantic drama; however, he lists both as family entertainers. ('Family entertainer' isn't a genre, by the way; it's a type of pseudo-audience classification that can incorporate any number of genres).
Also read: In Punjab Nahi Jaungi a wadera tries his luck at modern love and wins us over
In today's world, a film needs to incorporate aspects that appeal to the masses, Seja elaborates. He may have a point. Arth — The Destination, Chalay Thay Saath, Balu Mahi, Dekh Magar Pyaar Se, Ishq Positive and Rangreza were quintessential romances that bombed at the box office; their collective domestic earnings less than 145 million rupees.
Momina Duraid, the producer of Bin Roye, argues to the contrary, however. "Romance, if done right, will always sell. Everyone loves a love story," she says. "Stories where characters fall in and out of love will always have the power to draw the audience," she asserts.
Along with PNJ, Bin Roye is one of the rare exceptions of romantic dramas that shattered box office expectations by making over 130 million rupees domestically at a time when the average box office was less than 50 million rupees for successful movies.
Durraid's films have a penchant for embedding love stories into the narrative. Her last film, PHJ, about Pakistan Air Force pilots in training, was a surprise hit because she chose to play up the human angle of the story over the never-say-die, gung-ho proclivity of military movies. (With exception to WAAR, this is the only other military-supported venture that made money).
Also read: I enjoyed Parwaaz Hai Junoon because of the comedy and that's not okay
"If you don't feel the emotion, then you won't connect to the audience," says Sultana Siddiqui, the owner of Hum Network which includes Hum Films, the distributors of Bin Roye and PHJ. "Without these emotions, the life you see on-screen becomes abnormal. Love stories are essential to films. Even when you show a robot, there may come a time when he would want to become a human or fall in love. The same is true for the fighter pilots in PHJ," she says.
"Someone once argued that fighter pilots don't fall in love. I had to tell them that it's the human being and not the pilot who falls in love," Siddiqui asserts.
While the inkling of love or romance is ever-present in Pakistani films, most filmmakers are still skeptical of the feasibility of making simple old-school romances. This logic and clear-headedness is contrary to the very essence of the emotion. Like hopeless romantics, sometimes one has to take a leap of faith without worrying about financial outcomes.
---
Originally published in Dawn, ICON, February 10th, 2019
Email