Fashion insiders know that designers often talk about their work being plagiarised.
They will vent about it at the fashion week after-party, rant about it off-the-record with the press and, when thoroughly incensed, take to Twitter or Instagram, talking about how brands are unabashedly copying their work.
They usually do not, however, name the errant brand that has been copying them rampantly. Often, in fashion's claustrophobic, clustered world, naming names leads to being ousted from a certain 'it' fashion circle or getting one's name scratched off the guest lists of certain exclusive parties. On the rare occasion that a brand actually decides to name names and make official statements against their work being copied, it sends shockwaves running through the industry.
This is precisely what happened when, over the past weekend, SFK Bridals, a relatively young brand, alleged that the quite established menswear label, Republic by Omar Farooq, had replicated a design of theirs. As proof, SFK Bridals put up a post on their official Instagram page, of their own sherwani design, worn by the brand's ambassador, actor Fawad Khan (who is also the designer and owner Sadaf Fawad Khan's husband) in a shoot from June 2018, and a similar version of it that was posted recently on the Republic Menswear Facebook page.
The caption posted with the image pointedly condemned what they said was a 'blatant replication'.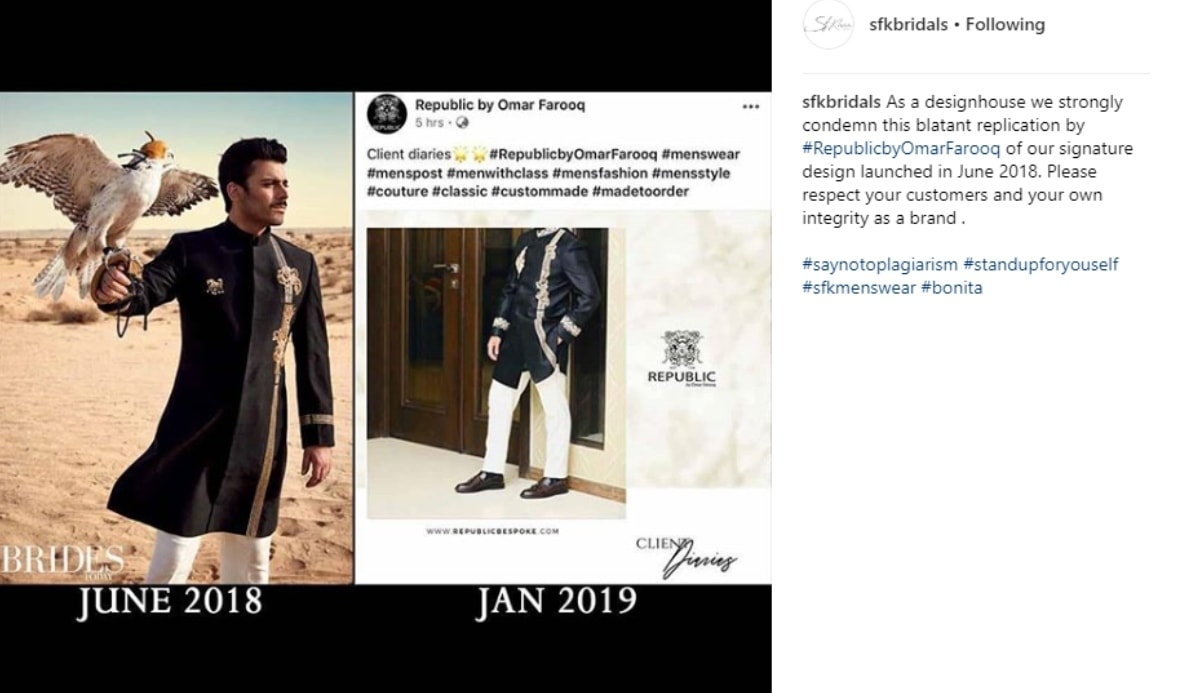 The controversy that unfolded very quickly prompted Republic by Omar Farooq to issue an official statement as well. The replication had apparently been due to 'a mistake carried out by an enthusiastic and inexperienced staff member' who got confused because Fawad had been associated with Republic Menswear in the past.
This statement, though, posted some hours ago, hasn't been able to placate SFK Bridals. In conversation with Images, Sadaf Fawad Khan said, "Fawad has never been featured in an easternwear shoot for Republic Menswear. Plus, the shoot from which the sherwani has been replicated is a particularly viral shoot of SFK Bridal's. In light of all this, the fact that Omar's staff saw Fawad in a formal sherwani and mistook it for their own design seems very implausible to me."
Sadaf went on to refute the Republic Menswear's claim of getting in touch with her brand. "They are yet to contact me," she says, adding that the brand has been trying to get in touch with her husband Fawad Khan instead. "Brand ambassadors are not contacted when these issues occur. The designer needs to be contacted. I am surprised by these lies put out so confidently in an official statement."
Speaking to Images, Omar maintained, "I reached out to Fawad Khan because my association has always been with him. Naturally, when this issue came up, my instinct was to reach out to him. This whole situation has been very unfortunate and we will be exercising greater checks and balances in the future."
This particular episode is certainly a learning for the fashion fraternity. Designers need to be vocal and make official statements when they feel that their work is being plagiarised. Off the record banter at fashion soirées doesn't really achieve much and the plagiarists continue to run rampant.
At the same time, fashion houses need to be vigilant about the designs that they create both on as well as off the catwalk, according to clients' orders. Copycat designs may yield sales in the short run but in the long run, the brand image can deteriorate and profits tend to slump proportionately. A stricter check needs to be kept on employees in order to protect the brand image and integrity.
A few weeks ago, designer Khadijah Shah of Elan had also posted Insta-stories alleging that the brand Suffuse by Sana Yasir was plagiarising their designs. Perhaps Khadijah also needs to make official statements given that Insta-stories expire within a day? Perhaps Suffuse could provide proof that they were creating original content?
To stop plagiarism, speaking out is necessary. This is especially needed in Pakistan, where fashion is still a developing industry and myriad brands are contesting for a piece of a single lucrative pie.
Email