Model and occasional actor Sofia Khan, better known as Fia, tied the knot in Berlin yesterday.
She's married her Turkish beau Tolga Erken in a beautiful wedding ceremony at a local hotel.
She announced the news in a post on Instagram, where she simply wrote 'I'm Yours, Tolga Erken'.
Fia wore a gold lehnga choli by Rana Noman Haq, while Tolga was dressed in black sherwani by Fas Designs. Fia's jewellery was designed by Deeya Jewellery.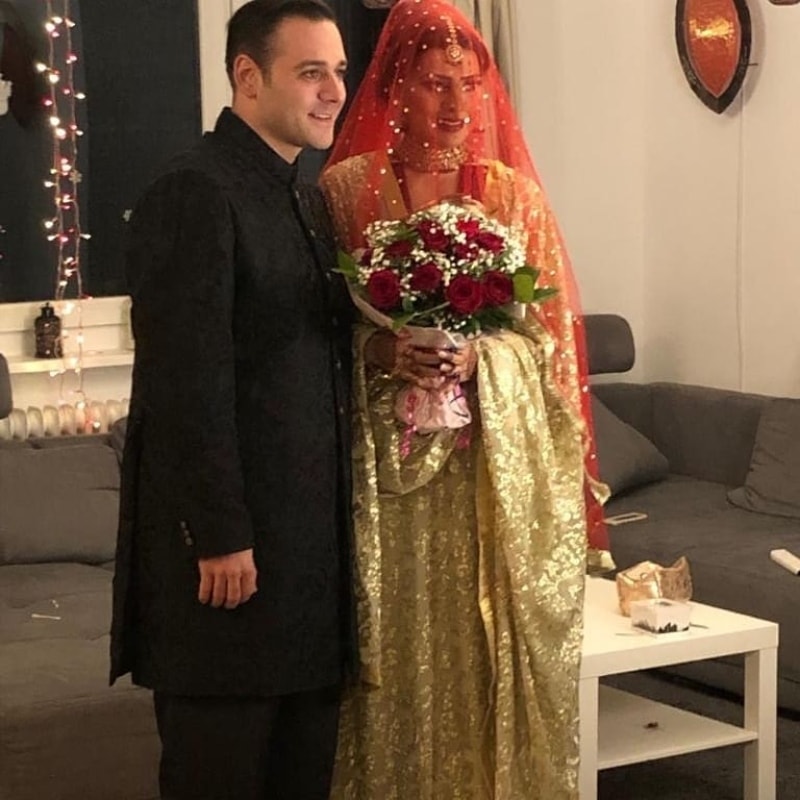 Fia and Tolga have been engaged since August 2017. On Instagram, Fia had hinted at her earlier marriage that went sour and said she was amazed at finding love again:
"I used to laugh when [a] few friends of mine used to say, 'Sometimes in life, you have to kiss a few ugly frogs to find your prince.' Now, I truly believe it! As I never thought I could ever fall in love, trust or believe in a relationship again … but as they say the best relationships are the ones you never saw coming…
"I wanna thank you @tolga_erken26 for being my reason to look forward to the next day because when I'm with you, I feel safe from the things that hurt me inside! Thanks for laughing, crying [and] playing with me like a kid sometimes... Thanks for understanding me, [accepting] me with my baggages [and] not asking me to change... Thanks for making me believe that it doesn't really matter what the world says! You don't have to but thanks for even saying that you promise to erase all my bad memories of my past and give me the brightest future! Last but not least thank you god for bringing us together at the most unexpected time of our lives… I'm so proud to call you my fiancé."
Email