Hum TV's latest drama Aangan has been released with a lot of fanfare and hype.
Since producer Momina Duraid first floated the idea of dramatising Khatija Mastoor's novel Hum TV's promotional department has been busy building up this serial in the public's imagination as an epic in waiting.
Loaded with a talented star cast and a lavish budget, Aangan has been honed and shaped by masterful craftsmen director Ehtashamuddin and writer Mustafa Afridi. So has Aangan lived up to expectations? From the first episode at least the answer is a qualified yes.
Aangan is often translated as the women's courtyard, it is the inner, intimate part of house, open to the sky but shielded from the world, where the women of the subcontinent spent most of their lives while the men passed in and out. These are lives ignored by the history books, the silent masses who took up the burden their times laid upon them and suffered one of the greatest upheavals known to man the partition of the subcontinent. Unlike other novels covering this subject Mastoor makes no overt political judgments except to highlight the hidden lives of the women of one family.
This week's episode introduces us to a large Muslim family in pre-partition India, whose wealth and impressive household will be a source of pride and sad reminiscence for its future generations. The Malkin or lady of the house is taking account of the yearly crops and income from her Munshi, while her husband Abba Mian gets ready to meet his mistresses.
Director Ehtashamuddin is a masterful creator of mood and atmosphere, wrapping these characters in the soft sunlight of the past. The cool dark corridors and store rooms of the grand haveli contrast with the play of bright light and shadow in the courtyard. There is an air of quiet decay but also one of power which hasn't yet faded.
The focus of this episode is the lovers, Subhan (Ahsan Khan) and Salma (Sonya Hussyn). Subhan is a servant who knows his place, he is well aware of the consequences, if this proud, wealthy family found out that their young daughter was obsessed with a servant. Hussyn and Khan make their characters work, infusing a little life and charm into the melancholy start to this story.
Like all the men in this novel, Khan's practical country boy Subhan is no hero and he runs at the first sign of trouble, leaving the overly romantic Salma to bear the brunt of her mother's cruel punishment. Anyone looking for a sweet, heroic romance like the kind Hassan and Bano had in Dastaan should step back now. Aangan is not that kind of serial. Hum TV's previous magnum opus on Partition, Dastaan still casts a giant shadow and Twitter was rife with disappointment at the lack of colour and fun that Dastaan opened with.
Part of the blame lies with the promotional department for playing up the mischief and romance between characters like Chammi (Sajal Aly), Jamil (Ahad Raza Mir) and Aliya (Mawra Hocane), who will make their appearance later. While both Dastaan and Aangan focus on the price paid by women during partition, there is a note of bright humour and life in Dastaan that is missing in Aangan because it's a very different story. In Dastaan Bano lives a much loved, well protected life, only to suffer at the hands of strangers and it is the warmth of that early security that gives her the courage and strength to fight on.
The women of Aangan suffer within their own courtyard at the hands of those they know and love. Aangan challenges the viewer with a different perspective, a harsh critique of an older culture we still cherish.
Zaib Rehman gives a compelling performance as the Malkin, a harsh woman, but somewhere in the angry lines of her face we can understand the pain that has hardened her: her husband's indifference, his brazen infidelities and the loss of her youngest son to the khilafat movement. Abid Ali is formidable as Abba Mian or Malik, completely self-centered and consumed in the pursuit of his own pleasures despite his grown family. Omair Rana and Madiha Rizvi play another interesting but dysfunctional couple. Mazhar (Omair Rana) hates the British despite working for them in the Indian civil service, while his wife revels in the fact that her brother has married an English woman.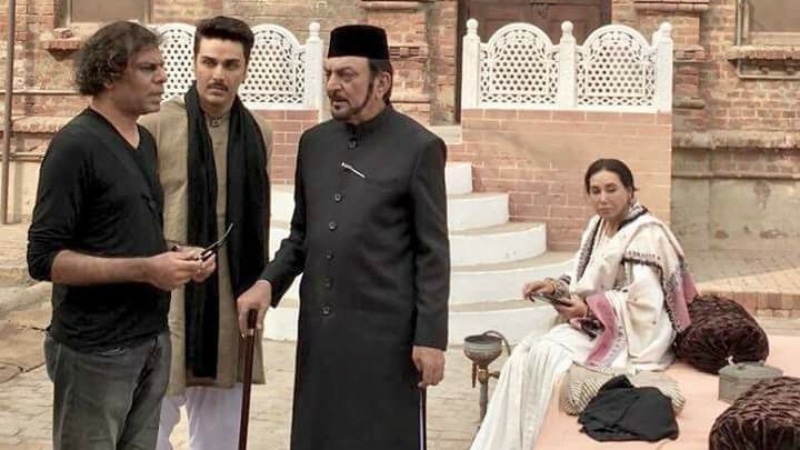 Khatija Mastoor and Mustafa Afridi have written layered, nuanced characters that seem almost alien in the landscape of Pakistani dramas to day. The men have actual work to do; they have hobbies, thoughts and personalities beyond their relationships with their wives and mothers. The women have minds of their own and have not made a virtue out suffering and weeping in silence. The Malkin never begs her husband for anything, and angrily points out his illicit relationships for the world to see. When her son Mazhar tells her that shareef or good families cover such faults, she replies that such people are not sharif, just hypocrites.
Whether it is Salma in this generation or Tehmina in the next the bholi larkiyan that plague our dramas love presenting as the feminine ideal are treated with a more critical eye in this serial. The heroines in every other serial on TV, these "bholi larkiyan" are shown as examples of what leads to loss and failure, while the sensible, more thinking female protagonists take center stage.
The script's treatment of Hindu and Sikh characters is also refreshing. They are neither treated with kid gloves nor are they demonised. The Munshi is a case in point: while the Malkin accuses him of casteism for refusing to eat with Muslims, he is kind enough to bring a glass pot of honey at her younger daughter in law's request. All the contradictions and compromises made by human beings to accommodate culture and religion, while getting along with others of different faiths are effectively illustrated in a few scenes.
Aangan has made a promising start and it should be a serial that builds with each episode. The authenticity and attention paid to detail by Momina Duraid and Ehtashamuddin should ensure this serial's success at international level but only if they can infuse some energy into this story.
Another adjustment might be the strangely inappropriate, Bollywood style background music that thunders in our ears while watching. It makes a strange contrast to the beautifully evocative ghazal and love song used to set the tone of Salma and Subhan's interactions.
While a linear narrative gives the producers more episodes, it may lose them some viewers if the story loses tension. So far that hasn't happened and Aangan is looks like a regular appointment to keep every Thursday.
Email