Graduates of Mehran University of Engineering and Technology (MUET) are showcasing their final projects at the institute's Jamshoro campus this week.
The five-day Annual Degree Show, which runs till Monday, marks the graduation of over 50 final-year students of MUET's Centre of Excellence in Art & Design (CEAD) from the departments of fine arts, textile design, communication design and architecture.
Sanober Rajar, a fine arts graduate, tried to highlight the disempowered status of women in Pakistani society through the metaphor of puppets. She used strings and tied women's hands to show that all women in the name of sisters, daughters, wives and mothers are controlled by men in this society.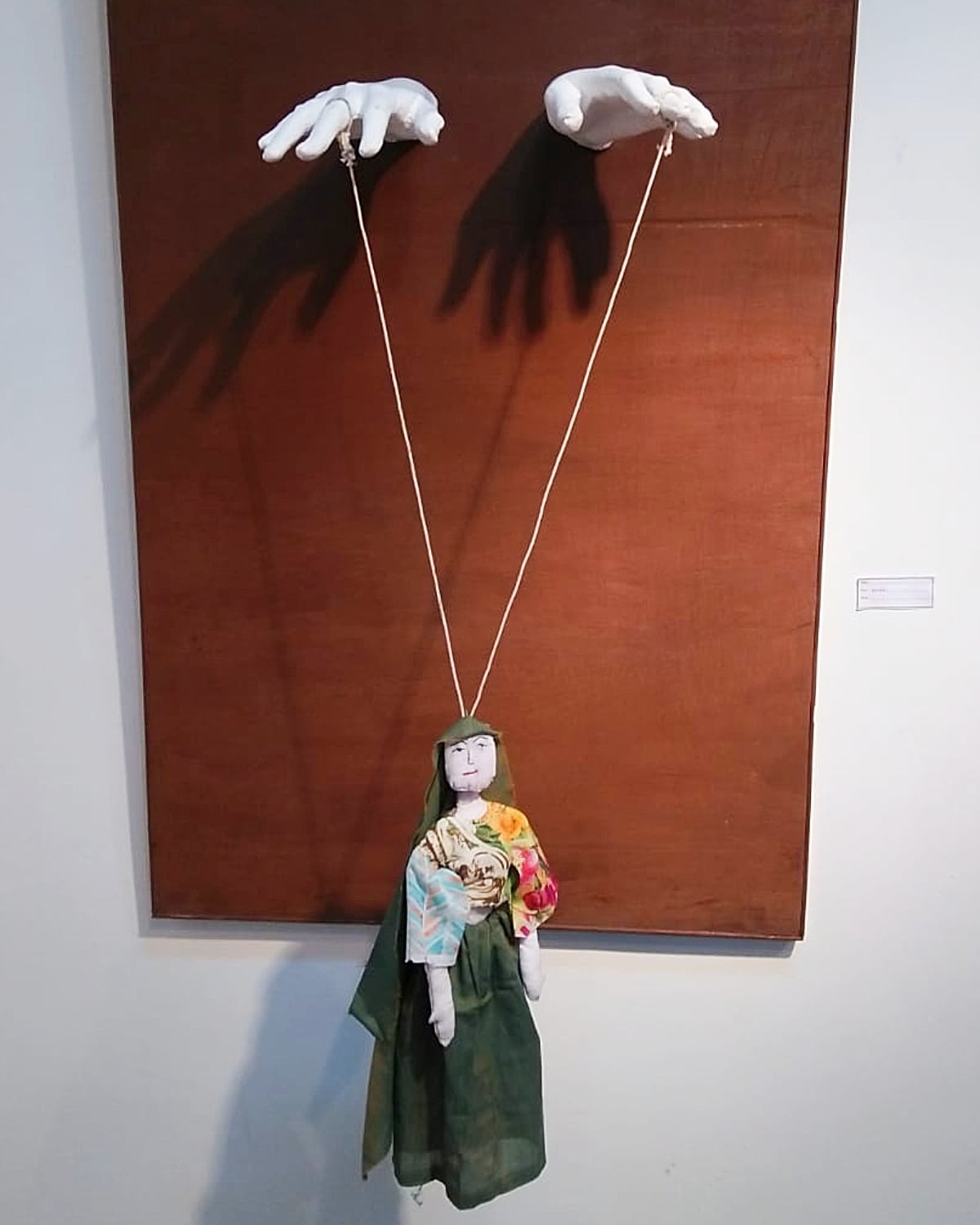 Another fine arts graduate Shahzeb Mughal constructed a great wall with small and colourful bricks to highlight Hyderabad heritage and spread awareness about the need for preservation of sites like Pucca Qilla, Ghulam Shah Kalhoro tombs and tombs of Mirs. He said that such buildings should be renovated and made into tourist spots; otherwise, they are likely to collapse in 50 to 70 years and will be lost to the future generations.
Rabail, a student of textile design, used a honey bee-inspired palette for women's dresses. She talked about the significance of the bee, saying that if it would disappear, agriculture, human beings, animals and other species would not survive.
Communication design graduate Daniyal Khanzada set up a platform titled Limited Studio for inexperienced photographers that would allow them to share their work through a mobile app with an international audience.
Student of communication design Kashaff Abro designed a space that promised to "change frowns into smiles!" She explored the theme of euphoria on four walls titled Scentification, Doodly Do, Sweet and Reason to Smile. The interactive element of her project was a delightful surprise to many visitors.
Students of architecture called for revitalizing the lost cultural essence of Hyderabad fort, Pucca Qilla and Saif-ul- Malook lake.
MUET CEAD director Prof Dr Bhai Khan Shar said the exhibition serves multiple purposes, "The grand exhibition has four objectives: examiners can evaluate works of the students; novice or new students can get inspiration from [the graduating class's works; arts and design education is disseminated along with engineering and medicine; and art gallery owners, industrialists, bureaucrats and art lovers buy the projects for the decoration of their drawing rooms and offices."
He revealed that the graduate projects sold for a total of Rs 2 million in 2017, while they have set the target at around Rs 2.5 million this year. He said that the money goes to the students, while the centre provides them with facilities to promote and encourage their art.
He believed that the graduating students would hire artists instead of being hired. He hoped to see them as successful entrepreneurs and generate jobs for youth in the future.
Email