At a recent event held in memory of Faiz, speakers voiced concern about barring panelists to speak at the Faiz festival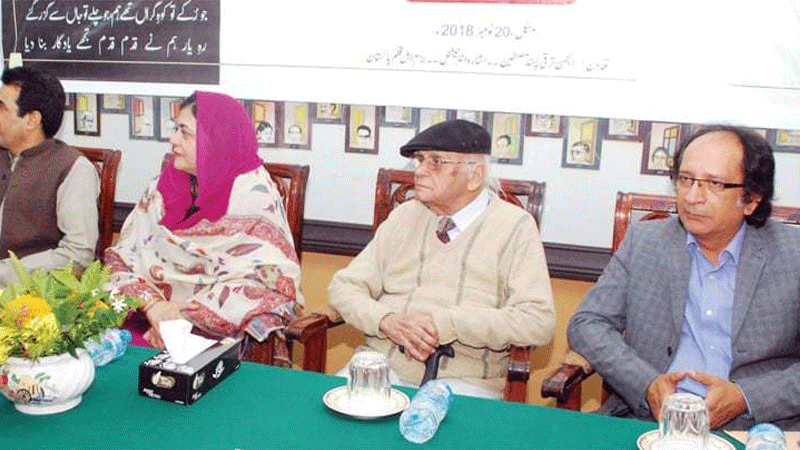 Faiz Ahmed Faiz has been made a commodity and is being sold as a product against whom he fought through his poetry and practical struggle, said writer and poet Prof Ravish Nadeem at an event held in memory of Faiz at the Pakistan Academy of Letters (PAL) on Tuesday.
He said the great revolutionary poet is deliberately being reduced to a romantic and mystic poet. Efforts are being made to remove his poetry of resistance from our memory.
Talking to Dawn, Prof Nadeem said the Faiz Aman Mela used to be a mega event for political activists, workers, peasants and students and that it has now turned into an international festival for the elite.
"The dissenting voices were not allowed to speak at the festival," he said, referring to the ban on four panelists from participating in the recently concluded fourth Faiz International Festival in Lahore.
Also read: Four speakers barred from this year's Faiz International Festival
Dr Taimur Rahman, Dr Ammar Ali Jan, senior journalist Rashid Rahman and MNA Ali Wazir were not allowed to speak at the festival for unspecified reasons.
Prof Nadeem spoke about the classical tradition of romanticism and social content in Urdu poetry. The late 19th century and early 20th century witnessed a major change in Urdu poetry, he said and that social messages and new political values changed the tone and diction.
Although Iqbal, Hali and Akbar Allahabadi also highlighted social issues in their poetry, it was Faiz who gave new meaning to the poetry and philosophy and changed the thinking of the literati, Prof Nadeem said.
Romanticism has been dominant theme in other poets' work but what makes Faiz' poetry different from others is the amalgamation of romance with social message, political ideals and portraying the woes of the wretched of the earth, he said.
He dispelled the notion that Faiz' poetry has become irrelevant. In early the 80s this and other questions about revolution and social messages in Faiz' poetry were raised after the debacle of the Soviet Union. But these notions were disproved; the popularity of the great poet's message is on the rise and is relevant today as was in 60s and 70s, he argued.
PAL Director General Rashid Hameed said that Faiz has left an indelible mark on our cultural and literary life. His contribution and commitment to the cause of the working class will remain to inspire generations. As long as Urdu language is alive Faiz will always be remembered, he added.
Parliamentary Secretary on National History, and Literary Heritage Ghazal Saifi paid tribute to Faiz and said that the great poet will remain alive in our memories for ever. The reverence he enjoyed among all segments of society and the freshness of his poetry even after 34 years of his death proves that his poetry is relevant today. She appreciated current poets for carrying on the literary legacy of the great poets.
The event was organized by Progressive Writers Association in collaboration with Ishara International and Bazm-i-Ahle Qalam and conducted by young poet Ali Yasir.
---
Originally published in Dawn, November 21st, 2018
Email