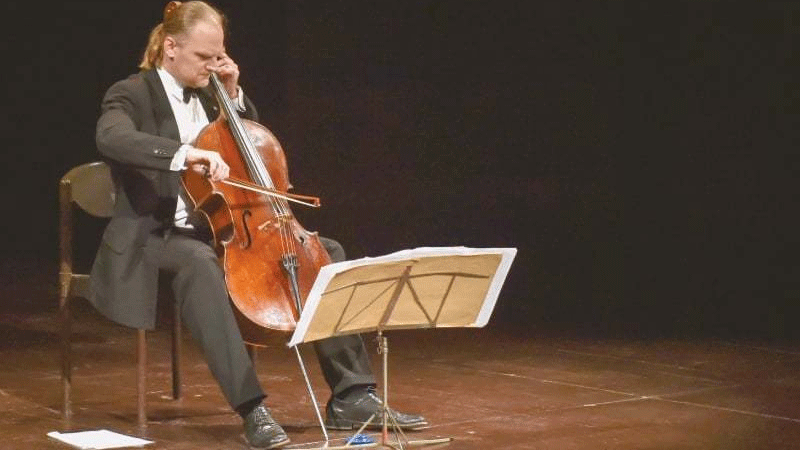 How often does one get to hear a cellist play Pakistan's national anthem? Never.
Well, on Saturday evening in Karachi, Czech musician Frantisek Brikcius played the national anthems of Pakistan and his country before formally giving a fine solo performance at a concert in which he played a variety of compositions to the delight of a discerning audience.
Brikcius was born in Prague. Now it wouldn't be irrelevant here to mention that two of the great and highly influential fiction writers of the 20th century, Franz Kafka and Milan Kundera, grew up in what was once called Czechoslovakia.
Kafka is not particularly known for his love of music, which does not mean that he didn't have "a natural feeling for rhythm and tune", but Kundera is a keen student and lover of music. This is evident from a majority of his novels in which he has used music as a potent metaphor for life's beauty and vagaries. In The Book of Laughter and Forgetting, he writes: "If it is true that the history of music has come to an end, what is left of music? Silence."
Brikcius aptly invoked this sense of history on Saturday. He began the show with Bach's 'Suite No.5 in C Minor'. It had six movements: prelude, allemande, courante, sarabande, two gavottes and gigue. The movements played in the minor scale had lilting melodic moods and lively rhythm patterns. This hinted at a kind of an invitation to dance. It is no mean feat and the artist (all solo artists, in fact) must be praised for enabling the audience to create visuals in their minds by listening to beautiful notes coming out of a single instrument.
Bach was followed by another German composer Max Reger's 'Suite No. 2 in D Minor'. It had four movements: praludium, gavotte, largo and gigue. Though comparatively it was a shorter performance, the mastery with which the cellist conveyed the feel of the composition was no different.
Then Brikcius chose a musician, Bedrich Smetana, from his own country. The tune 'From my homeland' had a lighter touch to it, which the audience seemed liked very much.
The final three items were Slovak composer Eugen Suchon's 'How beautiful you are', Irena Kosikova's 'Vaselka' and 'Poem' by Zdenek Fibich (the last two are Czech masters). They were all very short pieces that mellifluously rounded off the gig.
The event was organised to mark the 100th anniversary of Czech statehood.
---
Originally published in Dawn, October 29th , 2018
Email