By sharing his family's secret recipes, Mubashir Saddique has amassed 500,000 subscribers to his "cooking reality show"
The sound of birds, the snapping of twigs, then their reassuring popping and crackling as he stokes them under a makeshift temporary stove, the gurgling sound of running water from a nearby tubewell or the chugging of a tractor — the sight and sounds are real as you're transported to the village of Shahpur.
In fact, you can almost smell the aroma as onions begin to sizzle in hot oil while Mubashir Saddique crushes garlic and ginger in a wooden mortar and pestle. The onions let out a last loud shhhrrr as the crushed mixture is transferred to the oil.
33-year-old Saddique is our very own Jamie Oliver salt-of-the-earth type guy who has become somewhat of a celebrity on YouTube with his Village Food Secrets channel enjoying a huge following.
While working as a production manager in a soccer ball manufacturing factory in the nearest town of Sialkot, Punjab, he probably never imagined his life would take such a bold turn.
But he sure is glad he doesn't have to make the daily hour-and-a-half bike commute covering 50 km from Shahpur to Sialkot anymore. Saddique has quit the factory work since he is now "full-time" doing, what he calls vlogging "reality cooking shows", giving out "centuries old" recipes of his family members.
Although when he started, money was never a consideration as he didn't even know he could earn money from something he loved to do using a cellphone camera!
"I want the world to know my family's secret recipes!" he told Images over the phone from his village, where he resides with his family — a wife, three kids, his parents, and a younger brother (the other is working in South Korea).
Since the time when he put up his first video showing how to make stuffed mooli (radish) parathas in January last year, there has been no looking back for this village vlogger. He has so far uploaded 350 videos showing not only eastern culinary delights but even burgers and pizzas (he baked the buns and the pizzas' base in an earthenware tandoor-oven built from scratch)!
"[My viewers abroad] say the food, the landscape, my use of earthenware crockery etc., helps in reducing their yearning for home." — Mubashir Saddique
Unpretentious, wearing a clean shalwar kameez with his signature yellow flip-flops (although these have since been replaced by a blue pair after the former broke), he admits he does not possess a "hi-fi kitchen or fancy culinary gadgets or equipment".
You also notice he does not have basic knife skills and can't even slice onions, tomatoes or chillies with the speed of professional chefs. In one video he is seen using a wooden takhti (a tablet used for learning writing with ink) instead of a cutting board although that too has now been replaced by a plastic one! Still, many viewers find him "distinctly disarming".
Some may be dismayed to see the slaughtering of chickens, cow dung fuel bombs or his unmindful use of hands to mix everything. However, the use of organic produce from his kitchen garden, the beautiful village backdrop and working quietly as opposed to chefs coming on the screen and talking incessantly may outweigh some of the negatives. Viewers have said they love his videos for the "simplicity" of the "content".
What he cooks is then heartily eaten by the family. Every two weeks, he cooks in large quantities and treats the less privileged kids from his village to partake in the feast. In one video in particular, he bakes a humongous bun along with several regular sized ones and puts together "zinger" burgers that are then distributed among the patiently waiting kids.
He has also come a long way from the first video he uploaded.
"In that, I did not speak at all, it was a very basic video," he said. Gradually, he started mentioning the ingredients he used and today, he says, he's confident and talks to the viewers easily, but only when necessary, said the one-man videographer who shoots and edits his own videos. He admits, though, that his wife (who never comes on the screen since she observes strict purdah) often helps him in filming.
He has also become more tech-savvy and has invested in a better quality microphone. His latest equipment includes a drone "for aerial photography" he said excitedly, sent by his brother from South Korea who also sent him an electric rice cooker!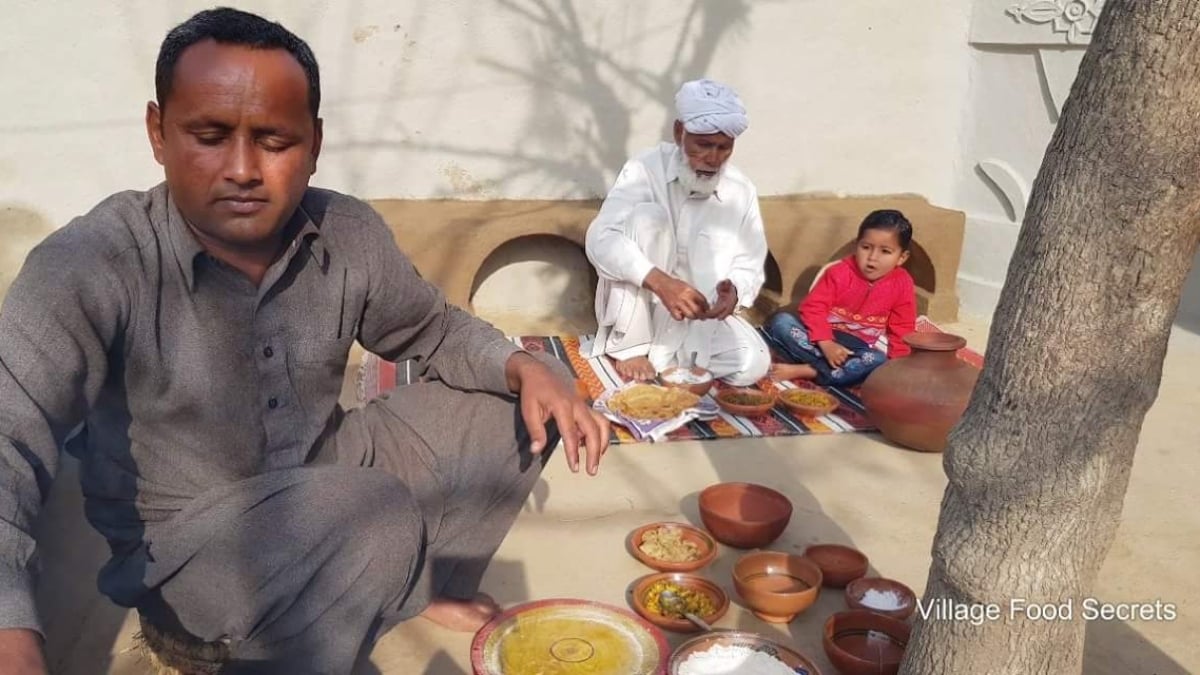 At the end of each show, his father, whom he terms the "life" of his shows and who is also his chief food taster, looks into the camera and says "Zindabad puttar, maza aa gya (Long live son, loved it!)!" Saddique said the viewers have loved this tagline but insists he has never ever told his father what to say.
The five countries that he has received the most views from are Pakistan, India, UK, US and Saudi Arabia. With a little over 500,000 subscribers to his Village Food Secrets channel, he informed it is his seekh kabab recipe, that has so far received the highest viewership at 3.4 million views.
"From the UK (aside from the Pakistani diaspora) and India, it is the Punjabi speaking community," he said of his viewer base. He is bombarded with messages of love and admiration on YouTube, Instagram (338 followers) and Facebook (9.4 k) (all with the same name). "They say the food, the landscape, my use of earthenware crockery etc., helps in reducing their yearning for home," he said.