Nabeel Qureshi and Fizza Ali Meerza's workspace resembles their work – vivacious, individualistic, desi but quirky.
I wait for them in an office which is filled with colour and memorabilia. There is a wall dedicated to Quentin Tarantino, the famed director frowning down in a black and white image with his quotes written underneath: "When people ask me if I went to film school I tell them, "No, I went to films.' and 'I steal from every film ever made'. Both these quotes, as I discover, also ring true for Nabeel and Fizza.
I sit next to a table that is clustered with awards; the bald-headed Lux Style Awards statuettes nudging shoulders with the Hum Awards – reminders of the impressive lineup of hit movies the two have helmed together under the banner 'Filmwala Entertainment'. The door is littered completely with post-it notes with characters and dialogues scrawled upon them – I am told that they were part of the process of the making of the trailer of 'Load Wedding', the duo's upcoming movie, slotted for an Eid-ul-Adha release.
Nabeel and Fizza walk in a few moments later. They have been up all through the previous night, fine-tuning the post-production details of their movie. Load Wedding's release is two odd weeks away and their schedule is breakneck.
Fahad Mustafa, who plays the male lead, is currently abroad promoting his other Eid release – Jawani Phir Nahi Ani 2 (JPNA2) – but he is going to be joining them the following day as they initiate a countrywide pre-release promotional tour.
"We are going to be going to all the major cities; the malls, the cinemas, the expos," outlines Fizza. "It's going to be followed up by three premieres in Lahore, Karachi and Dubai."
With two other major local productions also vying for an Eid release, local cinemas are about to get very busy with red carpets and premieres. It is on this note that we start our interview…
Images: Does it make you worried that two other major movies are releasing at the same time as Load Wedding?
Fizza: We were mentally prepared that Humayun's movie would be releasing at the same time as Load Wedding. This has happened in the past also and it's something that we've gotten used to. Honestly, we actually enjoy the rivalry.
It's unfortunate though that at the eleventh hour another major movie also set its sight on Eid-ul-Azha. Parwaaz Hai Junoon was originally meant to release some time ago on Eid-ul-Fitr. If the producers decided to postpone the release, they should have opted for a window that wasn't already taken up by two other movies. Internationally, there are associations that exercise checks and balances over such last-minute changes. In Pakistan, though, there are no such measures.
Nabeel: Generally, there is just a two week span in which a movie earns as much as it can. Business is definitely going to get affected for all three movies. And then, for the rest of the year, there will be very few other major releases. That's just unfortunate for the industry overall.
"It's unfortunate that Parwaaz Hai Junoon also set its sight on Eid-ul-Azha at the eleventh hour. If the producers decided to postpone the release, they should have opted for a window that wasn't already taken up by two other movies." — Fizza Ali Meerza
Images: There's a clash of another sort also that your movie faces: your hero, Fahad Mustafa, will also be seen in JPNA2. Do you think that this could be detrimental for your movie?
Nabeel: We'll only find out if it's detrimental once the movies release but Load Wedding is Fahad's solo project while in JPNA 2 he is part of an ensemble cast.
Fizza: Also, both movies are very different and Fahad has worked really hard on keeping both his characters distinctive. We scheduled our shoots in such a way that he could change his appearance accordingly. For Load Wedding he grew a moustache and gained weight while in JPNA 2 he is leaner. The characters that he plays in both movies are poles apart.
Images: So far, Fahad has been part of every movie helmed by the two of you. Don't you think that it's about time that you try out other heroes?
Fizza: We're always open to working with other actors but it's just that Fahad is a very good actor, extremely hard-working and most importantly, we share a very good equation with him.
Nabeel: It's not unusual for a director to work more frequently with a certain actor. Hasn't Karan Johar worked a lot with Shahrukh Khan or Tarantino cast Samuel L. Jackson in many of his movies?
Images: This is also going to be your second movie with Mehwish Hayat – third, if you count her item song in Na Maloom Afraad. Is she also going to become a Filmwala Pictures favorite?
Fizza: We don't have any favourites but working with Mehwish is always a pleasure. Other girls from our industry need to learn from her. She is very professional, focused and has great energy. Our movie has been shot in a part of interior Punjab where the lanes were steep and so narrow that only a single motorbike could pass through them at a time. Mehwish would simply roam around the whole area on foot or just ask any spot-boy on a bike to take her from one place to the other. She has no diva hang-ups whatsoever.
Images: Mehwish is quite notorious for her lack of punctuality. Did that not bother you?
Fizza: That's her only fault and we found a way to get around it…
Nabeel: If our shoot was going to begin at 6am, I would give her a wake-up call at 4am.
Fizza: At other times I'd just keep an extra key-card to her room with me and I'd go and wake her up.
Images: Does this mean that you didn't have to deal with any celebrity tantrums at all even though Load Wedding features Mehwish and Fahad as well as longstanding actors like Faiza Hasan and Samina Ahmad?
Fizza: We've been really lucky throughout our career that actors have generally respected us. Basically, these things are reciprocal. On our set, every person – even the spot-boys – is treated with respect.
Nabeel: It was wonderful how the entire cast of Load Wedding unquestioningly followed our instructions.
There is a part in which Mehwish has to wear a strange cap. She looked quite funny in it but she wore it like a good sport. And Fahad's role is of a small-town boy so we've made him wear baggy, ill-fitted pants throughout the movie. He used to joke with me that I am trying to make him look ugly but he would still manage to look his best.
There was this one time when I got a shoe from Servis for him but it looked a bit too new. A workman was in our office at that time, fixing the air-conditioner. He was wearing a similar but more dilapidated shoe. I exchanged the new shoe with the old one and Fahad happily wore it.
No actor has ever argued with me about another actor's dialogues. Once I have narrated the story, I just send each actor his or her particular character's part and they are completely fine with that.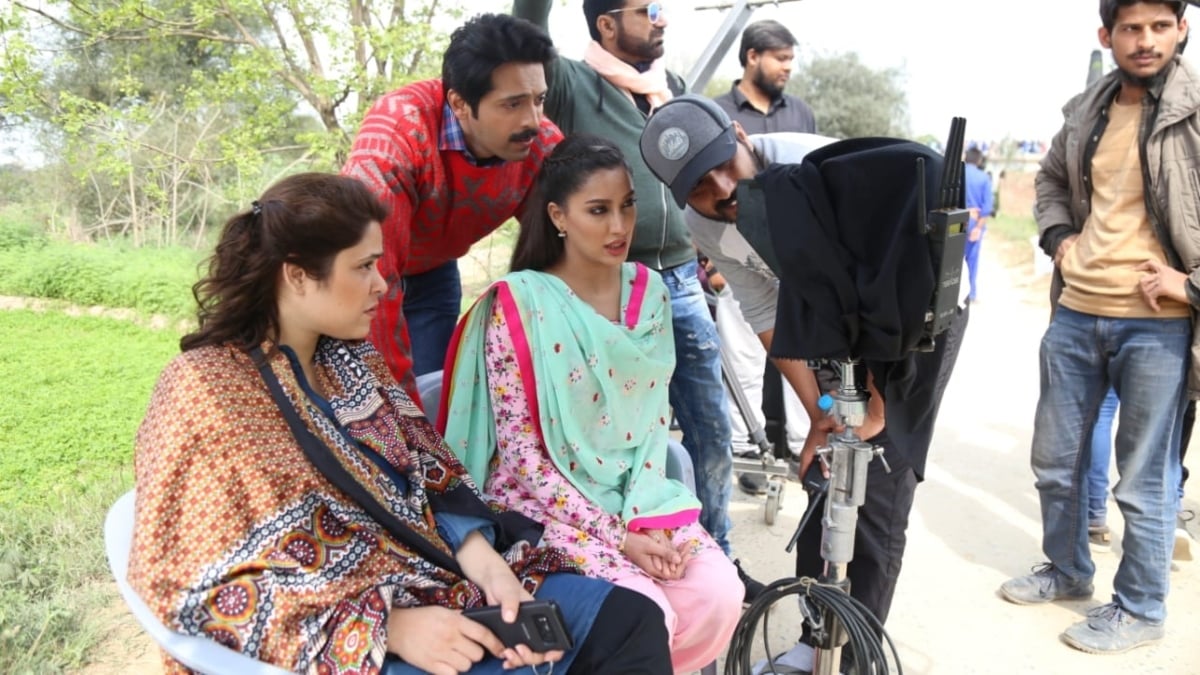 Images: But why wouldn't you want the actors to have the entire script? Wouldn't it make things easier for them?
Nabeel: Not really. They already know the story in detail. I also have this subconscious fear that if an actor left the script lying around, it could get lost or be read by other people. Fizza and I write our own scripts and we are fiercely protective of our storyline.
Images: Is this why the trailer to your movies are a bit obtuse, not revealing too much about the storyline?
Fizza: Yes, people should come to cinemas knowing that they are going to watch a good movie but they don't need to know exactly what the movie is about.
Images: You seem to have worked quite extensively on creating Load Wedding's trailer. How important is a trailer?
Fizza: It's very important. It's your whole pitch.
Nabeel: The trailer is the single most important way of promoting a movie. I especially spent a long time on Load Wedding's trailer because the story has so many sub-plots within it. I edited the whole movie and then set about making the trailer.
Images: You're one of the very few successful filmmakers that we currently have in Pakistan. Are you absolute dictators on set or complete workaholics?
Fizza: We're just very focused on our work. The movie has to follow our mutual vision.
Nabeel: We write the script together and I am a very demanding director. I want my producer – Fizza – with me throughout the movie's shooting.
Fizza: I also help out with troubleshooting. I am good at ironing out any problems that may occur.
Images: Doesn't your vision ever differ once shooting begins?
Fizza: It does sometimes and then we argue over it until we reach some sort of mutual agreement. Even while writing a script, he'll sometimes want to include something that he will feel is more of a guy's joke. I won't be able to understand it and then he'll try to prove that it's funny by running the joke by different people.
Nabeel: There have been times when I have ultimately deleted out a scene because we didn't see eye to eye on it.
Fizza: We argue but we never really fight or have ego tussles. I think that's why we work well. We're just two people who love the movies. In our free time, we go and watch movies in cinemas and learn from them and when we work, we make movies. We're not big networkers. We'll go to the occasional party or the awards event but really, for us, what drives us is our love for cinema. It makes me feel good that we have been instrumental in our own way in helping along Pakistani cinema's present-day progress.
Email