Clearly, Pakistani men don't seem to understand that violence against women of any kind is not a laughing matter.
The latest to think it's funny to joke about assault is musician/actor, Haroon Shahid. Yes, the same guy whose debut film (Verna) was about a rape survivor vehemently seeking justice.
Shahid quoted a tweet about journalist Gul Bukhari being slapped with a shoe, adding "A couple from my side as well please. Mein maroon ga to #MeToo hojai ga! (If I hit her, it's become a #MeToo issue)"
When blogger and writer, Mahwash Ajaz tried to school him on how it wasn't funny, he only got more defensive, relaying that he really dislikes Gul Bukhari, who calls IK a cocaine addict (so somehow that makes what he says okay?)...
He only made things worse when he tried to brush off his comment as "light-hearted" and nothing more than a "bad joke":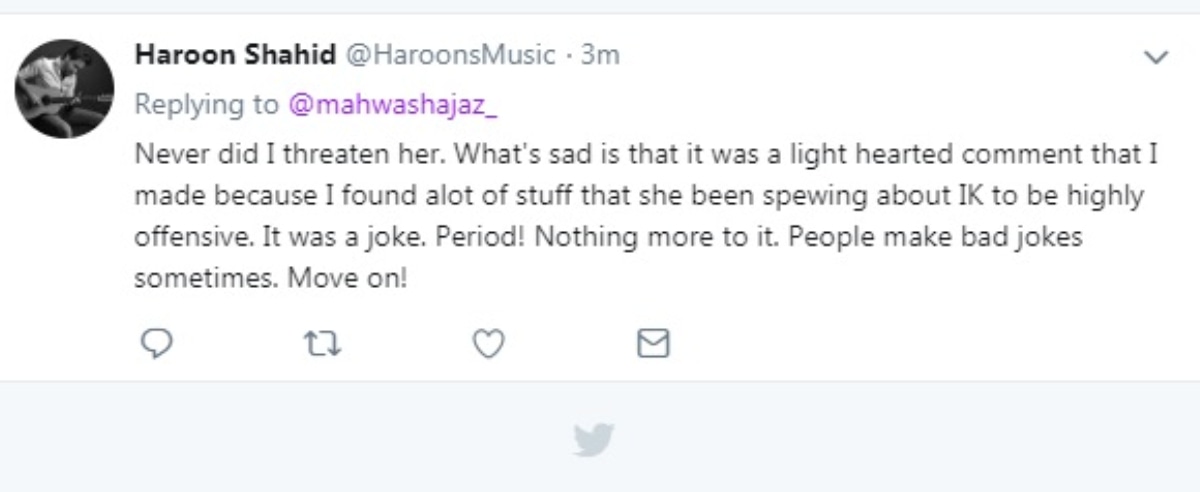 During Verna promotions, Shahid said in an interview that #MeToo "is an issue that needs to be talked about as much as terrorism or corruption needs to be talked about. However, in light of recent events, I feel we tend to take things in the wrong direction, so we need to be very careful with how we address these issues."
This is how careful he's being, by trivializing the movement.
While he played an ally in Verna, it seems that empowering women is not something Shahid is concerned with off-screen.
Update: Shahid has published multiple "apologies" on his Twitter since:
Email