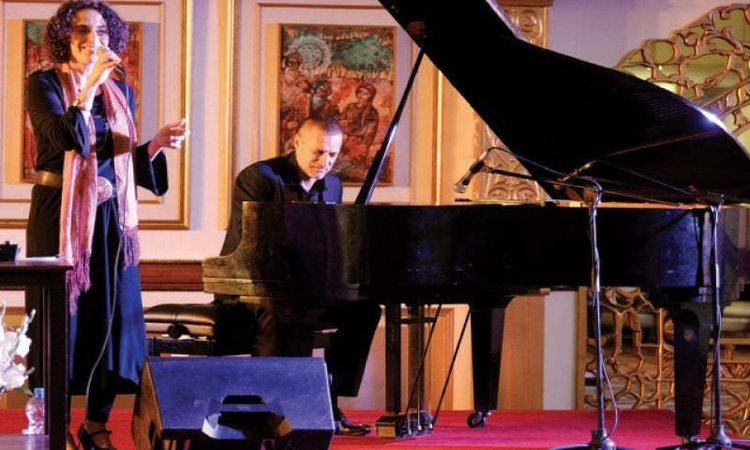 ISLAMABAD: The Austrian jazz due of Elisabeth Lohninger and Walter Fischbacher captivated audience at an hour-long concert Sunday night.
Organised by the Austrian Embassy at Marriott Hotel, the performance began with A Little Bit Tricky, a light-hearted composition that invited the audience not to take things too seriously, while Moments urged listeners to enjoy the present.
Ms Lohninger's heartfelt vocals combined with Mr Fischbacher's warm notes shaped their performance into an elegant one, with a bit of freshness from their improvisation that was central to the power of their music.
Speaking at the concert, Austrian Ambassador Dr Brigitta Blaha said: "Austria is country known for its music. We are very excited about introducing two dynamic Austrian jazz musicians to Islamabad and look forward to sharing our passion for good music and delicious food."
Ms Lohninger and Mr Fischbacher have been making music together for more than 20 years.
They live in New York and have toured Europe, Japan and the Middle East. The two of them have explored diverse musical avenues, written music for other projects, and developed their own artistic styles.
"Our music is for people who enjoy all different kinds of music. All the things we have encountered in our musical lives have shaped the music we produce," Ms Lohninger told Dawn, describing the duo's music as experimental jazz with a slight country-song exuberance.
She added that their song Because was an explanation for why the couple was still happily married, while Rooster was inspired by a rooster that did not stop crowing all day during a vacation they took to one of their favourite islands, suddenly stopped.
Sharpened with the austere but colourful lighting, the duo's performance was taut and transfixing. Judging by the applause they received, it would be safe to say their audience was blown away.
---
Originally published in Dawn, May 7th, 2018
Email