BabaMoo first caught my attention at Karachi Eat this year with its fun, quirky name. The name sounded vaguely Middle Eastern and had me wondering if it was a bakhlava place.
Imagine my surprise when I found out they were serving jacket potatoes and candy apple donuts at the stall. But they were popular, popular enough to announce their restaurant launch two weeks ago.
While BabaMoo calls itself a comfort food restaurant, I was cynical. A potato place? Called BabaMoo? How does that work exactly, wondered the Negative Nusrat in me. I mean, it's not some fries stall, right?
But after some cyber stalking, I discovered a unique dessert they offered — a vanilla glazed grilled cheese donut. You know I'm gonna try that out! Plus, I really wanted to know what was the deal with the name 'BabaMoo'.
So off we went to get aaloo at BabaMoo. Yes, I sung that while on my way there.
BabaMoo is the joint initiative of Myra Faisal, who came up with the idea for the eatery; brothers Ibad and Nabeel Abbasi, who scrutinise food at the resto; and Asher Akhtar, who brought the restaurant to life. The head chef at the resto is Urooj Noman. During our visit, Myra explained that BabaMoo is derived from comic strip characters they came up with - Baba and Moo! (The comic is still a work in progress, but still... cute!)
With one mystery solved, we moved on to find out what BabaMoo had to offer.
Where to go
BabaMoo is located on Khayaban-e-Nishat, near Burger King and adjacent to the Beauty Bar Spa.
The restaurant is a small joint, with seating for around 8-10 people. The decor is simple but adorable, with fun signs full of potato love.
When to go
BabaMoo is open in the evenings from 7pm - 1am. It's also open for lunch on weekends from 12pm - 4pm.
What to order
BabaMoo's menu is full of comfort food and it's more than just potatoes! No hate to potatoes (how can anyone hate potatoes?) but when I go to a restaurant I definitely want more options. Myra and Urooj helped us out with our order and we were glad to have their recommendations.
BabaMoo calls their appetisers 'comfortizers' and it's an appropriate title. Every dish made me wish I could snack on them while curled up in bed with a good book.
We started out with the fried mac-n-cheese balls. The mac-n-cheese filling was seasoned well and included bell peppers to elevate its taste with a kick of spice. Its crispy coating also provided quite a satisfying crunch. The mac-n-cheese balls are served with a spicy dip, which is great for a spicy food lover like me who wants more than a kick.
The crab cigars resemble spring rolls in their presentation and the fried wrap did have the spring roll flavour. Some may say that the crab flavour isn't very distinct (the cigars just taste like seafood), but I found that the subtle, sweet taste of crab grows on you and I really wished it was raining when I had these. I would have enjoyed them so much more.
The three chicketeers (geddit, geddit?) are an assortment of chicken poppers served with three different sauces; chili jam, buffalo and tarragon.
This was yet another comfort food we enjoyed, especially the tarragon variety that had a creamy texture. The chili jam poppers had a sweet flavour with a slight spice kick that I wished there was more of and buffalo was your average buffalo sauce. We also decided to mix and match and the experimentation was fun.
Moving on to the mains, I understood why BabaMoo calls itself a comfort food restaurant. With wholesome options like mac-n-cheese and jacket potatoes, this is the place I would come to when I want to eat my feelings.
The mac-n-cheese at BabaMoo is the best mac-n-cheese I've had in Karachi. The seasoning was spot-on and the parmesan crust on top was crunchy and flavourful. That being said, I do wish there was more cheese within the dish and that the cheese sauce was thick enough to fully bind the dish together. While the flavour was amazing, the density of the cheese sauce can be improved.
The mac-n-cheese can be served with crispy turkey bacon, chicken poppers or BabaMoo's delicious in-house chili. We asked for the latter two. The chili is yet another homey dish and I was so happy to see it offered as a side dish. Can more restaurants start doing chili, please?
We decided to order a jacket potato each for the table. After all, it's a potato, how big can it be?
The answer is 'very'. After the first potato came to the table, we asked the staff to cancel our other orders. I never thought a day would come where I would be threatened by a potato. It was huge!
We'd ordered our potato with Philly beef steak strips and loaded a number of toppings. I regretted the extra toppings because we ended up overpowering the steak strips, which were cooked perfectly. But that doesn't mean our potato tasted bad, just that we were too greedy. Minimal toppings will bring the best out of your potato.
We did end up trying another potato, just to compare the flavour. The chicken fajita potato was also a nice meal but we preferred the beef one because of the quality of the steak. It was just so good that the chicken one was ignored.
Moving on to desserts, I was excited to get my hands on the vanilla glazed grilled cheese donut. Yes, that's a mouthful to say... and eat... sorry.
The donut was definitely a new experience, but not at all a bad one. It was served with BabaMoo's chili jam and vanilla ice cream and I was surprised at how well the whole meal worked together. But would I call it a dessert? I don't think it would satisfy a dessert craving but it's something you'd want just because.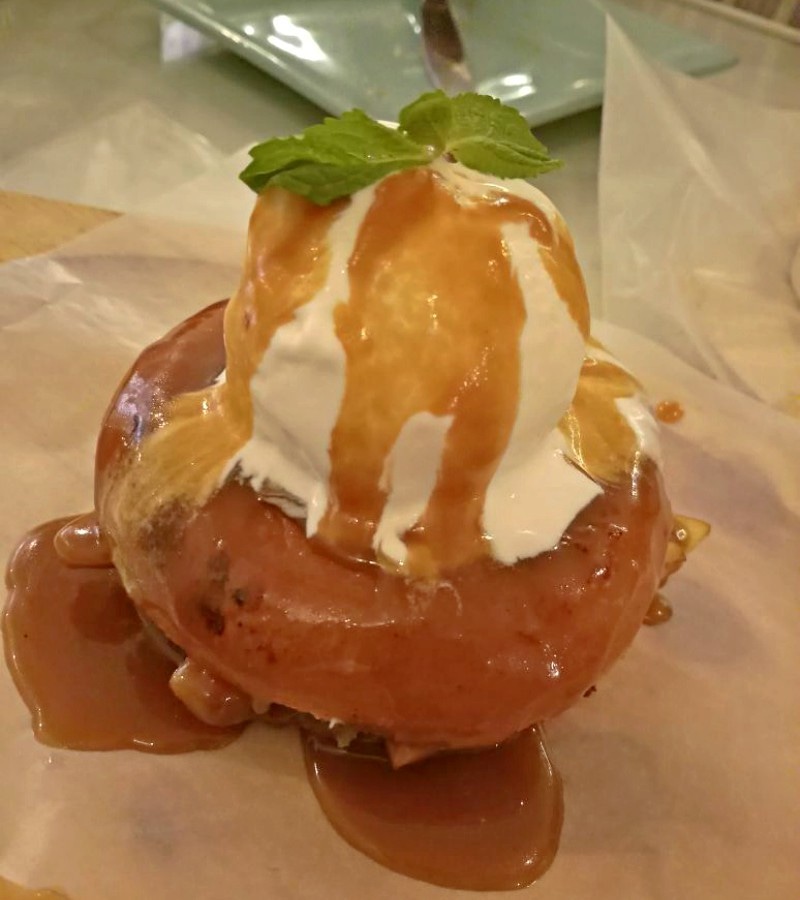 BabaMoo's proper dessert is the candy apple donut. The donut is served with a lot of caramel sauce and vanilla ice cream. The vanilla ice cream is perfect for cutting through the strong sweet notes of the caramel and the sliced apples give it texture.
Damage on the pocket
I found BabaMoo's pricing to be rather pocket-friendly, especially considering the meal might as well be shared. I mean if you can eat that whole potato yourself, you're a stronger person than me. All items on BabaMoo's menu range from Rs400 - Rs600, except the classic jacket potato which is Rs250.
BabaMoo is a restaurant definitely worth a try and if you need some comfort in your life, this might just be the place for you.
Email