Lahore Eat's third edition finally took place over the past weekend and Lahoris braved the heat to satiate their appetites.
The festival was postponed several times and there were concerns if the weather will remain favourable for a day of feasting at Fortress Stadium. Given the rising temperature of Lahore, that was a risk, and the festival probably felt the heat (pun intended).
All in all, the fest consisted of 80 stalls, tops. Tickets for this 'families-only' event were priced at Rs300 (army families got a Rs100 discount). Entertainment included musical concerts in the evenings with Fuzon, Asim Azhar, Akhtar Chanal Zehri, Asrar and Ali Azmat performing over the three days.
I noticed some logistical issues: Having chosen to travel by either Uber or Careem, I was comfortably dropped off at the gate, but I know of and overheard quite a few complaints about parking space issues in the evening. The ticket counters were properly managed and it was nice to see that there was no litter due to the presence of ample trashcans. However, there weren't enough tables to accommodate the thousands who had gathered after the sunset on the last two days.
However, despite thousands attending the festival each of the three days, this year's crowd was smaller by Lahore Eat standards, at least during the daytime.
But now, minding my own business, I'm going to list down my top picks from the food stalls I visited.
Karamel cookies
This Karachi-based bakery was the first stall and their long list of scrumptious cookies and brownies instantly caught my eye. It was difficult to decide which to try first, but I zeroed in on Oatmeal Dark Chocolate.
What I got had anything but dark chocolate, but my my! What a divine treat this was. Big, soft, chewy, chunky, chocolaty all rolled into one delicious cookie. Though slightly steeply priced at Rs200 per piece, I wish I could get my hands on some more (anyone in Karachi listening?!)
Awesamosas
The culinary innovators at Awesamosas are likely to have created a record by now for consistently being one of the most popular food stalls at festivals. Wherever they set up shop, they sell like hot cakes. And this year's Lahore Eat was no exception.
Having come up with an entirely new range of sweet and savoury fusion samosas and pakoras, their take on steamed dumplings as well as some refreshing drinks, theirs was an ambitious plan. And for me, they didn't falter.
I tried their creamy spinach and feta, smoky achari qeema and Thai basil chicken samosas, cheesy mac n cheese and chicken corn pakoras and delicious stuffed chilli poppers.
Another item on the menu that caught my attention was steamed samosas created along the lines of dumplings. I tried the smoked beef and Thai basil chicken 'Steamosas' with ponzu and tamarind sauces, and they were both heavenly! I wish they introduce these 'dumplings' at their outlet.
At the end, I drowned all these delicacies with their refreshing Rosito made with lemon, mint, 7Up and Rooh Afza.
Lahorelicious
Another permanent feature at the food fest, this home-based artisan ice cream place is always a delight with its different flavours. And having ordered from them previously, I really wanted to check out what they had brought here this time.
I got a scoop each for Rs150 of the smooth Salted Chocolate Caramel Crunch and Double Chocolate Mint and Lindt. Now with After Eight being my absolute favourite chocolate, the latter piqued my interest and, boy, did it remind me of After Eight! A delectable combination of silky chocolate ice cream, Lindt chocolate chips and mint.
Bun Kabab
There was this stall that claimed to have brought over the popular street snack, bun kabab, straight from Karachi's Burns Road. Having heard a lot about it from Karachi friends, I couldn't resist.
Two crispy squared buns with an omelette, a daal cutlet and lots of onion doused in chutney, this was finger-licking good. But I would have liked the chutney to be a bit spicier though.
Crepe D' Affaire
The young women running this stall were selling a wide variety of both sweet and savoury crepes, and I loved their vibrant little set-up. I chose to try the Salted Caramel Crepe with vanilla ice cream. The crepe was freshly prepared and smeared with a salted caramel spread -- that was appropriately balanced in taste -- before folding it and topping with a scoop of the ice cream.
Ice Curl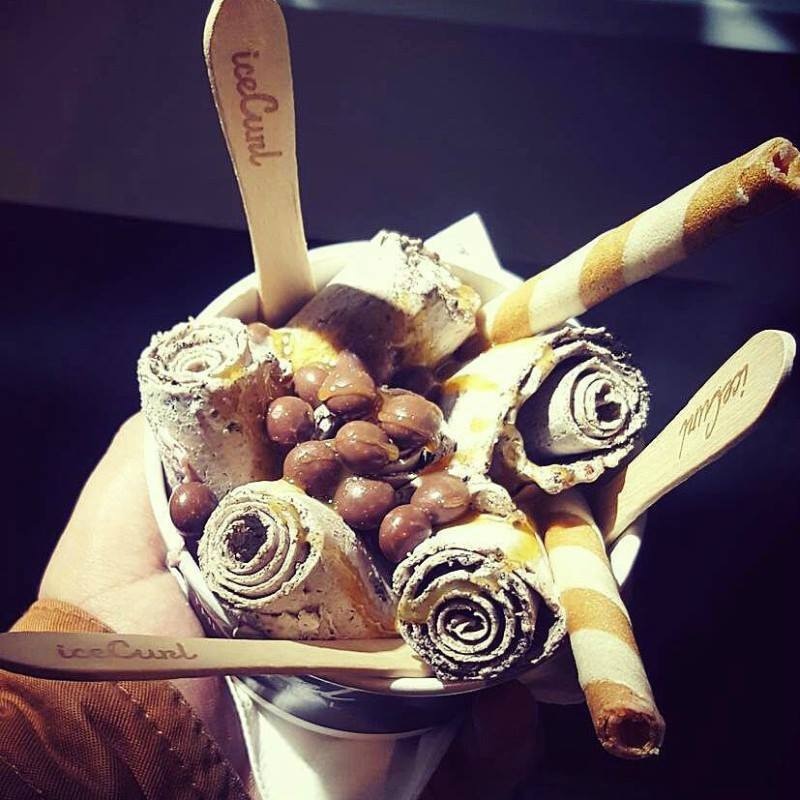 Whorls of icecream were laid out on a plate with your choice of fresh fruit, sauces and an assortment of toppings. I got the Caramel Macchiato ice cream topped with chocolate balls and walnuts for Rs350, and I loved the intensity of the coffee flavour!
Delish Pizza Bar
Having had their pizza at their outlet on MM Alam Road, I knew they wouldn't disappoint.
I ordered a 19-inch slice of Margherita for Rs200 and ended up waiting for a good 10 minutes. But let me tell you the wait was worth each second. The pizza was served piping hot fresh from the oven with a beautifully thin and crispy crust and generous toppings of delicious cheese. Who wouldn't want to devour such a pizza?!
Qzeen
Basically, this home-based business was selling prawns and fish with a man trying to attract customers by shouting "prawns and fish' at the top of his lungs. I did try their butterfly prawns with tartar sauce, which were disappointing, but what I did like was their cool almond juice. And for Rs50 a glass, it wasn't a bad deal at all.
Nisa Sultan
From among a host of Turkish snacks this eatery was selling, I tried out their doner roll that was fresh vegetables and spicy chicken chunks rolled into a thin pita with chilli garlic and spicy in-house sauces. This turned out to be a delicious hearty meal though not really what one would find in Turkey. Oh well, it was filling and tasted great!
Email