The waffle craze has taken Karachi by storm. Everywhere you look, there is a new place boasting the best waffles in town.
I've taken the time, and calories, to carefully try pretty much every 'syrup trap' the city has to offer and have come up with a list of my eight favourite waffle joints in Karachi.
Let's count down to see who claimed the top spot as the ultimate waffle winner!
I hadn't tried this place before simply because there were so many other options. The waffle was pretty decent and had cute toppings like colourful marshmallows. They had a waffle on a skewer but I opted for the simple waffle with chocolate and strawberries.
The waffle was crunchy but almost to the point of tasting like it was burnt. Even with all that ice cream, the waffle itself was as dry as a brick wall. The strawberries were fresh and plentiful so that's a plus, but the chocolate was pretty average. I may try their waffle stick next time, although I don't consider it a true 'waffle-waffle'.
Although one of the most expensive waffles on the list, I did not enjoy it one bit. I got the standard chocolate topped waffle with ice cream which is pretty hard to get wrong, but somehow they managed to do just that.
The waffle came to me soggy and seemed like it was previously prepared and just heated up. The ingredients they use are undeniably of high quality but were lost in the inadequate preparation. They served it to me in under two minutes, which threw me off because I know waffles take a bit longer than that to prepare fresh. It could be that I caught them on an off day, but with SO much competition in waffles alone, even one off day can really make a big difference.
With so many other options, why would I go back to somewhere that served me a soggy waffle? The soggy factor also brought out a very eggy taste from the batter, that came through despite the intense mask of the sugary sweet chocolate topping. Coming to their toppings, I feel their selection is limited in comparison to a lot of their competitors, and their only saving grace was that their servers were very polite, well-trained and well-spoken.
With the quality of both their customer service and ingredients, they have all the makings of being a real contender in the waffle game if they did something about their pricing.
I have voiced my love for Hot Spot on virtually every opportunity I get. From the oh so creamy Alfredo to the gooey heaven that is their brownie, I frequent the 26th Street establishment at least once a week. They know their comfort food. I was shocked when I realised I had never tried their waffle!
I went over the first chance I got and ordered the waffle with vanilla ice cream! I could taste the freshness of the batter in the first bite. No pre-frozen recooked tom foolery going on here, it was just an honest to goodness light, fluffy waffle.
It could be a pinch sweeter as it was a dessert waffle instead of savoury one, but as soon as I took a bite of the ice cream, I knew the waffles almost salty flavour was to bring out the sweetness of the generous helping of rich ice cream topping. It wasn't as good as their brownie but almost nothing is!
Heaven - The Waffle Bar has a really great, almost overwhelming selection of waffles, including the Stairway To Heaven, which let's you build your own waffle! They are on this list though, however, as the best savoury waffles in Karachi! I had tried out their Red Velvet Waffle before and thought it was really fun, but their Waffle Chick was out of this world!
A combination of a crumb coated, well-seasoned piece of buffalo chicken, topped with ranch dressing and a balance of fresh crunchy greens in between two crisp yet sturdy waffles! I love their little spot in Bukhari and with their super reasonable pricing, the Waffle Chick is slowly becoming my new side chick.
You scream, I scream, we all scream for waffles!
Scream has surprised us all by jumping on the waffle wagon with their latest addition to the menu! Even more surprising is that for an ice cream place, they serve up some mean waffles! My curiosity and insatiable appetite delivered me right on to their doorstep where I ordered a Nutella waffle with vanilla ice cream. They don't slather their waffles in topping. This allows you to taste and appreciate the texture of the waffle itself, which is high quality and made just right. The rich ice cream, which is Scream's signature item, was a wonderful addition to the simplicity of flavours.
Being a firsthand witness to the steady decline of my favourite eggs benedict in town, I was somewhat skeptical when it came to trying out Lal's waffles. I was delighted to find my skepticism completely unwarranted when it came to their waffles!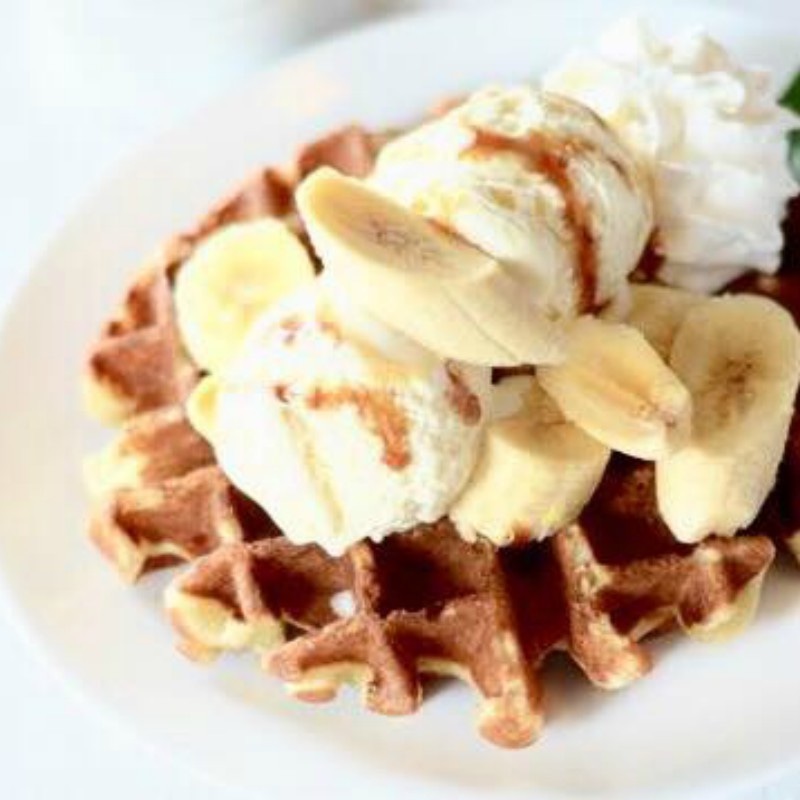 I decided to go for something new and different from my Nutella obsession and tried out the Classic Waffle Sundae. This take on a classic sundae proved itself to be the perfect Sunday treat. The bananas, ice cream with toffee topping and a side of whipped cream on a base of fresh, crisp waffle goodness was amazing.
It was refreshingly simple but each component complemented each other perfectly. The only drawback is that it is a sit-down, put-a-napkin-in-your-lap, proper dessert instead of a quick on-the-go waffle, which we all have become so accustomed to.
Coming in close for the top spot, Waffle Cart started off with a bang and has consistently delivered, thick, chewy, soft on the inside and crisp on the outside waffles. Their toppings, like Ferrero Rocher and Snickers are decadent crowd pleasers, and there's something for everyone. A special shout out to their seasonal strawberries and cream topped waffles!
They are very heavy and can go overboard with their toppings, so much so that the term 'overkill' comes to mind. I'm not a fan; however, of the 30 minute wait time I've experienced far too often. Couple that with the discrepancies between what's available at different locations make Waffle Cart a hit or a miss. They do need to be credited for being the first to have started off the waffle wave Karachi has recently succumbed to.
This place has cast a spell on me and I must admit, I am delightfully cursed. Located at Khadda Market and Chota Bukhari, Waffle Witch has introduced a relatively new concept in Karachi of 'less is more' and 'quality over quantity'. At Rs.250 a pop, you have a choice between Leige Waffles which are so soft and chewy your teeth sink right into them, or Brussels Waffles which are light and crispy.
The toppings, at a bargain price of Rs.50 each are heaped on, no holds barred! The offer a premium range of dark chocolate, Dulce De Leche or my personal favourite (drum roll please) Lotus Biscuit Soft Serve with Biscuit crumbs.
Please note that their Lotus Biscuit Soft Serve can also be ordered separately, and if you're like me, your car will be littered with those plastic cups from my almost daily visits that have been licked clean. It's a miracle I didn't eat the cup each time. My only problem is that the waffles are a bit on the smaller side so without the ice cream topping it's just a bite or two away from hitting the spot!
Email