Follow our live updates on to know who showed up, who ate what, and what we were most inspired by
Lahore's bibliophiles are expected to converge at Alhamra Art Centre this weekend, as Lahore Literary Festival kicked off today.
Day One's highlight's include sessions featuring Iranian-American writer Reza Aslan and British actor/rapper Riz Ahmed, so we anticipate lots of footfall at the Alhamra.
Is that really the case? Stick with us as we update you on what's up at LLF 2018 in real time.
That's all for today, folks! Log on tomorrow for live updates of Day Two of LLF 2018.
---
6.22pm: Dr Azra Raza dedicates her talk to late human rights activist Asma Jehangir
Watch the keynote address here:
And here:
---
6.15pm: Arfa Zehra introduces keynote speaker Dr Azra Raza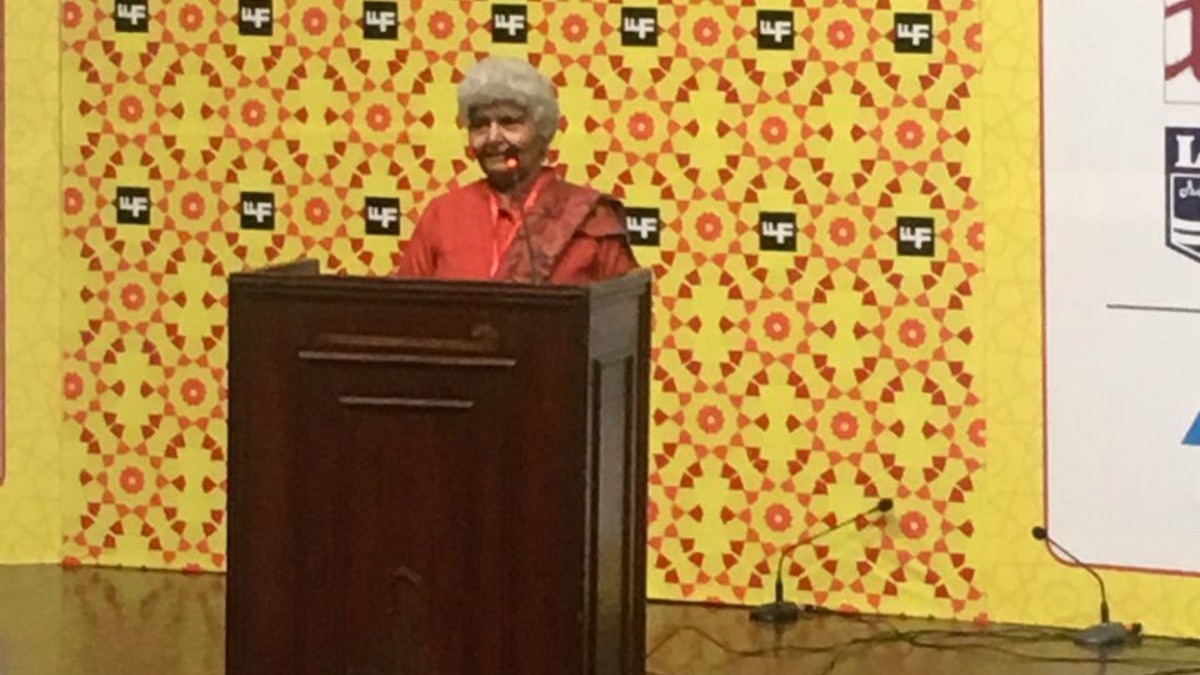 Dr Azra Raza is Pakistan's leading oncologist in New York and the Chan Soon-Shiong Professor of Medicine and Director of Myelodysplastic Syndrome (MDS) Center at Columbia University.
Not many appear to have shown up for the keynote address:
---
6.05pm: Looking for Ben Okri?
He's in there:
Ben Okri was mobbed by audience members after the end of his session on storytelling.
---
5.05pm: 'A Delirium of Stories'
In his discussion on storytelling with Zareena Saeed, Booker Prize winner Ben Okri is speaking about the benefits of reading books slowly. He came to the conclusion that we are probably ruined by our idea of reading.
"We think the faster you read the more intelligent you are. But the downside is that we lose many layers and dimensions of books if we read so fast. And then I experimented with reading only a paragraph a day. What happens is extraordinary. I began to feel more like a writer of those books. I also think we talk to each other too fast."
"But with really bad books, when you read them more slowly - they're worse," he adds.
More memorable quotes from Ben Okri:
"Western writers write in the tradition of realism, so that's how I started to write. But I soon realised realism is not satisfactory to explain the world in which I grew up."
"Trump has found a language to speak to 'his' people. We have to find a language that speaks to 'ALL' people, a language that reminds us of our humanity."
"Really good stories empower our humanity. They give us the power the see that which we alone are seeing, the world that we create in our heads as we read."
---
4.55pm: We caught up with Shafaat Ali!
And he thinks litfests are vital for Pakistan right now.
---
4.05pm: 'Sikh Heritage After the Raj'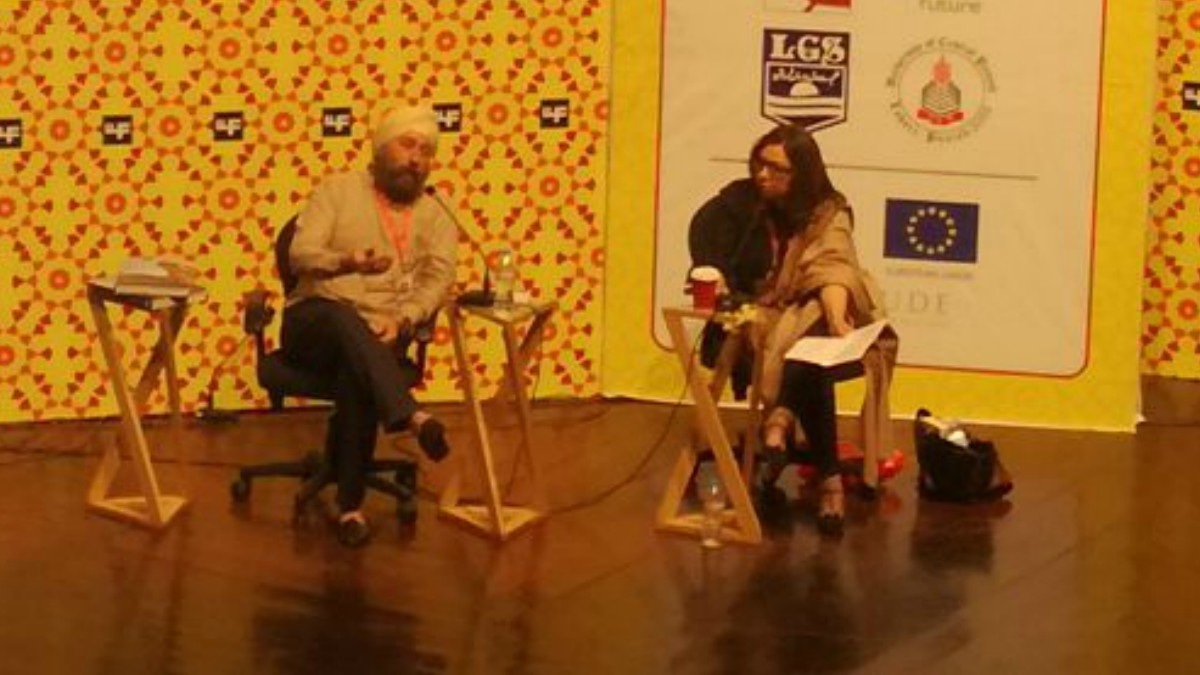 Writer Amardeep Singh is talking at length about Pakistan's Sikh heritage. Some memorable quotes from the session:
"Pakistan has changed my thinking and I thank Pakistan for that. The entire heritage in East Punjab has been destroyed by us Sikhs ourselves. The situation is not so great in Pakistan either. 24 historical gurdwaras are operational in Pakistan but they are not treated as heritage."
"What I have learned from visits here is how many syncretic philosophies we have. Baba Bulleh Shah and Baba Farid is as much mine as Baba Nanak is yours."
"When we don't allow Muslims inside our shrines, I'm like, 'Come on, gimme a break.' When religion is tied by boundaries we lose a lot. Nanak's best companion was a Muslim."
"These frescos are Pakistan's heritage. They should protect them. Heritage maintenance is not supposed ro be painting. You peel off the white paint and see frescos underneath."
"2 million believers of Nanak exist in Pakistan. You don't know them because you call them Hindus or other names."
"Urdu has today become a Muslim language, Gurmukhi a Sikh language. After Partition, the Punjabi Hindus abandoned their association with Punjabi. My father used to say 'Punjabi bol varna Punjabi vi khatam ho jayegi'. Languages are a huge aspect of Partition."
---
3.55pm: Time for a siesta?
Admire this man for finding a spot of calm at the somewhat bustling Alhamra today:
---
3.30pm: The New Pakistani Middle Class
Scholar Ammara Maqsood's book launch is packed. She's in conversation with Arif Hasan about the concurrent rise of the Pakistani middle class and its religiosity
According to Arif Hasan, "Wahabism is promoted by the state and the middle class is largely subservient to state." Ammara Maqsood observes that the middle class is similarly conservative in India.
Arif Hasan recalls how Korangi in the early '80s saw no working women, but today, busloads of women travel to factories and richer areas to work. Unfulfilled demands and rise in consumption has resulted in women joining the workforce. However, Ammara says that the same is not true for Lahore. She says women are more visibly educated but they don't work especially after marriage and one of the reasons for that is lack of mobility.
---
3pm: 'The Multiples Lives of Shoaib Hashmi
Nadia Jamil, Salman Shahid and Adeel Hashmi share their experiences of knowing literary heavyweight Shoaib Hashmi.
Nadia Jamil says, "Shoaib Hashmi is a quintessential teacher. We wouldn't be scared of his abuses but the boundaries he'd set as a teacher. I learnt to teach from him."
She adds, "I learnt of the love affair between words and voice from him. I loved his voice. I learnt how to love from SH. I believe I love well. He taught how to love without explanation"
"Shoaib Hashmi's first love was theatre," recalls Salman Shahid. "He was reluctant to do so many things because it's difficult to do things here due to lack of infrastructure."
Adeel Hashmi also shares an anecdote about how his father once helped thieves steal a geyser from their own house.
---
2.45pm: 'Writing of Nationhood in an Age of Rage'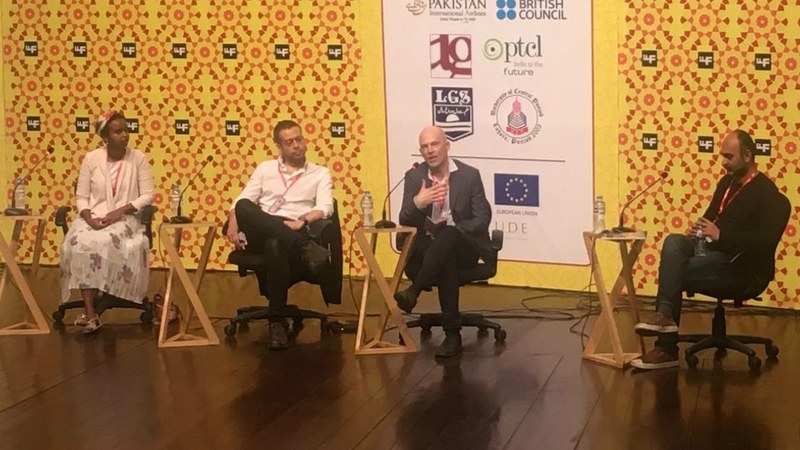 The panel, consisting of Mohsin Hamid, Kaya Genc and Nadifa Mohammed, is reflecting on the creation of nationhood.
Mohsin Hamid says, "I have been a migrant my whole life. Nobody is indigenous. Everybody is migrant as earliest humans came from Africa."
Turkish novelist Genc says, "Identity and Turkishness were fabricated and manufactured and I wanted to record this phenomenon in my novels."
"We can choose to regard migration as a horror, but if we can imagine migration as something optimistic, as something that is in our nature as a species, perhaps that would be more valuable," believes Mohsin Hamid.
---
2.15pm: We bumped into Reza Aslan and stopped for a chat!
We asked Reza: How do you like Lahore? His answer:
"This is my first time in Lahore. It's been wonderful so far. The people have been so kind, open and friendly. I've had a little bit of a chance to visit the sites but I'm going to do more of that tomorrow. It's such a shame that we're only here for three days because there's so much to do and see here. I would love to come back."
We also asked: How many people have you met here who have actually read your books?
"It's actually been really nice and overwhelming to meet so many fans in Lahore. I didn't know there were that many, I'd have been here much earlier if I did! For a writer or thinker to know that my thoughts and words have affected people and touched their lives, there's nothing better than that."
---
1.30pm: Crowd is still thin at LLF
Overheard at LLF: "Log itnay kam aye hain keh hum baar baar takra rahay hain." (So few people have come that you keep bumping into the same ones.)
---
12.45pm: 'Changing Perspectives on Down's Syndrome'
At the outset, Nadia Jamil termed the session 'revolutionary'. The panellists are peppering the session with must-know figures and facts.
"We need to change methods of engagement with children with Down syndrome," stresses Ali Allawala.
"The most time in a child with Down Syndrome's life is the first three to five years. Invest everything in ensuring a comfortable life for them," he adds.
"1 in 700 babies are born with Down Syndrome," reveals Tania Naima Khan. "There's such a large number of people with DS that it's wrong not to accept them as part of society, as one of us."
---
12.40pm: #BoycottLLF2018 is gaining traction on Twitter.
In late January, thoughts of LLF were marred by insensitive comments made on Twitter by LLF board member Fasih Ahmed, comments that prompted the hashtag #BoycottLLF to make the rounds. Fasih has since recused himself from the board, but people think that was not sufficient. The hashtag is now trending today with renewed force:
---
12.20pm: A quick lunch.
Dahi baray are something, but can't say we're satisfied.
Pack snacks before you head out to LLF, peeps!
---
12.10pm: It's raining at LLF...
We're quite enjoying the light drizzle...
...but have to ask: "Where is the good stuff at the food court?!"
---
11.50am: Riz and Mohsin Hamid share thoughts on Pakistan
Mohsin on Lahore's veneration of its writers: "Lahore is a city that takes writing very seriously. There are shrines of Sufi poets who talked about love here."
Riz agrees that Pakistan's big on poetry: "When I entered an army area accidentally in Peshawar in 2005, they promised to let me go if I rapped for them. I thought, wow, this is a country that takes poetry very seriously."
He also said, "Coming to Pakistan is like meeting an ex."
Seriously, people. Riz is just like all of us: "I watched The Night Of with my mom in one go and the [number] of thappars I got was something. She was like 'drugs kyun karehey ho!'"
---
11.40am: 'The Ground Beneath Our Feet'
From Mountains to Mangroves author Rina Saeed is in conversation with Hammed Naqi, Paul Salopek and Dr Parvez Hassan about how Pakistan is coping with climate change.
They're mulling over the environmental impact of CPEC. "Any activity like CPEC will have massive environmental impact," says Dr Parvez. "Each activity must be assessed in environmental terms. Everything must be subject to public scrutiny. Our need is genuinely professional environmental impact assessments (EIAs). The only branch of government or state that I look to for remedial action is the judiciary of this country."
What's under threat? "All our beautiful white sand beaches will undergo some changes under CPEC," says Rina.
---
11.15am: 'MC Activist'
Riz Ahmed is in the house, people!
He's talking about his early life: "I was a very naughty kid at school. Always under threat of being expelled. My mom was a smooth talker so she'd convince the school not to throw me out." And look at you now, Riz. :')
He says he started off his career with the usual doubts: "I always thought I had less of a probability of making it in acting or singing...
Soon enough, Riz says he found his voice.
"A lot of times when you're creating, you're pushing against the world. Sometimes a creative act isn't always an act of defiance but an act of helplessness too," he shares.
"In some ways I don't feel I have a choice but to engage in issues such as racism, Islamophobia, women's issues, domestic violence, homophobia and so on. It comes from a personal place. It's an act of survival."
Riz also touched on typecasting during his talk:
Novellist Mohsin Hamid shares his experience of consumption as opposed to creation: "For me as a reader and a viewer, I feel a thrill at encountering an artist doing their thing, which is encountering another human being."
Riz says he capitalised on his differences: "There was a sense of sense of loneliness and alienation during my initial days at Oxford University... When you feel like the odd one out, there is an opportunity to do something different to make a mark."
He also dispensed this very important piece of advice to the young aspiring artists in the audience:
---
11am: Munoo Bhai Ki Yaad Main Jangal Udaas Hai
Columnist/poet/writer Munoo Bhai, who passed away in January, is remembered fondly by those who know him.
"Munoo bhai's door used to remain unlocked from the start of the day," recalls Asghar Nadeem Syed.
"Munoo bhai's best earlier drama was Platform, based on the subject of Partition," says Kishwar Naheed.
"There is no journalist like him now, at least in Urdu journalism," believes Masood Ashar.
"The subject of Munoo Bhai's columns was always the downtrodden and he never wrote about so-called 'important' people," shares I.A.Rehman.
Asghar Nadeem Syed laments that "after the start of TV channels, the role models for the new generation are TV anchors, not intellectuals and writers..."
---
10.40am: We bumped into Kishwar Naheed in the Alhamra courtyard!
We asked her: What at LLF excites her the most? Her answer:
---
10am: 'Light at the end of Trumpian Disruption?'
Ben Okri, Mark Leonard, Reza Aslan and Ahmed Rashid are talking Trump and dropping truth bombs left, right and centre.
Like Ben Okri, who said, "Donald Trump gives a psychic force that bolsters xenophobia around the world."
The Booker Prize winner also recited a poem addressed to Trump:
"The thing about the Trump phenomenon is that it cuts to the heart of who people are," remarked British political scientist Mark Leonard, adding that "I see Trump as a symptom, not a cause... more worrying that Donald Trump himself is Trumpism."
There are consequences of being honest about Trump, though.
Reza Aslan reveals, "My show on CNN got cancelled after I tweeted that that the President of the United States was a piece of sh-t."
Ben Okri touches on the idea of 'false nostalgia': "People who were not even alive at the time feel for a country they didn't even live in. A denial of history feeds this false nostalgia."
---
Want to know what else is happening at LLF today? Check out the full LLF schedule here.
Reporting by Hamna Zubair, Irfan Aslam, Sheharyar Rizwan and Xari Jalil