There's a new contender stepping into the high street for fashion and it is helmed by one of the oldest players on the block.
Khaadi launches its 'Chapter 2' this weekend, returning to its roots with ready-to-wear and accessories created entirely from hand-loomed fabric and it may just steer local fashion out from its current generic rut.
One remembers the Khaadi of yore that specialised in basic but stylish kurtas created with breathable cottons and silks. One pined for this all-purpose minimalism that had slowly receded as the brand had veered towards mass-centric territory with prints, embroidery and the lucrative avenues of unstitched lawn.
It is this earlier ethos that Khaadi CEO Shamoon Sultan is aiming to bring back with this new chapter.
"It is a completely different brand with an identity of its own," he agrees, motioning towards the interior of the new store in Karachi's Dolmen City. Khaadi stores across the country and abroad are recognisable by their earthy wood-and-cement interiors while Chapter 2 follows a monochromatic grey and black artistic theme.
One remembers the Khaadi of yore that specialised in basic but stylish kurtas created with breathable cottons and silks. It is this earlier ethos that Khaadi CEO Shamoon Sultan is aiming to bring back with Chapter 2.
"I started out with pure hand-loomed fabric when I opened the first Khaadi store back in '99 but then slowly it faded out, replaced by other product lines. With this new store, we're reverting to our first passion, stocking hand-loomed apparel and accessories with only slight embroideries or block-prints.
"It's a much more exclusive store compared to Khaadi simply because we don't have that many craftsmen available to us. Hand-looming is a dying craft and right now, I don't even have enough staff to create stock for three stores. As a result, the stock we have is limited with only a few pieces available per design.
"I remember facing a similar predicament when I first started Khaadi. I sold out most of our stock and then, for six months, I only opened the store for an hour per day because I just didn't have enough to keep it running all day long. People would be lined up outside the store waiting for it to open and this actually gave me the confidence to expand further," says Shamoon.
Of course, almost two decades later, Shamoon has made sure that he has enough stock to keep the fledgling Chapter 2 running during the onslaught of Eid traffic. "With time, I do want to open another store for Chapter 2 but I will only be able to do this when I have built a substantial body of craftsmen who specialise in handlooming."
One had gotten an initial whiff of Chapter 2's ethos at the Hum Showcase event this April, where the brand held its own against an industry weighed down by colour and embellishment. In contrast, Chapter 2 was elegant, veering from savvy day clothing to statement wear for the night, all fashioned from fabric that was comfortable and painstakingly created by hand. Very slight tweaks have been made to the catwalk designs as they trickle down to retail racks: brightly colored, striped, delving into cutting-edge but wearable silhouettes.
The clothing itself may be limited in stock but sizes begin at XS (Extra-Small) and extend onwards to XL (Extra-Large). And possibly the biggest selling point is the pricing which thankfully follows in Khaadi's mass-centric footsteps with the range for pret beginning around Rs2500 and remaining well below Rs10,000.
It's enough to make one want to splurge out immediately and having gotten the chance to exclusively preview the store before it opened its doors to the world, here are our top five picks at Chapter 2:
1) The zig-zag tunic
This sleeveless tunic with slightly pointed hems immediately catches the eye. The thread embroideries run in zig-zags and the electric blue stripes pop out against the black backdrop. Dress it up or dress it down, wear it to work or an evening soiree, the design is all-purpose and timeless. And at Rs5,500, it isn't too hard on the pocket.
2) The sunshine top
Every woman needs spurts of yellow in her wardrobe – especially if it looks like this tunic with its yo-yoing hemline and subtle striped cotton silk fabric. The silhouette is free-flowing and it particularly looks great paired with this monochrome black and white chequered pant. The shirt is priced at Rs4000 while the pant is for Rs2000. Not too bad a price for making a bona fide statement, we think.
3) The traditional cream kurta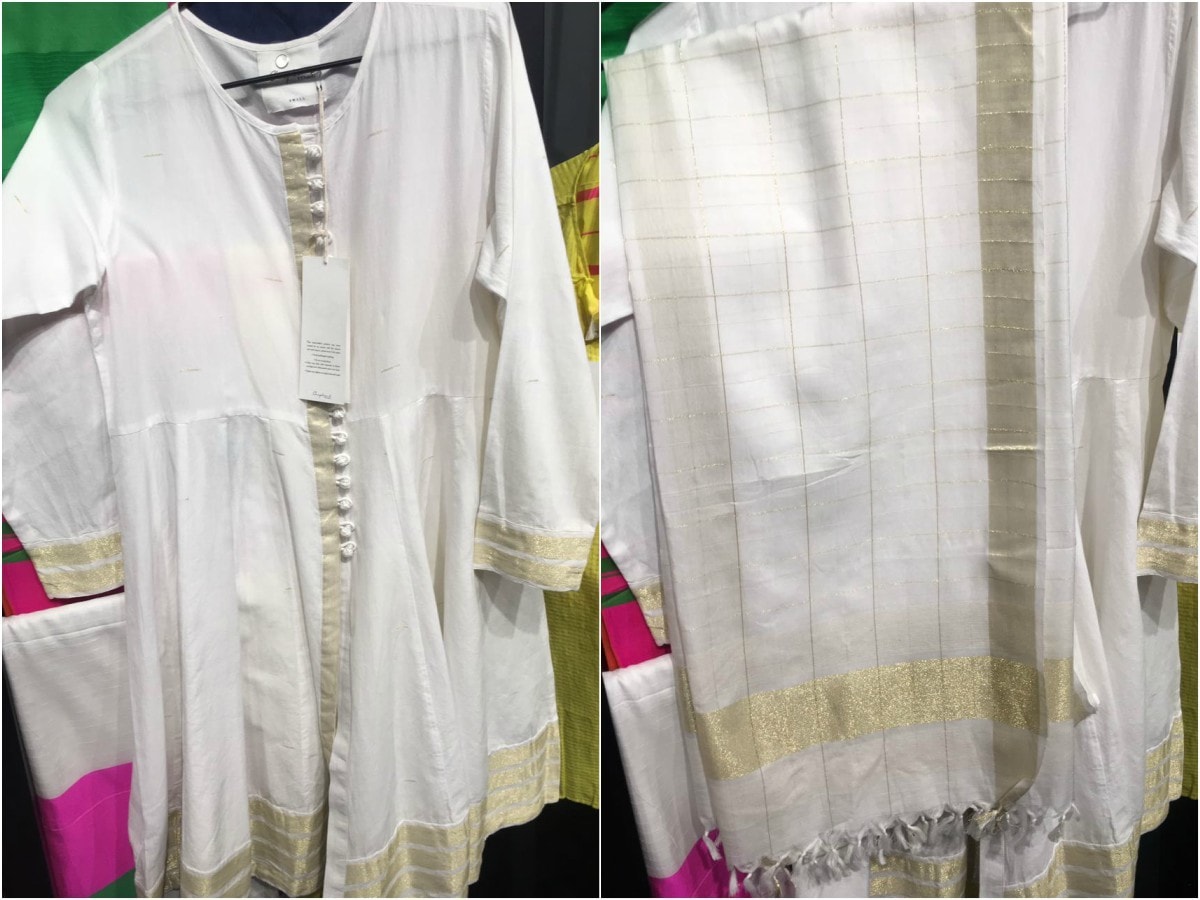 This off-white handwoven cotton tunic screams 'Eid' but unlike most festive wear in the market, it isn't laden with embroideries. Instead, the beauty lies in the basic off-white fabric, the slight bling added by the golden silk threadwork and in the traditional design. Paired with the matching cotton silk dupatta with golden threads running down it, these are clothes for Eid and beyond. The shirt is priced at Rs7000 and the dupatta is for Rs3500.
4) The technicolour tunic
Horizontal stripes run down the length of this cotton silk tunic, blending bright tangerine with fuschia pink, green and red. Baggy and easy breezy, it is the beauty of the woven fabric that makes this shirt stand out. Priced at Rs6000.
5) Funky footwear
And then there are the shoes, similarly crafted from indigenously created silks, printed with cheeky zig-zags and stripes in bright colors. Unique looking shoes are hard to find in the local market which is why Chapter 2's capsule lineup is particularly appealing, with prices around Rs3000.