In a nondescript studio deep within Karachi's industrial area, the stage has been set for Pepsi's relaunch of the Battle Of The Bands enterprise.
Rooms buzz with TV screens and sound equipment and throngs of people drift about; the production team with headphones and mikes framing their faces, the 'fillers' who are going to form part of the audience, the stylists rushing through the nitty-gritties of hair, makeup and wardrobe and of course, the celebrities: the show's host Ayesha Omar and judges Shahi Hasan, Meesha Shafi, Atif Aslam and Fawad Khan.
There are also crowds of young 20-somethings, still studying or fresh out of college, epitomising 'rockstar' looks with long hair, kohled eyes and the requisite guitar slung across the shoulders. It's a mostly male entourage with only two females, forming eight bands in all that will be battling it out live on a grand stage, luminescent in glow-in-the-dark blue.
It all looks very exciting. It's also a refreshing change from Coke Studio - the only other major musical platform that the country has. Where CS' essence lies in paying ode to culture, BoB is proposing to hail in music's young future. But will the music or the show live up to the hype?
The corporate conflict
"Our focus is entirely on boosting the Battle Of The Bands platform and indirectly, we hope that it will also benefit our brand," says Saad Khan, Project In-charge and Senior Marketing Manager at Pepsi.
"No one's going to be holding soft drink bottles or singing brand-related songs in the show. In the auditions, I think it's quite apparent that the bands have been selected on the basis of original songs and covers that they sang. The shortlisting was left entirely to the judges," he adds.
"Similarly, the brand is not involved at all in who eventually wins amongst the eight finalists. In order to encourage originality, we will be featuring an entire episode where bands will only be singing new songs that they have composed. The other episodes will be theme-based where they may sing originals or covers. We have bought the royalties of whatever covers the bands have chosen, regardless of how expensive the song is, depending on its popularity."
If the chief sponsor truly does decide to stay in the background, BoB may just manage to boost musical creativity and rejuvenate concert culture in Pakistan. But given past experiences with corporate sponsorships, this almost seems to be too good to be true.
While the corporate sector has the financial clout to take music forward, it has also had an unfortunate tendency to lean towards commercially viable territory. 'Safe' mass-centric music that can quickly go viral is promoted; experimental creativity that may or may not succeed is frowned upon. A case in point is Coke Studio where the dynamic, experimental talents of Rohail Hyatt were replaced by Strings, who tend to more or less play it safe.
If the chief sponsor does decide to stay in the background, BoB may just manage to boost musical creativity and rejuvenate concert culture in Pakistan.
In the past, Pepsi's past liaisons with music have culminated into country-wide concert tours and hit albums. They have also resulted in cringe-worthy videos where musicians have gone to the extent of waving about soft drink bottles on the screen. And who can forget how a nationalistic 'Dil Dil Pakistan' was ruined into becoming 'Pepsi Pepsi Pakistan' by Vital Signs?
In more recent times, Atif Aslam opted out from being part of the Coke Studio omnibus, a show in which he had hitherto been featured regularly. And yet, one sees Atif aligning himself with yet another soft drink now. In a recent Pepsi advertisement, he sang the 'Jee Le Har Pal' youth anthem and he will be playing a fundamental role as a judge in BoB.
"I have been assured that I will be given complete freedom while judging the show," says Atif. "I started out with a band and even though it turned out to be a bad experience, it was still one of the best things that ever happened to me. I think now, at this point in my career, I want to give back and help place the spotlight on young promising musicians. If BoB stays true to purely promoting music, it could bring about major changes in the industry."
Why these judges?
Similarly, the other three judges in the show also hail from band backgrounds.
Meesha Shafi started her career with Overload, Fawad Khan was the lead singer for EP before switching gears to acting and Shahi Hasan is, of course, a veritable pioneer as an ex-Vital Signs member. The initial two episodes of the show, focusing on the auditions, have Farooq Ahmed of Aaroh passing judgements along with Meesha and Fawad.
It remains to be seen how the judges will apply their experiences in order to seek out talent but even in its fledgling stages, the show's choice of judges has been questioned on the Internet's all-pervasive platform.
It seems as if the judges are well-aware of the scrutiny directed towards them – and are intent on proving their critics wrong.
Do Meesha, Fawad and Atif have the understanding to seek out musical discrepancies? Has Pepsi overlooked the country's true musical veterans in the quest to find judges who are younger, spunkier and connect better with their target Gen-X audience?
"People need to watch a few episodes before drawing their conclusions," observes an unfazed Meesha Shafi.
"For me, judging this show takes me back to my rock roots. I feel that I have come full circle, having started off with a band and coming full circle 10 years later by helping other bands start off."
Based on the first two episodes that we have seen, the judges seem to have a good understanding of how to make things work – and they may just manage to prove their critics wrong.
Could this mean that there is hope for BoB?
Fawad Khan optimistically talks about how new bands, once placed in the limelight, can slowly begin building their careers with small concerts on school campuses before proceeding towards bigger goals. "That's the way some of the biggest bands in the country started out," he points out.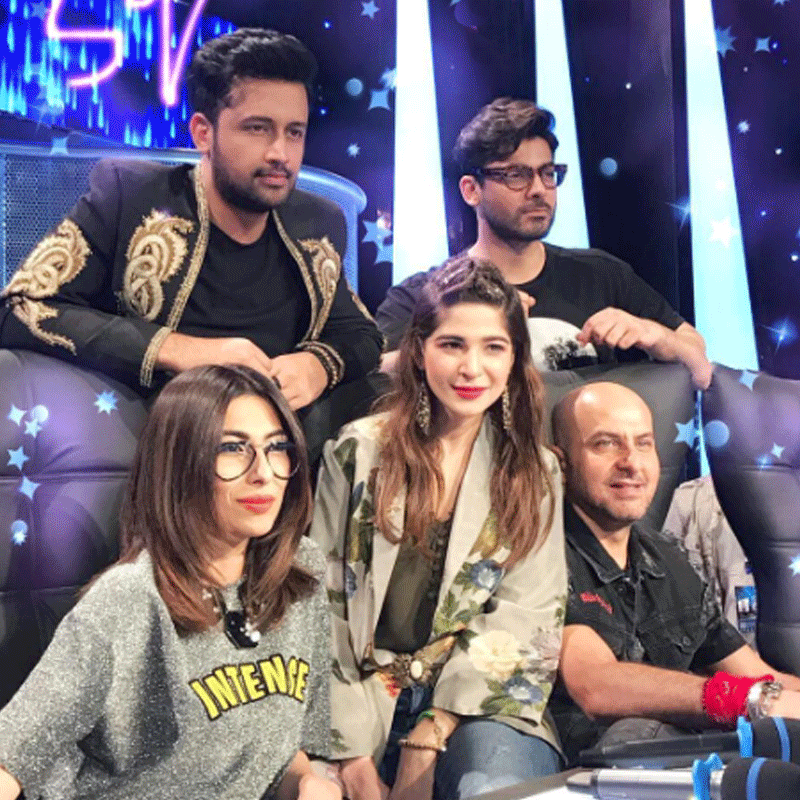 "This show will hopefully present a mutually beneficial equation. As part of Vital Signs, I remember that we were signed on by Pepsi in 1990 and it enabled us to have concerts in smaller cities in Pakistan, places that we probably couldn't have had afforded to go to on our own budgets," reminisces Shahi.
"We got the finances to release three more albums. I only came on board BoB as a judge once I had been assured that we wouldn't have to bend to appease corporate agendas. Some of these bands are actually better than mainstream artistes that I work with often as a producer. They are, above all, very passionate about what they do, not having diverted their attention towards commercialism."
There was a time when music was devoid of sponsors' intrusions and had oomph; when an Alamgir or a Nazia and Zohaib Hassan sang whatever they pleased, however they pleased.
Behind the scenes on location, the considerable crowds of young musicians seem similarly optimistic. A 10-member entourage called The Dervishes go through hair and makeup, transformed into rustic dervishes by their official designer Ismail Farid.
In a corner of the practicing space allotted to them, two members of a band called The Kashmirs jam together, one playing the guitar and the other singing. They are a Karachi-based band but the first song they composed had mentioned Kashmir which led them to choose their band name. Yet another band, having flown in from the outskirts of Rawalpindi, has come up with a song that holds comic promise, titled 'Pindi Boys'.
They are excited, hopeful, primed and ready to go. One hopes that BoB gives value to their dreams, letting them remain untarnished by commercial corporate concerns. There was a time when music was devoid of sponsors' intrusions and had oomph; when an Alamgir or a Nazia and Zohaib Hassan sang whatever they pleased, however they pleased.
Could BoB initiate the return of bona fide musical creativity? The overt soft drink references have been kept to a minimum in the first two episodes but will BoB manage to continue doing this? Or would that just be wishful thinking?
Email