Diet fads come and go and the latest craze is green smoothies. And you know it's the diet fad to follow when celebrities and health fanatics can be been seen sporting a glass of smoothies to-go.
A glass of green liquid pulp might not look like the most appetising thing in the world but it is nutritious, healthy and convenient. Smoothies can be made very easily and quickly — it's after all a combination of green leafy vegetables, fruit and yoghurt or water and ice.
Not only will green smoothies help you shed those extra pounds but will energise your body. Smoothies offer a quick alternative to a plateful of cut-up raw veggies and fruit and — for those on a diet — make for a great instant breakfast or meal.
A new diet fad combines the goodness of green vegetables and fruit
"I can now easily avoid aerated drinks and artificially-flavoured fruit juices or cocktails. I can opt for a green smoothie and not look at my friend's food with envy and a growling tummy," grins 20-year-old Nasreen who is currently on a diet to lose weight for her upcoming wedding this August.
Not only are green smoothies filling, they are also healthy. Dark leafy greens and fruits are rich in high-quality amino acids, important minerals, vitamins, antioxidants and beneficial phytonutrients which are plant-based chemicals that support your immune system, improve health and longevity, and may even reduce life-threatening diseases.
As with any radical diet, however, it's always a good idea to speak to a dietician. Dr Nilofer Fatimi Safdar, assistant professor and programme director at Nutritional Sciences School of Public Health at Dow University of Health Sciences, Karachi, agrees with the many health benefits of green smoothies and endorses its effectiveness to lose weight. However, she is a strong advocate of eating fresh fruits and vegetables raw over blending them in the form of a smoothie.
"If someone wants to lose weight and asks me if they should consume smoothies or raw fruits and veggies, I advise them to have them raw and in their purest form," she says. "In this way the fibre content remains intact which helps digestion and one feels fuller and less likely to feel lesser hunger pangs." She further explains that a person is more likely to have more fruit and vegetables in the drink form than in their raw form. This automatically increases the calorie count and sugar intake.
Dr Safdar points out, however, that there's no harm in drinking a green smoothie now and then. "It's a feel-good drink! Many people who diet like to go out of their way to treat themselves to something special to make their bodies feel not deprived and a green smoothie does the trick. Also given our hot weather, chilled drinks offer a refreshing respite and make one feel lighter as opposed to the heavy feeling after a meal."
---
The ultimate guide to making food smoothies
The key to a good smooth is to get the balance of vegetables to fruit right — the sweet fruit taste should dominate the flavour of the drink. The simplest way to make a smoothie is to tightly pack two cups of leafy greens in a measuring cup and then toss them into blender. Add two cups of water and blend together until all leafy chunks are gone. Add three cups of fruit and blend again until smooth (see recipe box for details).
If someone wants to lose weight and asks me if they should consume smoothies or raw fruits and veggies, I advise them to have them raw and in their purest form
You don't have to limit to yourself to just fruits and vegetables. Pep up the smoothie with some fancy 'superfood' toppings (wheatgrass, blueberries) or sprigs of herbs like mint or coriander. Dieticians recommend adding proteins in the form of nuts, seeds and yoghurt to make the drink more filling and energising. The chewable factor in the smoothie gives you more to relish, making it feel like an actual meal and aids digestion. You can also add a dollop of extra virgin olive oil, fish oil, cod liver oil or coconut oil to make up for the fat requirement your body craves.
Make sure to drink up your smoothie when it is fresh and do not let it sit for long. In case you need to carry it with you, do so in a narrow, airtight jar or container to prevent oxidation as much as possible.
---
Smoothies
---
Grape, pineapple, spinach and banana smoothie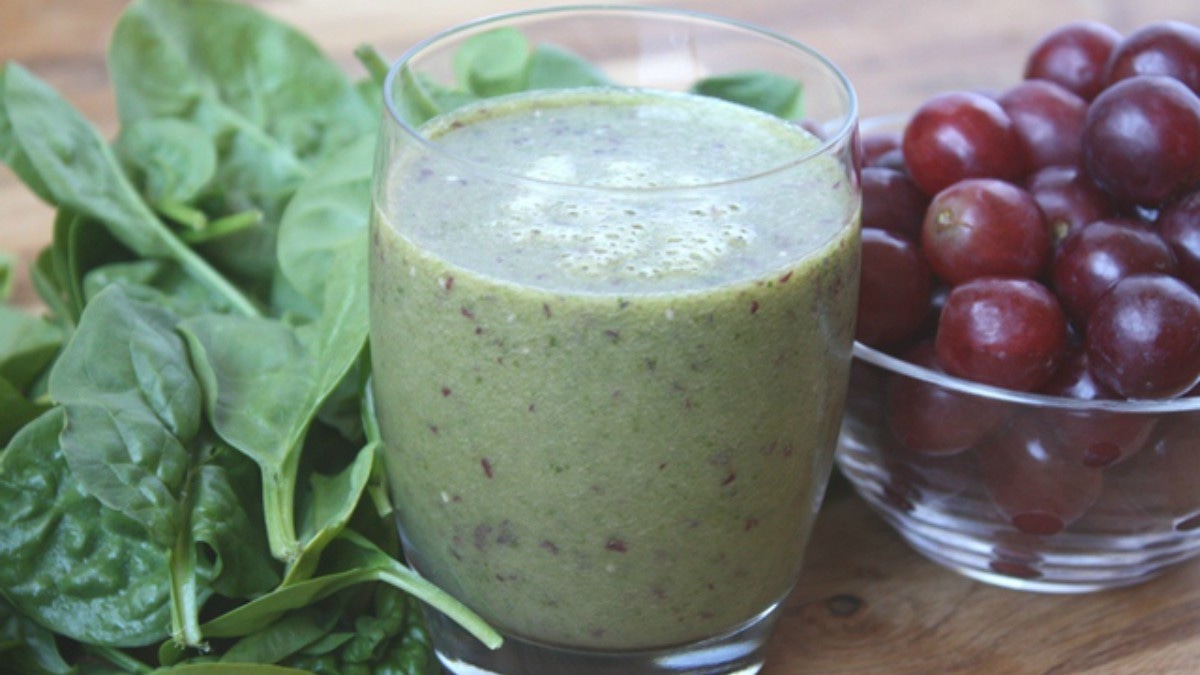 Ingredients:
1 cup green grapes
1/2 cup cut pineapple
2 cups fresh spinach
1/2 ripe banana, peeled and sliced
1/2 cup water
1 cup ice cubes
Method:
Blend all the ingredients together and pour in a big glass.
---
Banana and spinach smoothie
Ingredients:
1/2 cup of plain non-fat yoghurt
1/2 cup of skim milk
1 frozen banana, peeled and sliced
1 cup of fresh spinach leaves
1 cup crushed ice cubes
**##Method:##
Blend all the ingredients together and pour in a big glass.
Originally published in Dawn, EOS, July 2nd, 2017
Email