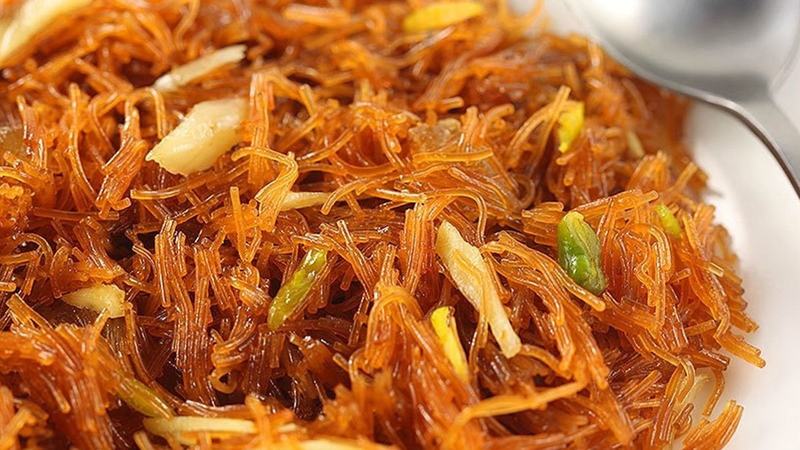 Most people begin the first day of Eid ul Fitr by having sweet vermicelli before heading out for Eid prayers in the morning.
Made with milk or fried, savaiyan is a regular item on the Eid menu in most homes and it is because of this dish that the Eid after Ramazan is called meethi Eid in this part of the world.
Made of semolina flour and fine wheat flour, vermicelli can be used in a variety of dishes and is mainly used in desserts across the country.
To meet increased requirement during Eid, small factories and workshops start making vermicelli in day and night shifts the last 10 days of Ramazan.
Small factories are opened in residential areas in downtown Rawalpindi where women make the noodles according to traditional recipes. Workers in workshops try to follow traditional recipes so the colour and fragrance of the noodles is the same.
The making of vermicelli is a long process and requires the work of six or seven people. The process produces work for so many people, even after the introduction of machines for part of the process. All the work used to be done by hand before machines were introduced to make the long noodles.
Workers have not been relieved even after the introduction of machines because of frequent power cuts. Many owners of workshops do not pay the workers their daily wage so they skip work when there is no electricity.
The workers first make dough from fine wheat flour and semolina flour. Another worker rolls the kneaded dough in balls and puts them in a machine which makes long, thin noodles out of it. The third worker puts these noodles onto hangers near a big stove.
When it is dry, a fourth person puts them in a stove for a few minutes to give them the light golden colour. The vermicelli is then put in polythene bags and is ready to be taken to shops and sold.
A worker at a small factory, Shabir Hussein said him and other workers start at the factory soon after morning prayers as they have to produce more than 2,600kg of vermicelli a day.
"We have to make sure the vermicelli has the right colour as people do not like darker noodles," he said.
Mr Hussein said two types of vermicelli are made in the workshop, the first is thick and the second thin. "We have to change moulds in the machine many times to make the two kinds of noodles," he said.
Another worker at the workshop, Shahzad Ahmed said vermicelli is more popular in the Potohar region and in Khyber Pakhtunkhwa than it is in inner Punjab, where people prefer sweet rice.
He said work on making vermicelli for Eid is started so early due to interruptions in gas and electricity supply. Most people like to have vermicelli at Sehri as well, he said.
---
Originally published in Dawn, June 18th, 2017
Email