All the dishes were rich in flavour, tantalising the taste buds
Paramount Fine Foods, a Middle Eastern food chain, has finally branched itself out from Canada to Pakistan. Not only is it a Lebanese restaurant, it also comprises a fine bakery featuring many items that one usually doesn't find in Karachi.
Situated in Khayaban-e-Shamsheer in a building that previously belonged to another restaurant, this new eatery has been completely transformed into a traditional yet modern space for fine dining; the ornamentation managing to forgo its past resonance and creating a new identity.
Paramount Fine Foods is embracing fresh organic food and recipes that have been passed down for generations, all ready to be enjoyed by us Karachiites. With ingredients like olive oil, za'atar, chickpeas and sesame seeds, this restaurant is a blend of healthy and flavoursome food.
The food will not only be served in an indoor space. The restaurant is soon to open its patio where diners will be fully able to enjoy the authentic style of Lebanese dining.
Upon entering, besides the staff being very welcoming, I was also pleasantly surprised by the number of female employees working at Paramount. Offering their own brand of water bottles, Paramount donates Rs5 on the purchase of each bottle to Dar ul Sukun, a home for abandoned children with disabilities.
Now finally coming to the food, every diner while skimming through the menu gets complimentary pita bread. Do not get fooled by the market made pita, this here is the real deal, the real Middle Eastern pita. Not only was it big, light and airy, it was as fresh as out of a wood-fired oven and when paired with hummus, it was a match made in heaven.
Hummus, a recipe that I am so fond of cooking at home, is actually not that easy to make. Comprising of only four ingredients used with precision, Paramount's hummus knocked my socks off. With the right amount of tahini, this hummus is probably the best in K-town right now!
Next in line was Manakeesh - from the root verb naqasha, 'to sculpt, carve out', meaning that after the dough has been rolled flat, it is pressed by the fingertips to create little dips for the topping to lie in. Similar to a pizza, it can be sliced or folded, and it can either be served for breakfast or lunch.
Za'atar manakeesh is what I ordered alongside Za'atar with cheese later. Plain ol' za'atar has the very authentic taste of dried herb(s), mixed with sesame seeds, dried sumac, and often salt, as well as other spices. This alone is quite delicious with many health benefits to offer, such as making the mind and body alert.
On the other hand, Manakeesh- Za'atar with cheese consists of a light golden crust. This recipe entails not your regular cheese but a Lebanese cheese called Akkawi - white brine Palestinian cheese from the city of Acre. This one, put together with Za'atar was very appetising, convincing the audience to try a healthier version of pizza. With the smooth texture and mild salty taste of the cheese alongside Za'atar, this item is a must try on Paramount's menu.
Shawarma chicken pizza, an executive chef signature creation, was next to tickle my taste buds. Sharing a similar dough base, this one consists of Mozzarella cheese with tahini sauce drizzled on top. The central core of the pizza is dedicated to fresh vegetables like one finds in a shawarma; a recipe with perfect combination of just four ingredients, making it all the more flavourful.
Paramount special, a refreshing drink layered with fresh mango pulp and strawberry juice, crushed pistachios, ashta cream and chunks of fresh fruits was quite viscous but satisfying. If you plan to order this, I would suggest pairing it with a lighter main course to balance out your meal.
When I asked for main course recommendations, the operation director Aman Virji, steered me towards an enormous dish called Mixed Combo Platter comprising beef and chicken shawarma, two kafta skewers, two shish tawouk skewers, two BBQ beef skewers and four falafel pieces, all served with tahini sauce. Priced at Rs. 3,995/- this platter can surely be shared by a group of four, filling them aptly if they also plan to order Paramount's luxurious desserts later.
The chicken shish tawouk was juicy and moist in every bite, followed by kafta skewers. Falafel, a deep fried patty made from ground chickpeas was a true knockout on the platter. When dipped in tahini sauce, it managed to fully satisfy my palate. BBQ beef skewers were only appetising when paired with garlic sauce hence, sauces rescuing a few items.
We also had the chance to meet the Head Chef, William el Dbaissy, a unique culinary artist who belongs from a family of traditional Lebanese chefs and has been serving traditional Lebanese food since the start of his career. He works in Canada, but is briefly here to train the staff at Paramount Karachi.
With a hygienic kitchen and well-trained staff, Dbaissy has also made sure to purchase fresh meat every day to ensure healthier food. He is particular about the origin of the animal and natural feeding when buying the meat. Herbs are imported from Lebanon and Dubai to maintain quality and taste.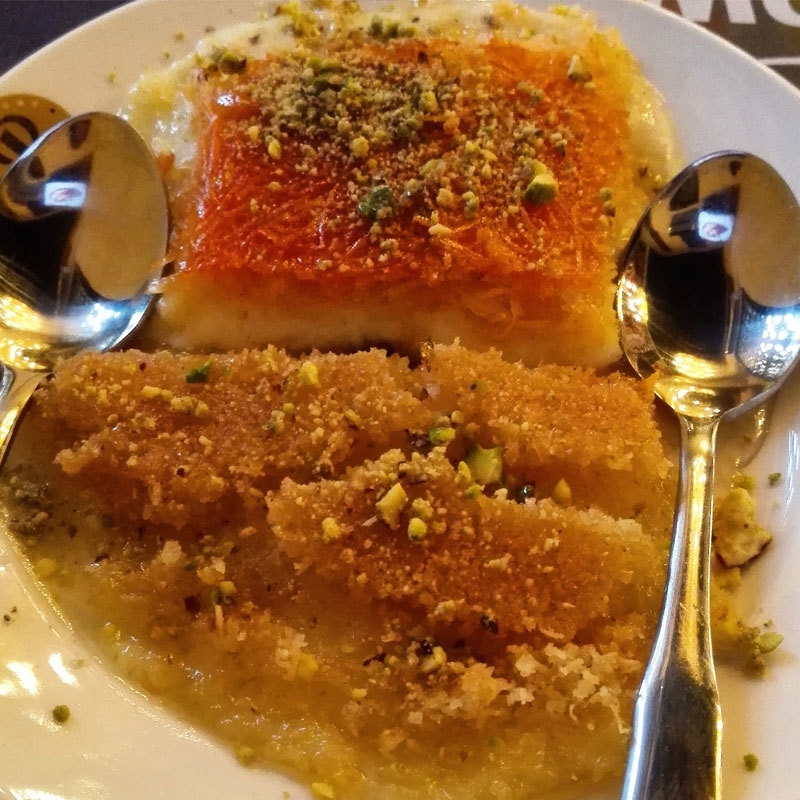 Having a fondness for desserts, I was extremely thrilled to skim through the menu. Farooq (assistant manager) at Paramount was kind enough to free me from my dilemma. I quickly ordered Kinafeh - a Middle Eastern cheese pastry soaked in sweet, sugar-based syrup, typical of the regions belonging to the former Ottoman Empire. Tasting fine semolina upon my first bite, dipped in the sugar syrup, it was the sweetness alongside the saltiness from the akaawi cheese and the feta-like texture that brought about the right amount of balance of the flavours altogether.
Eating at a Middle Eastern restaurant, one cannot ignore Baklava, A very old, rich and sweet pastry; presently a favourite dessert amongst the Turks. As most of us are familiar with the common square Baklava, Paramount Fine Foods' bakery has many more varieties of this delicious dessert; one of them being Finger Baklava, which was one of my favourite.
Stuffed with ground cashews, drizzled with a delicate blend of rose water and showered with crushed pistachio, it was rolled up and baked to golden perfection making it a flavoursome dessert. Followed with Birds Nest Baklava, a very fine stringy dough wrapped around pistachios and lightly fried to boldness. The stringy Knafeh dough texture is very similar to that of crispy vermicelli. With pistachios shining in this recipe, this Baklava is for people like me who prefer the right amount of meetha in their desserts.
With renowned chefs sharing their most authentic Lebanese recipes, this restaurant is surely not be missed out. Aiming to reach out to everyone, prices here are ranging from PKR300 to PKR4000. With aroma of freshly baked breads in their wood-fired ovens, charcoal BBQ meats and handmade sweets, Paramount Fine Foods provides guests a culinary experience that will not be forgotten.