Sanam Saeed is having a prolific year.
By the end of 2016, she will have starred in four films, starting from the lighthearted comedy Bachaana (released in March), following it up with the dramatic Mah e Mir (released in August), and rounding off the year with Rahm and Dobara Phir Se (both releasing this month).
The roles that she's played so far have been diverse, with her gloriously spunky Aliya in Bachaana contrasting with the manipulative charmer that she played in Mah e Mir.
So, when Sanam landed in the US for a vacation, I couldn't resist bagging the chance to chat with her about Dobara Phir Se and more.
Images: Hi Sanam! What brought you to the US?
Sanam: I was here on a short vacation with my friend Zoe Viccaji.
Images: How are promotions for Dobara Phir Se going?
Sanam: Promotions are insane! It's the toughest part about making a movie for us actors at least.
We are on the go from 8.30am to 8.30pm. From morning shows to radio interviews, bloggers meet ups, media junkets, mall visitors, cinema visits, fashion show walks, magazine shoots, college visits; the list goes on. It's a universal trend now.
Audience interaction and participation plays a huge role in film promotions. Hollywood and Bollywood mega stars are having to do it too now. With the birth of social media, a film gets left behind if the actors don't go and present their film and energy to the public.
So for four weeks straight, life is committed to promoting the film across Pakistan. From next week, closer to the release date, we will be travelling all over Pakistan — Multan, Sialkot, Islamabad, Lahore, Faisalabad, etc. Then Dubai and the US and UK for the international premieres.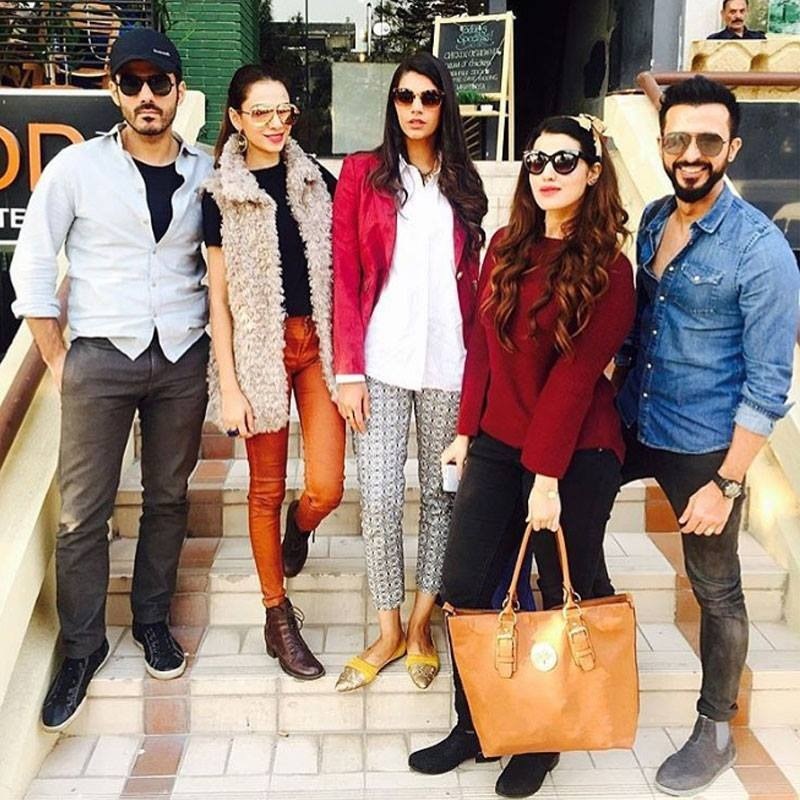 Images: What are your expectations from the film? How was the experience?
Sanam: I always enjoy working with [director] Mehreen [Jabbar]; this is my fourth project with her.
The entire cast had met each other before or worked together. Hareem and I were in Diyar-e-Dil, Tooba and I had worked as models for about a decade and Adeel and I did Mehreen's other projects together. Shaz Khan and I, it turned out, went to school together in third grade. And Ali is someone it doesn't take long to make friends with!
We were all in New York together and it was a lot of fun. The girls were living together, working together, unwinding together. We all bonded really well and got along like a house on fire.
Images: Can you tell us a little bit about your role?
Sanam: My character is called Samer. She is like the life of the party; lighthearted, friendly and free spirited.
Ali and my character are engaged in the story, They are a laid back fun couple who are friends with Adeel and Hareem's characters respectively.
Images: Bachaana didn't do too well at the BO. Why do you think that was?
Sanam: It wasn't promoted properly. Had it been pushed for the promotion, it would have done well. It was a sweet romantic film, so there was nothing to not like. I've never played a character like Aliya before and Mohib shone in the movie. If a film is not promoted well, it doesn't matter how good it is, it won't work. Promotions are key.
Bachaana wasn't promoted properly. It was a sweet romantic film, so there was nothing to not like. If a film is not promoted well, it doesn't matter how good it is, it won't work.
Images: Diyar-e-Dil was a drama serial for the history books, but your character Roohi was so bitter. How did you deal with playing that character?
Sanam: I had a hard time saying the lines sometimes only because I couldn't believe someone could hold on to a grudge for so long and be so stubborn or vengeful. Every time I'd protest, I'd be told I'd be surprised how some people actually do behave.
All in all, it was interesting and challenging to play such a complex character who goes from young to old.
Haseeb Hassan is a fantastic director. He really understands characters and their relationships. He always gives sound advice and direction.
Also read: 'Diyar-e-Dil' opens with a bang and is a visual treat
Images: Currently, your drama Dil Banjaara is on air. What is it about and what can we expect from you?
Sanam: This kind of just fell in my lap; it's not the kind of script I usually do. Someone else was supposed to do it and they couldn't, so I got roped into it.
The first day of Ramzan was the first day of our shoot. I was so happy to be in the same frames as wonderful actors like Samina Ali, Hina Bayat, and Sakina Samo. It was a lot of fun, especially with the older actors.
My character is a doe-eyed, young, naive girl with stars in her eyes. She is free-spirited, but lives in a conservative household.
She meets Adnan's character on a school trip to Nepal. He really did a fantastic job. He is a photographer who loves to travel and is a free spirited character as well.
What will do well, we don't know. We read the script and do what we enjoy. Whether it is a success or not, makes no difference to me. As long as I know I did my job fully and enjoy it. If it does well great, if it doesn't, it's okay.
Images: What's next for you? Would you like to work in a drama or a film?
Sanam: I am currently busy promoting Dobara Phir Se, but will start a new film in January. Meanwhile, my other film Rahm will be released as a feature film in Pakistan too. It's an adaptation of a Shakespeare tragedy, Measure For Measure.
Images: Who are your favourites in the industry?
Sanam: So far I've just worked with wonderful directors and co actors. I'm very comfortable with Imran Abbas and Adeel Husain. There's Ahsan Khan and Fawad Khan, of course. During Zindagi Gulzar Hai, he gave a good strong performance so I gave that back; it was a great table tennis match. Mohib Mirza is fantastic to work with. He is very knowledgeable.
I was nervous working with Adnan because we are friends and I was worried because it was his second play and I wanted to play on the same equal field.
I also love working with Ayesha Khan, Hareem Farooq, Sarwat Gillani and Maya Ali.
I get along with everyone. You'd be surprised, but almost everyone in the fraternity gets along with everyone just fine.
Images: Who would like to work with that you haven't?
Sanam: Saba Qamar, Mahira Khan, Sanam Baloch, Nouman Ijaz and Aamina Sheikh because we didn't get a chance to work in Daam.
Images: What are your thoughts on our tussle with India?
Sanam: Let them do what they need to. Maybe it's a political game till the elections happen.
Art has nothing to do with this. It's unfortunate that the [bans have taken place]. Pakistan contributes hugely to their economy due to Bollywood films. Competition is healthy and good. If we have nothing to compare to and learn from, where would we do? But now, Lahore Se Aagey and Dobara Phir Se have a great chance.
Images: How do you handle your personal and professional life?
Sanam: I keep personal life completely separate. My social media is just for professional life.
Images: Do you have a dream role?
Sanam: My Fair Lady and Laila from Laila Majnu. I would also love to do a biopic on Nazia Hassan.
Images: What's the latest Pakistani film you've loved watching?
Sanam: Actor in Law. I loved it. We need to make a lot of movies. How else would we get variety?