He's known outside the film industry for iconic music videos such as Fuzon's 'Khamaaj' and Ali Azmat's 'Na Re Na' but within the industry he was always considered the ad film-maker most likely to make cinema and succeed at it.
Yet Saqib Malik's first announced effort in 2007, Ajnabi Sheher Mein, never saw the light of day.
Images on Sunday sat down with the hardworking ad film-maker and former film critic to see where he's at and to get his take on Pakistani cinema's current scene.
Let's start by asking: where is Saqib Malik?
Saqib Malik: He has just turned 50! I should be going through a mid-life crisis but luckily, I'm not. I'm very charged and excited and I'm going through a transition period. I have been in advertising since 1988, which is almost 28 years, and then making commercials for over 22 years.
However, I've always wanted to do films. In fact, I was the first one from my generation of ad film-makers who wanted to do a film, but I never got to make one.
Presently, I'm getting the scripts done for four of my films, one of which will be going on the floor by February, hopefully. It's a very good project but I shouldn't be talking about it beforehand as experience shows that if I'm too charged about anything—and ready to do something—things usually fall flat.
Expectations from your first film run high. You do know that?
SM: Yes. I will be heavily judged by my film as my fellow directors have been judged by their first films; these films became an indicator of their talent. So I'm being careful in taking the first step.
I will not do a film just because others did a film. It has to be a film that I believe in and that's exactly why I have put aside a few scripts that we developed earlier.
I want to do a film only when I believe that the script I have in hand is tight. It has to be something that's close to my heart. And even if it's not it has to be something that I know will work and the audience will enjoy. Ultimately, I'm a neurotic perfectionist.
How many film scripts have you been working on?
SM: I've been working on three to four scripts. I've got three scripts ready of my own, that I commissioned. One was written by Ali Sikander, and one is being written by Irfan Ahmed Urfi and another one is being written by Osman Khalid Butt. And I also have my own script that Sarmad Khoosat has written, Ajnabi Sheher Mein, which is great and one of these days, it needs to be re-looked at.
Also, I'm very keen that Faseeh Bari will write something for me as well. We had started working on something earlier but it didn't work out but now we are planning on working on it again. I will probably have five to six scripts and I think I will start a film company and give it to other directors to make films. But before that, I might be doing a film for a media house very soon, that is not one of my own scripts.
You have seen the films made by your contemporaries from the ad world such as Asad-ul-Haq, Asim Reza and Jami?
SM: Very closely. I have watched their films and enjoyed them from my point of view. But why just these three? I believe that Nadeem Baig is also my contemporary and I thoroughly enjoyed his film too. I have always loved Pakistani cinema and I'm an avid viewer of Pakistani films since the early '70s. In fact, I used to review and write about Pakistani films.
I've been following the new Pakistani cinema and I'm loving it. Also, I have been a jury member on the KaraFilm Festival and the Lux Style Awards (film jury) so I've been watching all the new films critically. Also, because I have to know what kind of films are being made and what people like and dislike before I can make one for them.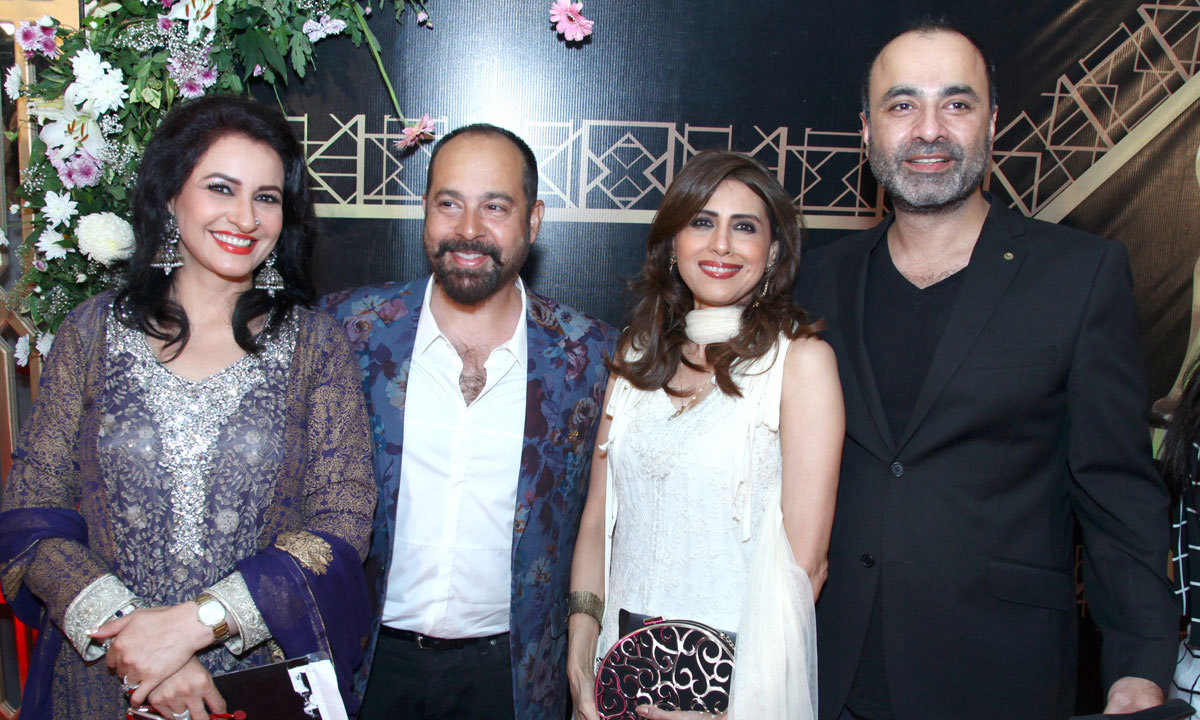 I saw Blind Love recently and I enjoyed it as it reminded me of a film from the '90s. It's a small budget film but they tried to make a thriller and they did a good job with performances by Nimra, Amir Qureshi and Mathira. It was both engaging and fun.
Earlier, on Eid-ul-Fitr, I saw Sawal 700 Crore Dollar Ka. I think it was a well-made film except for the acting talents of the lead cast…besides Ghulam Mohiuddin of course.
You have always supported Pakistani cinema. But we make bad films, too. Should one see a bad film just because it's made in Pakistan?
SM: The audience has changed. It's a discerning one. They spend 500 rupees to see a film and it's an expensive proposition. If one takes the family to see a film, he will end up losing a significant amount if it's bad.
The Pakistani audience wants to support local cinema but Pakistani filmmakers also need to understand that they have to make better films. Also, they need to advertise and market them more effectively.
When Indian movies get more time on Pakistani cinemas as compared to Pakistani films, how do you see it?
SM: Let's not forget that Indian films have created a space for the revival of Pakistani cinema. If it weren't for Indian films, we would not have Cineplexes. The Pakistan film industry had come to a standstill. So they allowed Indian films to be shown here. Old cinema houses were fixed up and new cinemas were made and the money started flowing in.
And it was then that the Pakistani film industry resurfaced.
Indian films get a lot of self-marketing support by cable and the Indian television channels so they are more visible as compared to the local films. But we have examples of Na Maloom Afraad, Bin Roye and Bachanaa that were released alongside popular Indian films but they became hits by word of mouth.
So If you release a film such as Sawal 700 Crore Dollar Ka against a very popular film like Salman Khan's Sultan then you will definitely get a lesser number of screens to show it on. It is wrong to blame Indian films for stopping Pakistani films from succeeding.
Having said that, I still believe that the film exhibitors and the Government of Pakistan should provide better incentives to local film-makers to support our film industry.
Asad-ul-Haq, Asim Reza and Jami: how do you see their work on the big screen. Do you think that they have progressed as film directors?
SM: I think first of all I must commend each one of them because they really went out of their way, put their careers on the line, and out of their passion made a film jiss ka koi confirmed return nahi tha [for which there were no confirmed returns]. So hats off to all three.
I have deep respect for them. They had the courage whereas, in a lot of ways, I didn't. I stopped myself. Having said that, each one of their films represent their sensibilities and their style.
Moor was an original Jami film. He again had a different point of view, his way of storytelling. His film is like his videos: always a little oblique, a bit more complex, more metaphorical. He has always been visually very strong in a very stark way. He uses nature, actual locations very well.
He's much more raw in his storytelling style. Moor is a personal favourite of mine. I saw it twice and I found it really striking and very moving. I think it could have been edited well into a tighter film but it is quite a riveting piece of cinema.
Dekh Magar Pyar Se was a visual treat. Asad's film was visually strong, had a great soundtrack and it had a certain kind of attitude to it, a certain stylisation which is true in his commercials also.
I just enjoyed it for the way Asad captured Lahore. DMPS was a dreamy film. It had its own way of looking at the world. He wasn't trying to capture a real world. It was his kind of illusion and I think that was very interesting and it's something people will come back to in the future, see again and appreciate.
Ho Mann Jahan, I enjoyed. I think it evolved from our own tradition of television. I think it had some nice emotional scenes and it had very good music. Asim's film, to a large degree, was visually attractive. It is something Asim is always good at. It was wholesome, had a lot of star value and a good performance from Sherry [Sheheryar Munawar].
So yes, all three films reflected the style of their film-makers. But I think all three films were short on storytelling, which you know in commercials you don't get that much. But music videos are always a better way of reflecting your storytelling skills when you want to tell a story. I think all three films reflected their film-makers' points of view and they all had strengths.
And what about Jawani Phir Nahi Ani?
SM: I enjoyed JPNA. It was a full-on masala film and it worked because it had the faces of today. It was a very Pakistani comedy and there were a lot of jokes about us as a society in it. It referred to Pakistan, it referred to our sensibilities, our society and that's what brought in the laughs. It had the same formula, like a lot of Indian films, but its writing approach was very much based on what is relevant and current in our vocabulary. That's what made it a success.
And of course NMA. It is a great example of a very creatively executed film with mass market appeal. Both quality and thought went into it with good entertainment value. I have high expectations from Actor In Law as well as I think Nabeel is a very good talent.
But let's not forget my favourite film out of all these: Zinda Bhaag. It was brilliantly written and well-executed with very good music. I just wish that it was better marketed. I think that's my all-time favourite film.
I also saw Jeewan Hathi in London, which is also directed by Meenu and Farjad, the people who made Zinda Bhaag and it's truly outstanding, I loved Hina Dilpazeer in it, then Naseeruddin Shah has done a cameo.
And there's this actor Fawad Khan, not the famous Fawad Khan, but another actor with Kiran Tabeer, both of them had done an excellent job. Samia Mumtaz is also brilliant in it. I hope that it will be released in Pakistan soon. It's only an hour-long film but it's fantastic!
Also read: Theatre's Fawad Khan gets candid about upcoming venture Gardaab
All these films have also been labeled as glorified telefilms. How true is that?
SM: I don't agree. We have a concept that if it's slow and dramatic it's TV and if it's loud tou filmi hai [then, its filmy]. I think that definition no longer applies. Our films were always naach gaana [song and dance] and action, those were the two things that would define Pakistani cinema, and it worked for India as well. It was not so true for Hollywood though because Hollywood used to have very strong dramas.
But in Pakistan, these boundaries began to blur. Now a lot of our dramas are like movies. And a lot of our movies are like dramas. On television, you have 36 episodes to tell a story and in cinema you hardly have three hours. So I don't necessarily agree ke woh glorified television ki cheez hai [that they're glorified telefilms].
We have a very strong tradition of television, our writers are from television, our actors are from television, everything is derived from television but in this new generation of filmmakers, there are people from advertising and the old film industry too. So the best thing is that all kinds of films are being made.
A story is a story, and if people are there watching it on a big screen and are moved by it, then you know it has its own identity.
Speaking of television, why did you never work for it besides making commercials?
SM: I never needed to because the commercials kept me busy and then I did about 15 music videos. So I decided if I'm going to do anything, it'll be film because that's what I came into this field for. I was never that enthusiastic about doing serials and telefilms because I just thought it was a waste of time. If I'm going to spend that much time on doing something, then let it be for the big screen.
You were a part of The Reluctant Fundamentalist team. How was that experience?
SM: Very nice. Mira Nair is a friend and I had met her a couple of times in New York through another very good friend, Mehreen Jabbar. So when Meera was doing The Reluctant Fundamentalist, she wanted a few shots done in Pakistan.
Originally, she wanted to shoot the whole film in Pakistan but because of the situation here, the insurance companies were not insuring her actors so she had to shoot everything in India. When she wanted some real footage of Pakistan, she contacted me. So I shot a lot of stuff in Lahore and lent it to her. And yes, it's used in the film.
Recently for Ae Dil Hai Mushkil, Karan Johar wanted me to shoot some stuff in Pakistan but I couldn't as I was very busy at the time. So yes, these options do come up but we can only attend to them if we are not busy with making commercials. But for the moment, I'm focused on getting myself together and making my own film.
So how do you see media houses coming up with their own films?
SM: It's very important because the media houses have their own TV channels to promote the films and its their strength too. The negative thing is that they promote their own films only. But media channels have the money, they have the ways to promote the film, so it's good that they are doing it but there should also be a lot of other supporters.
The basket will grow bigger with many players in it. That is the only way our industry is going to thrive again.
If you remember the last few years of our industry, there were just a handful of producers making films and it was basically the Gujjar baradri that was making films. Yes, they had a niche but they were making only their type of films. But if there were more players, the industry could have lasted.
Similarly, I would say that the game should not be in the hand of a group of people, they should be all kinds of producers coming in and that will provide the ground for proper competition. But more than anything, we need more cinemas.
The more cinemas we have, the better it is for our film industry, because for the worldwide cinema businesses today, if your film can earn in the first two weeks you're safe and you just need to release it in as many cinemas as you can. So that your investment returns.
Given a choice, which actors would you like to cast in your film?
SM: It depends on the subject of the film and the story. I have worked with almost everyone in Pakistan regarding TVCs. Out of these wonderful actors in Pakistan I would love to work with Hina Dilpazeer in a film. I've done a commercial with her, she's a terrific actor.
Then I'd love to work with Bushra Ansari. She is such a fine actor. Similarly I will love to work with Meera in a film because I think Meera is somebody who has great screen presence.
But who inspires you as an actor lately? Or if you've seen some performance that you've really moved by?
SM: Out of the recent talent, Sajjal Ali is very good. I think she's going to make a very interesting career. There is a film that I'm planning in which, if everything goes according to the script, I would like to work with her.
Out of the male actors, Umair Jaswaal is very good. I think he's got a very interesting appeal and I'm almost tempted to cast him. He's done a great job in Mor Mahal and I think uss mein kuch hai [he has something]. He looks good in the Coke commercial, too.
And who inspires you as an actor in Bollywood?
SM: There are some great actors there too, I was watching Masaan the other day and I was so impressed by the brilliant new actors. But for me Nawazuddin Siddiqui is one name that can make me go to the cinema any day.
Similarly I would go and see a film because of certain character actors. Out of the mainstream actors, I really enjoy Ranvir Singh's presence. I think he's got great energy and there's something very interesting about him.
Today's films are heavily sponsored. Karachi Se Lahore and Dekh Magar Pyar Se went overboard while endorsing products. How do you see that?
SM: Film-making is a commercial business but it is a creative expression, too. You can't lose the creative essence but you can't deny the importance of sponsorships. I'm also going through the whole process right now.
Actually the strength of the Pakistan film market is very small so it's very important to get promotional support for the film whether at the time of release or at the time of the budget, because you don't have a lot of money and you don't have a lot of benefit. So basically our budgets are being substantiated or helped by product placements and all of that because it's all so new and we are all learning.
I think the brands themselves have realized that you can't go overboard because it doesn't reflect well on the brand, and the directors have also realised it. But this will continue to happen. I think it needs to happen because we are still a small market and we need that support. With time, product placements and promotional strategies will become more sophisticated.
---
Originally published in Dawn, Sunday Magazine, September 25th, 2016
Email