Just when we started wondering what Canadian Prime Minister Justin Trudeau will do next, he decides to become a superhero. No really, it's happening.
The variant cover of Marvel's Civil War II: Choosing Sides #5 features a smiling Justin Trudeau sporting red boxing gloves and a vest with a red maple leaf on it. Standing behind him are members of the Canadian super hero team Alpha Flight and Iron Man can also be seen in the back.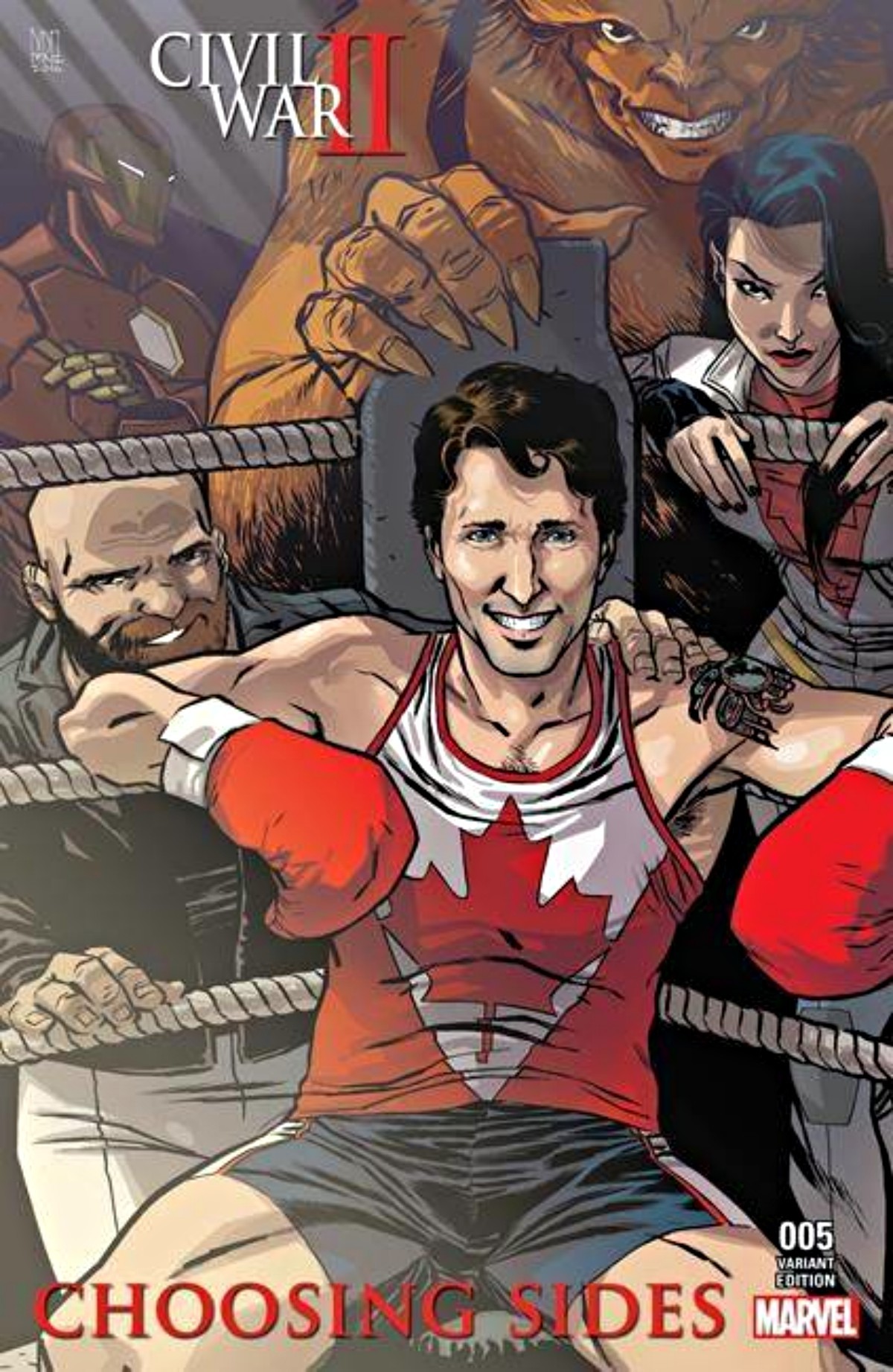 Award-winning Toronto-based cartoonist Ramon Perez is to be credited for this creative design.
"I didn't want to do a stuffy cover — just like a suit and tie — put his likeness on the cover and call it a day," says Perez, "I wanted to kind of evoke a little bit of what's different about him than other people in power right now. You don't see [Barack] Obama strutting around in boxing gear, doing push-ups in commercials or whatnot."
According to The Canadian Press, Canadian artist and writer Chip Zdarsky was approached by Marvel to write a story featuring Alpha Flight and Zdarsky, and he immediately decided he wanted Trudeau to be a part of it.
"I kind of figured to do a story about Canada right now and not take that opportunity to put Trudeau in seemed like a waste," says Zdarsky
"He seems to be the popular culture association with Canada right now, right behind [Toronto rapper] Drake – and I probably couldn't get Drake in the comic," adds the artist.
Trudeau's character in the comic will be as an old boss of Alpha Flight. The team, now working for Captain Marvel's worldwide defence program, will face a moral quandary which will lead them to Trudeau for advice.
Justin Trudeau's office says it's a fine idea, although they don't endorse the comic. Trudeau is actually following the footsteps of his late father Pierre Trudeau, who made an appearance in 1979's Volume 120 of The Uncanny X-Men.
For Justin Trudeau's appearance, Zdarsky says, "I didn't want this to just be like a walk-on ... rescued by superheroes and he thanks them and that's the end of the story," he adds. "I think a lot of these real-life appearances in comics tend to go that way. I liked the idea of him actually engaging them in an ethical debate."
He went on to say, "It's a little tricky just because once you start to put words in the prime minister's mouth, we acknowledge that this is basically Trudeau fan fiction."
The comic book is set to be released by the end of August.
Email