ISLAMABAD: The delicate strains of Quizás, quizás, quizás over the stereo and the smell of freshly-baked flatbreads that greet the visitor could easily fool you into thinking you've arrived at a cafe somewhere in Sicily. But you're still in Pakistan, albeit an upscale part of the nation's capital, and Cannoli is very much a locally-run enterprise.
Tucked away like a well-known secret in a corner of Sector F-6, the unassuming eatery has quickly garnered a fan following among the notoriously discerning denizens of Islamabad – thanks mostly to a decidedly European approach to food that is both unique and refreshing among a sea of continental pretenders that attempt to pass off pan-fried chicken as gourmet cuisine.
Despite its diminutive size, the cafe has ample space and is a nice place to sit, complete with a bar and stools for those who want to bring their books and laptops along. The interior is replete with memorabilia and references to Mafioso movies, with the iconic line from The Godfather, 'Leave the gun, take the cannoli' emblazoned on a cross-stitched wall hanging.
Manager Naveen Ahmed told Dawn that the cafe was envisioned as a quiet, small place where people could come for a spot of coffee or brunch. This explains why the menu has been reduced to a few select items and categories, but as the owner puts it: "This means we can focus on what we do best."
Cannoli is the latest venture by Uzma Chaudhry and Dia Haider, the team behind the popular Cafe Soul.
Unsurprisingly, the menu at Cannoli features a number of popular items from the Soul menu, such as the Mushroom and Swiss burger, which still oozes sauce and drips cheese like the real deal.
New additions to the Soul burger menu include a malt-infused beer-cheese burger, as well as the Juicy Lucy, which is supposed to have a cheese-stuffed patty.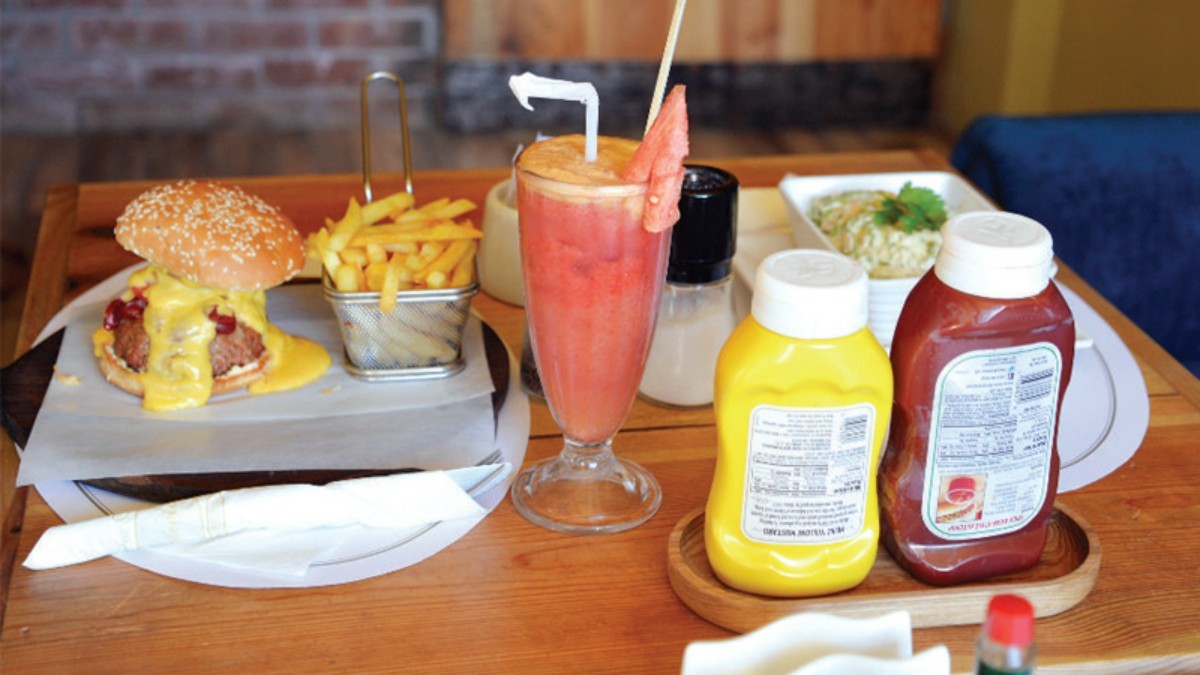 The menu itself extols the customer to 'Eat dessert first' and contains a veritable smorgasbord of options, such as tarts, pastries and, of course, finely rolled cannolis. This, Ms Chaudhry says, is down to the chef's obsession with desserts. "Dia is crazy about desserts and there's nothing low-calorie about them. She keeps changing the specials and there are new things to try every week or so."
She even hinted that the famed molten lava cake from Cafe Soul may be making a comeback.
The food is standard European cafe fare, but has been toned down to suit the local palate, as well as working around locally-available produce. "We could go crazy, if only we had the ingredients. Fresh rocket leaves, for example, are a dream. If only I could ensure a consistent supply of quality organic veggies, we would be at par with any cafe in Geneva," Ms Chaudhry told Dawn.
The flatbreads, or thin crust pizzas as they are better known, are a standout item. In particular, the one with capers and mushrooms is popular for its unique blend of flavours that will be a treat to both the carnivorous and the herbivores.
The salad servings are also quite voluminous and can be had with or without the meat, a good choice to have if you're friends with a vegetarian.
The cafe even does a special breakfast menu, and it would be a shame not to try the authentic Shakshuka on offer here. This traditional Middle Eastern dish is prepared faithfully, down to the inclusion of caraway, which is not an easy ingredient to find in these parts.
But after conquering the world of rich, high-calorie foods, Cannoli is now looking to offer the diet conscious a healthier alternative for their snack needs. "We're working with a nutritionist, who is also a fitness instructor, on designing a line of readymade snacks that won't trouble weight watchers," Ms Chaudhry told Dawn.
---
Originally published in Dawn, April 25th, 2016
Email