With a Kickstarter campaign that's raised over $15,000 in a week, what's next for the young composer turned animator?
In a world where most animation studios are using computer generated images (CGI), Usman Riaz is taking the path less travelled when it comes to his upcoming short movie called The Glassworker.
"There is just something incredibly beautiful about hand drawn animation. The beauty of the lines drawn and painted by the human hand cannot be replicated in today's obsession with computer generated detail," shares Riaz who is the jack of all trades it seems.
A musical prodigy, one of the youngest composers ever to be featured on Coke Studio, he is now on a mission to create Pakistan's first ever hand-drawn anime film.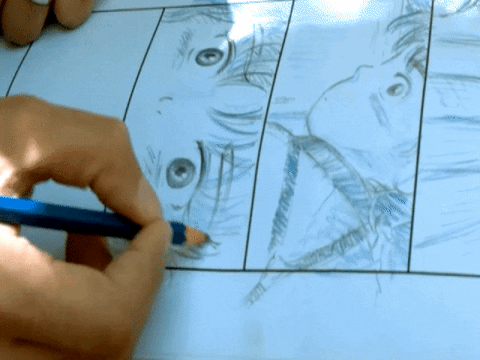 "When I was a child, I admired the way people made pictures move. I spent long hours watching films by famed Japanese animation company, Studio Ghibli such as Kiki's Delivery Service, Porco Rosso, Princess Mononoke, before I could fully understand what their messages were. All I knew was that the films evoked magical worlds where bizarre creatures did outrageous things considered completely normal by the characters around them."
---
"They told simple stories in fantastical settings or vice versa. And they helped me see the beauty in the mundane and the tragedy in the beautiful,"adds The 25-year-old artist.
---
All this led to Usman creating a Kickstarter campaign, in order to raise the funds to produce the entire movie under the banner of his animation studio called Mano.
The response so far? "It's been amazing! Within a week of being on Kickstarter, we have raised over $14,000! I am very, very grateful," gushes Usman.
What makes this story special?
The Glassworker is a coming of age story about a young boy named Vincent, who is learning the art of glassblowing from his father in their Glass Shop. As he grows older he begins to fall in love with a frequent visitor of the shop -- a young girl named Alliz.
Riaz reveals, "The film will follow both Vincent and Alliz through their developing years as life gets more complicated and inhibits their relationship. It will be a comment on the affects of war on children and just explore the bond between the two main characters."
"The movie will feature how Alliz makes Vincent mature and grow. Alliz will be a virtuoso violinist while Vincent will be a struggling glass blower. Both are equally talented but dissatisfied with their situations so it bounces off the notion that people are never happy with what they have. They will be complete opposites and their personalities will carry the story," he adds.
---
I will also be composing an entirely orchestral score for the film; that way, I'll be able to pour my own musical experiences into the characters and moments from my childhood that had an impact on me. It'll be an extremely personal story told through these characters.
---
What's a typical day at Mano look like?
"Mano has only been active for a few months but in those few months, we have made some incredible strides; I have an amazing team of incredibly talented people. Otherwise, I have been working on The Glassworker alone for over a year now. It's a complete passion project," says the budding animator.
He adds, "We have taken a very eastern approach to making the film. In Japan for instance, the director is responsible for drawing all the storyboards for the film so my duties are obviously director and composer but also storyboard artist. I want each aspect of the film to be appealing to the eye so I'm putting extra care into my storyboards."
---
Even if no one will see them, I want the storyboards to be beautiful, for myself," reveals Usman.
---
"Being a composer, the music sometimes determines the scenes for me. If I have a particular idea or score written down the visuals come automatically. I couldn't be more grateful that I can draw because as soon as inspiration strikes I am able to quickly sketch out what I want the scene to look like."
On top of all this, Usman is also pursuing a dual major at Berklee College of Music and is the youngest TED senior fellow ever selected, heading to TED 2016 at the moment, where he will also debut another teaser trailer for The Glassworker.
"The next several years will be the toughest because we are not only making our first animation, we are also making our animation studio along with it but I have a feeling it'll all work out for the best."