While the first two days at the Karachi Literature Festival were filled with book launches, tributes, and sessions on the performing arts, day 3 promises a change in pace.
Literature lovers might find themselves rushing from one session to another— in between Mirza Waheed and H. M. Naqvi talking about Kashmir, longing and exile; sessions on English fiction with the likes of Kamila Shamsie and Uzma Aslam Khan; discussions on Iqbal and Chughtai, post-colonialism and gender; arm yourself with a cup of chai (or two) for this jam-packed day.
We're on the ground at the lit fest all day, and live updates can be found below, as well as on our Instagram and Twitter accounts.
---
10.30am: Morning fuel
As the sessions gradually begin to fill in with people, some of us take detours for some morning fuel.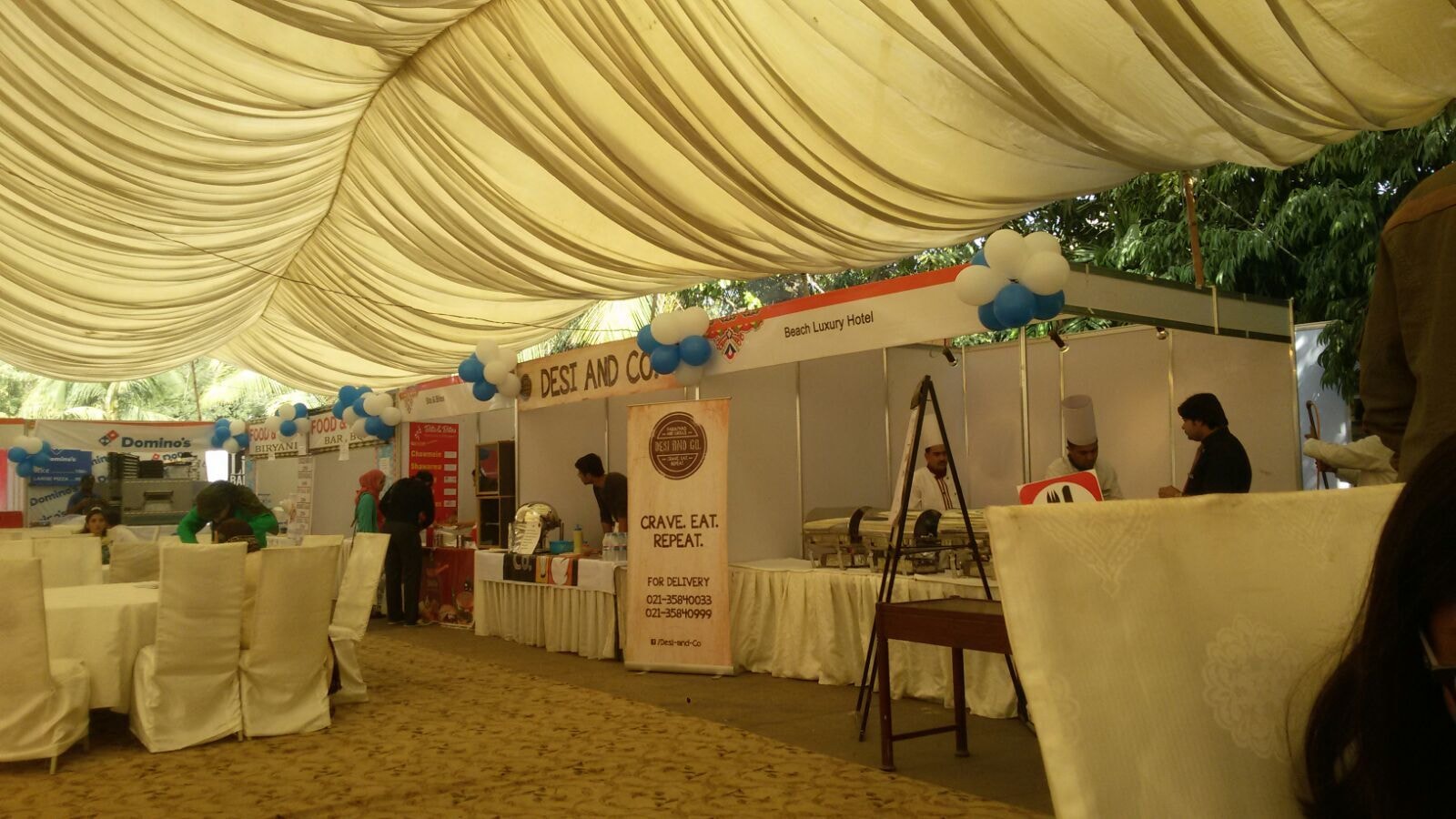 Coffee and samosas before heading to the session on South Asian fiction.
---
10.50am: Kashmir, the never-ending conflict
---
11.15am: Contemporary English fiction takes the stage
Talking about fiction writing and the gender play in writing, the women on the 'South Asian English fiction: Where mythology and history meet' are on a roll. It's only the day's second session, and the audience is being given plenty to think about.
"Fiction writers are more interested in the myths of the future (like Star Trek), even if we are writing about the myths of the past," Kamila Shamsie starts by talking about writing as mythmaking. In a time of colonialism, Shamsie feels post-colonial writers might be re-making language, but they still carry colonial burdens.
The conversation quickly moves to gender. Shamsie says written narratives are modeled on masculine narratives, because men are given priority in education departments and therefore associated with the written word. Women meanwhile are more easily associated with the oral narrative.
Where does that leave the voices of women fiction writers? Bina Shah says, "In recording, the voices of women get erased because its the men writing the history."
But then we have women like Kamila, Bina and Uzma fighting against that erasure, through their writing, and here at KLF, also through the oral narrative.
Feminists are loving it.
---
11.30am: Meanwhile, Barkha Dutt's groupies track her down...
Dutt set several stages on fire yesterday at KLF with her honest commentary about social affairs in India and Pakistan, and the two countries' politics. On the last day, people are still flocking to buy her books and get it signed before she heads back to the land of uncertain visas!
Some are even lamenting her absence on the Kashmir panel!
---
11.45am: If violence brings Karachi down, art will bring it up
The Karachi Biennale 2017 is sure to be success, if the Lahore Biennale is anything to go by. In 'Art as witness to memory and erasure', panelists and curators talk about their plans for the festival in an age of celebrity culture where art is dictated by a certain class of people.
"We want arts to open up to the people," Niilofer Farrukh says. They plan on crowdsourcing their funds, through the community and through corporate social responsibility initiatives.
"The city is very generous. They know that if violence brings Karachi down, art will bring it up."
Camilla Hadi Chaudhary talks about her plans for curating Karachi Biennale, which unlike other Biennales, will spread out all over the city as opposed to being located in a central space.
"The general feeling that art is elitist, a waste of time or for those with extra money, will chain the mindset," archaeologist Asma Ibrahim adds. "Biennale will allow us to directly interact with people to change their mindset."
The organisers say they plan to begin smaller projects before 2017 to start engaging the community. Perhaps mini art-festivals like KLF? We are excited to find out.
As Chaudhary puts it eloquently: "Visual art has a reach that is beyond books." Not everyone can read and benefit from books. But visual art in a community forces people to engage and interact with art.
---
12.00pm: Accessible for all!
---
Car-spotting!
Some of us keep an eye for the wheels kind of eye-candy. Filmmaker Hamza Bangash found this car casually parked outside the festival.
Meanwhile, some of us are taking a moment to ponder over more existential questions.
---
12.20pm: Book launch— A Princely Affair by Yaqoob Khan Bangash
The word 'erasure' comes up in the book launch of A Princely Affair, a book about the accession and integration of the princely states. "Jinnah didn't trust politicians, he gave power to bureaucrats," Yaqoob Bangash, the author says.
Bangash tweeted after the launch:
---
12.45pm: Sights and sounds
Some attendees are loving the presence and energy of women panelists and speakers.
Others just want a moment away from the madding crowd.
---
1.00pm: A sneak peak
Inside the authors' lounge, where authors and moderators hang out in between sessions.
Someday!
---
1.15pm: Hamida Khuhro wins UBL excellence award for children's writing
"I got the idea to write a children's book when my grand children were born. They lived abroad so this was a way of introducing them to their culture." —Hamida Khuhro
Mohammad Asim Butt wins excellence award for Urdu fiction, Imdad Hussain for Urdu poetry, Aslam Farrukhi for Urdu non-fiction, and Huma Anwar for translation. Huma translated Orhan Pamuk's My Name is Red into Urdu.
A minute of silence is observed for Intizar Hussain at the awards; another in the many tributes offered to the late writer throughout this weekend.
---
1.30pm: The white stripe in our national flag
The room is filled with applause every five minutes. Shaheen Atiq-ur-Rehman, Oliver Truc, Reema Abbasi, Sono Khangarani, John O'Brien and Nazish Brohi are in a heated conversation about the plight of minorities in Pakistan.
"Christians are not looking for protection. Christians are looking for equality," says O'Brien, a catholic priest who has lived in Pakistan since 1977.
Sono explains with numbers: "In 1947 non-Muslims were 15 per cent of Pakistan. Now they are only 3 per cent. We need to ask if the state has misreported these numbers."
"The problem began when we coloured the flag the way we did and made people aware they are minorities. Nothing will change in a country that celebrates minorities day," Mehr Tarrar adds from the audience.
The conversation moves to blasphemy law. "How many mainstream Sunnis are charged under the blasphemy law? The ratio is one majority member versus 15 minority members. Aasia bibi 'confessed' to defiling the Quran through her thumbprint on a statement she could not read as she is illiterate," O'Brien says. "After each atrocity there is a noble apology, a promise for compensation and that it will never happen again. Until it does."
Amar Sindhu, the writer and activist, makes comments from the audience.
While wonders why KLF chooses to cover a breadth of topics— many of which have little to do with books and writing— sessions like this one make it clear why our intellectual discussions need to revolve around topics other than just literary affairs, even at a literature festival.
---
Best overheards from day 3 so far
On stealing art "Everything that I've learned in my life has been through fiction." —Artist Huma Mujli reflecting on why she 'stole' the title of Paul Olster's dystopia novel The country of last things for her exhibition that opens at Koel gallery next week.
On the economics of sculpture exhibitions "You don't realise how difficult the world is for sculptors. People who are willing to show your work can't pay to ship it. I think if I can, I will turn into a miniature painter because then I can take my work in a suitcase!" —Huma Mujli, once again throwing her audience in fits of laughter
On O'Brien "John [O'Brien] sahab toh Santa Claus lag rahay hayn. Ho ho ho." [John looks like Santa Clause.]
Dutt strikes again "A terrorist won't obtain a visa to come to the other country and attack. It's absolute rubbish!" —This weekend's favourite, Barka Dutt
---
2.00pm: Now happening— Book Launch of 28 Days by Lifebuoy
Malika Abbas, one of the three photographers who worked on 28 Days, a photo-book produced by Lifebuoy, shares her experience. The book is the work Malika, Tapu Javeri and Arif Mahmood tracing the first 28 days of three different children's lives.
Javeri posted a photo of the team on his Instagram later.
---
2:15pm: What books are you buying?
It's the last day, and for those of us who leave the splurging for the end, the booksellers' area is a haven. One can almost always find what they are looking for—or leave with something new.
Kamila Shamsie was seen browsing through a copy of Chaand Gehen
Jahanzeb Hussain, a journalist based in Islamabad, found a copy of The Rest is Silence, a book by Roger Connah about Zahoor ul Akhlaq, the late artist known for his sculpture and design.
Actor Adnan Jaffar, found hovering near one of the bookstalls, said he was searching for something 'offbeat'.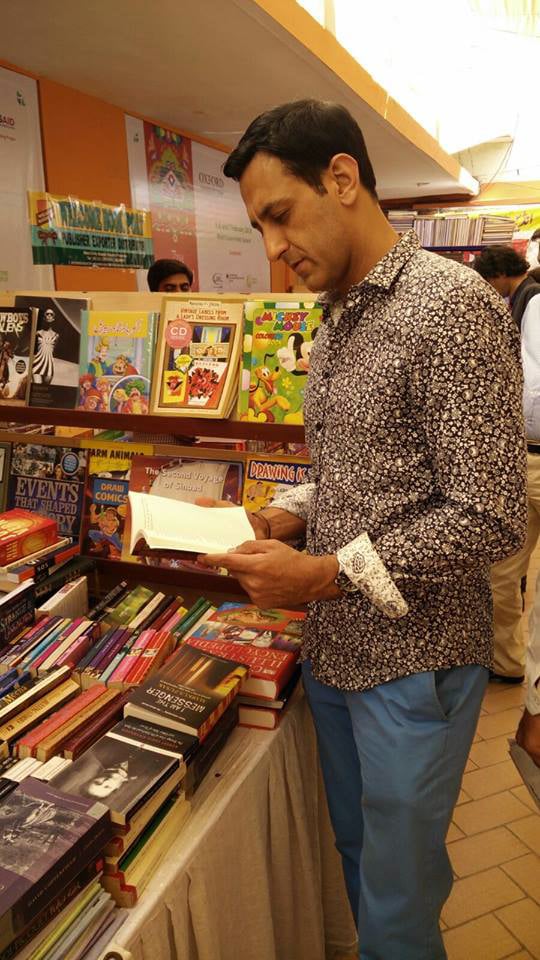 Meanwhile, Liberty Books has put up this wonderful time-lapse of their stall.
Spot your friends!
---
2:30pm: Critics have their say
Folks on the ground and on social media aren't happy with all of the festival's affairs. Several have been voicing their complaints on Twitter all weekend.
The inefficient assigning of rooms to sessions has been particularly noted by many. Some panels are predictably more packed than others, and KLF should look into ways to remedy this problem based on past experience.
Rescheduling with people dropping out and sessions being moved around has also been a mess.
Others, as always, are not thrilled with the line-up.
We have to say though, today's speakers' list is the most exciting by far. Is there truth in saving the best for last? Barkha Dutt is just taking stage again, and Hina Rabbani Khar will be up at 4.00pm.
---
2.45pm: Art amidst the literature
KLF has some clever art installations set up in various places— posters, video installations and paintings on unusual surfaces.
Meanwhile, the sessions on art are a treat of their own for those who want to indulge in deeper intellectual discussions on creativity.
We're liking the conversations on artistic practice and aesthetics, and the art installations KLF has sprinkled around. As Kamila Shamsie said earlier during her session on fiction writing: "Art is about adding an element of beauty and structure in a world that is ungovernable."
---
3.15pm: The prostituted woman
Rivers of flesh and other stories: The prostituted woman in Indian short fiction and As If Women Matter: The Essential Gloria Steinem Reader could be a riveting session, but Shayma Sayid's moderation is not up to par. Ruchira Gupta is discussing her two anthologies on women's writing. By the quality of her articulation, we are convinced the collections won't disappoint.
Here's a line from the book that Khawar Mumtaz read out: "Some women choose prostitution, they find freedom from patriarchy in prostitution."
"The selling of sex is not criminal, it is the purchase of sex," Ruchira Gupta brilliantly points out.
---
3.30pm: Book launch
"Water is so ubiquitous that we don't realise it is a character in our lives." —Aaron Mulvany
"Water is our history, the history of water tells us who we are." —Mehjabeen Abidi-Habib
---
Celeb Spotting!
Last day to grab a selfie with our favourites. Nadeem Farooq Paracha is always a popular choice for admirers excited to meet him in person.
Once again, Hoodbhoy is among the most sought-after for a selfie.
A fan also spotted Sanam Saeed amidst the crowd.
---
Three things we love about KLF day 3
1) How it brings literary communities together.
KLF becomes an opportunity for these folks of the Karachi Book Swap, who literally meet to swap books to read and share their writing.
Then there is Desi Writers' Lounge, who bring their quirky literary games every year for book lovers of all ages—sometimes, the stall gets so crowded everyone starts playing together.
2) How KLF brings out the best in Twitter commentary
3) Giveaways. Here is author Bina Shah tweeting a lovely giveaway by Liberty Books.
---
4.30pm: Khar takes the stage
"We are a country in the midst of a water crisis and we don't seem to give a dam(n) about it." —Khar. Is she being punny?
---
Whose shoe game is stronger?
---
4.45pm: Of Iqbal and Dante
Attendees in Syed Nomanul Haq and Andrea Berrini's session on Dante and Iqbal report they are 'spellbound.'
"There is no truth in saying that Arabic has given us nothing," says Nomanul Haq, lamenting the loss of languages.
---
5.00pm: More celeb spotting!
Our editor Humna Zubair met with inspiring transgender rights activist Laxmi Tripathi and managed to get a photo. Have have you picked up her book?! It's called Me Hijra Me Laxmi, and there isn't a better day to get it on— you can get it signed!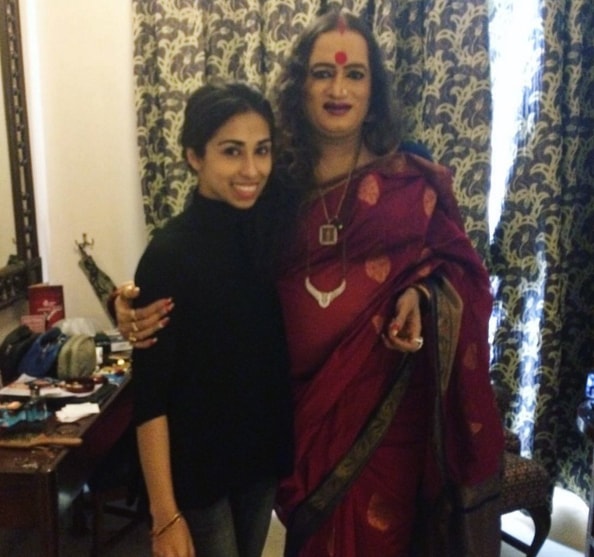 H. M. Naqvi! Has anyone figured out his first name yet?
Meanwhile, Sharmeen Obaid Chinoy remains a favourite among fans.
A fan found the Indian singer Vidya Shah.
And of course, how could any of our lists be complete without Barkha Dutt?
---
5.30pm: Team Muhafiz sells like fire
Or so it seems from the number of selfies with the comic book uploaded on social media.
Here is Ali Safina giving them a shout out.
And here is Adnan Jaffer, once again in the booksellers section (could it be because of the lovely Desi Writers' Lounge stall?), posing with a copy as well. Maybe this is the offbeat reading he was looking for?
---
5.45pm: Rushing to buy those books?
As the day ends, people seem to be rushing to buy books before they run out (or worse, before the authors leave without signing them). One attendee picked up what some might call a stellar combination: Bina Shah and Raza Rumi.
Another opted for some heavy, political reads.
What did you buy?
---
6.00pm: Khurshid reflects on Pak-India friendship
"Interacting with people from all walks of life and listening to their views, I am amazed why we (Pakistan and India) are not friends." —Salman Khurshid in 'What keeps us apart? India-Pak relations'
An apt statement to make in light of the visa debacle the proceeded the KLF, we think.
---
7.30pm: In the company of giants
While the sessions wrap up and people rush to grab a quick coffee or bite before the closing events, some of us find a moment to sit down with old friends, or seek the company of our favourite writers.
Here is poet and author Harris Khalique sharing a light-hearted moment with economist Asad Sayeed and friends.
Admirers gather around writer Mustansar Hussain Tarar as he shares stories and anecdotes.
Painters are art-lovers gather around world-famous artist Imran Qureshi (the same one who painted blood-like flowers on the rooftop of the Metropolitan Museum of Art) as he prepares to begin live painting for a charity auction.
---
Day 3: The Verdict
1) Quote of the day: brown people's burdens
"Iss session mein goray log bethay hayn, yahan chalo!" [There are white people in this session, let's go here!] —Overheard on day 3, proof that Shamsie's advice on colonialism rings true
2) Photo of the day: this book-club's group pose
3) Food layout of the day: the spread in the Art Now Pakistan area
4) Most honest tweet of the day
---
8.00pm: Laughter is the way to go
Saad Haroon takes the stage to end the final day of Karachi's literature festival. While some are complaining they don't get his jokes, others are in fits of laughter.
For those who prefer to end their literary experience differently, a screening of Manto is going on simultaneously. To watch powerhouses like Sarmad Khoosat among the company of many other powerhouses... we certainly get the chills. If nothing else, the ability to see our favourite writers and artists in person makes the festival worth it.
---
Till next year
---
Follow the conversation on social media! #KLF2016 #KhiLF
---
Email