While day 1 at The Karachi Literature Festival struck a balance between being somber and festive with tributes to Intizar Husain running alongside spirited and optimistic discussions, day 2 promises to focus heavily on the performing arts.
On day 2, you can expect a long session with Oscar-winning filmmaker Sharmeen Obaid Chinoy, a screening of the movie Manto, a discussion on how Pakistani cinema has 'struck back' -- and more.
We're on the ground at the lit fest all day, and live updates can be found below, and also on our Instagram and Twitter accounts.
---
10.10am: Attendees start trickling in for the first session of Day 2. It's a good time to show up and grab a good seat, before the crowds come out in full force!
---
10.32am: Asif Noorani kicks off the morning talking about poetry
"Who would have known Faiz or Ghalib if they hadn't been sung? It's as simple as that." -Asif Noorani in the session 'Poetry in Art, Art in Poetry'
---
11.00am: Zoe Viccaji tells fans to attend KLF
Meanwhile, Zoe Viccaji just posted a throwback photo to her performance from last night, saying she had a fantastic time performing with Vidya Shah.
For tonight, the organisers have lined up a screening of Manto, followed by a Q&A with the movie's stars, and a mushaira featuring the likes of Attiya Dawood, Harris Khalique and Kishwar Naheed.
---
11.09am: As always, discussion moves to Karachi
"What's the rhythm of Karachi? It's the traffic, the turning of wheels, the trucks, the sounds of crows." —Kiran Aman in the session 'Poetry in Art, Art in Poetry'.
Kiran runs Markings, an independent publishing house which has released a number of must-buy titles. Rebel Angel, a thick volume about the life and work of Asim Butt, is among our favourites.
---
11:20am: Commandos and parathas
Our staff on the field reports a higher than usual presence of security walahs.
Meanwhile, others are finding every moment they can to grab some scrumptious parathas. We approve:
---
11.45am: Barkha Dutt on a roll
Barkha Dutt, a household name in India, is here to launch her first book, This Unquiet Land: Stories from India's Fault Lines. She is famous for her reporting from the front lines during the Kargil conflict, and has also reported from wars in Iraq, Egypt and Libya. In her debut, Dutt has said she looks at all sorts of social roles: rapists and murderers, terrorists, prophets of religious hatred and corrupt politicians.
Here are five things she said while in conversation with Ghazi Salahuddin that won us over:
On social media: "These days, social media has made it impossible to have a nuanced, complex discussion."
On Kashmir and visa issues: "Kashmir is resolvable if other things get resolved. Kashmir is no longer the theatre of conflict."
"Both of our countries and establishments have to grow up on the Pak-India visa issues."
On her faith in the Indian people: "I think Indian democracy is very safe in the hands of the people. They will bring politics back to the Center."
On mixing journalism with politics: "No journalist should be friends with a politician."
On women: "If you are a woman with a brain in either India or Pakistan, a thousand things will be said about you."
---
11.50am: A writer's woes on property rights
"There are two reasons I don't write books. Firstly, because of the copyright issues. Secondly, because I don't know how to write." —Syed Nusrat Ali, in conversation with Amar Naseer, Ameena Saiyid, and Babar Ayaz.
---
12.10pm: Meanwhile, others listen to Zehra Nigah and attend a session on Tharparkar
---
12.20pm: Tapu on photography
Gore and beauty can overlap, and if a (journalistic) image evokes emotion in you, then it is a good photograph." —Tapu Javeri on the artistic potential of photojournalism
---
12.45pm: Putting humanity before gender
"If a poor family's son dances, it is vulgarity. If a rich person dances, it's art," Bindiya Rana, a gender activist, points out. "Humanity should come before gender."
The session on transgender rights is a heated, much needed discussion. Panelist Reema Abbasi reports there are 500,000 khwajasiras in Pakistan for whom reforms are needed, and fast. Laxmi Tripathi adds: "She-male is the most derogatory, pornographic term for khwajasiras. It needs to be rectified immediately."
"You can't just hand a sex worker a sewing machine and claim it is rehabilitation," Tripathi continues. The session is a much-needed discussion on the intersection of transgender rights and class, and the room is packed. The session's title says enough; 'Transgender rights: are there any?'
---
1.05pm: Celeb spotting
At KLF, it almost always feels like all of Karachi is out. That includes the celebs we all love!
Here is Sonya Battla, posing with Pervez Hoodbhoy, the Austrian Ambassador and Tariq Hasan after her session.
A fan finds Dr Arifa Syeda Zehra to take a photo with her.
Another fan excited to meet the singer Tahira Syed.
Zehra Nigah is always a favourite for Urdu readers, and she never says no for a photograph.
---
Happening soon: In memory of Intizar Hussain.
---
Meanwhile, Oxford University Press has set up a clever book bazaar where you can pick up some goodies in between sessions.
---
1.30pm: German Peace Prize
The winners have been announced! Mohammad Amir Rana wins the first Karachi Literature Festival German Peace Prize, worth Rs80,000.
Rana also tweeted on the occasion.
---
1.50pm: Tribute to the legend Intizar Husain commences
"I keep thinking he'll appear before me here at KLF. It is too early too detach ourselves from him" —Fehmida Riaz
"I can't think of him in the past tense." —Asif Farrukhi
"Intizar liked this venue of KLF because he used to wake up early for breakfast and feed the birds by the creek." —Asif Farrukhi
"He is the tree that has deep roots, nothing can displace him." —Zehra Nigah
---
2.10pm: Laughter is the best medicine
Saad Haroon, Nadeem Farooq Paracha and Sanjay Rajoura (the comedian from across the border who has frequently been hopping over this side) have their audience in fits. Haroon claims "we have more comedians than us in the audience."
Another gem: "You know you're made it when you get comments like 'Die' on YouTube." But things take a serious turn as Ranjoura takes the opportunity to reflect. "By definition comedy is supposed to offend someone," he says. "India and Pakistan are both the most intolerant and racist societies."
When an audience member attempts to poke fun at Sanjay, Haroon chimes in: "Let's show our guest some love!" Yes and thank you, Saad.
Before the session, Haroon posted a photo on instagram expressing visible excitement for the panel.
We have to say, the three comedians did not disappoint.
---
Overheard at KLF: Top five quotes from the first half of day 2!
Laxmi Tripathi during a session on transgender rights: "Good girls go to heaven, bad girls go everywhere."

Commando lady

Barkha Dutt's visa application, which is likely to irk off a certain Mr Kher: "When OBL was caught in Abbotabad I tweeted Rehman Malik saying give me a visa and he did!" —Barkha Dutt during her book launch.

Mirchi ka pakora!

On lost and challenged readers: "Please specify at the top if it's satire, you're starting to confuse us." —audience member to Nadeem Farooq Paracha
---
2.45pm: Sadequain's nephew reads his letters
Sadequain's nephew Sultan Ahmed shares anecdotes of the legendary artist's life and home in Karachi's Nazimabad in the session 'Sibtain Manzil: A conversation between three generations.' Here is Ahmed reading excerpts from letters Sadequain wrote to him from Paris.
---
2.55pm: How to take a breather during KLF
Some, like Tapu Javeri, take a breather by making some art with photos like this panaroma which fittingly captures the vibe of KLF:
And to think he did this while speaking on a panel on photography as art... meanwhile, some of us prefer more old-school ways to unwind amidst the madness. Such as checking out the art exhibit 'News from tomorrow' curated by Canvas gallery.
Or just drinking a cup of chai.
---
On Twitter meanwhile, attendees have been observing that moderation is not up to par this year.
---
3.45pm: Stellar discussions
Barkha Dutt returns to address a full-house, this time in a panel discussing popular culture and images in 'Words and Images of the day'.
"The audience consuming the media needs to play its part," Barkha says. "You say 'Why are TV channels showing sensationalist news?' I would ask 'Why are you, the viewers, consuming sensationalist news?'"
In 'Locating Art', artists and curators discuss the significance of an artist residency for young artists' careers. A wonderful session for budding artists, or even those looking to nurture a new side of their creative skills.
Zeeshan Muhammad speaks about his personal experience, saying he applied for a residency because he had heard of the benefits of a break for artists. "They agreed to fund my holiday but asked me why [I picked] Germany," Zeeshan laughs. "I said beer fest. Turned out to be the most productive residency because the pressure was off."
Saba Khan, who curates community programs in the Murree Residency, adds that artists in a residency shouldn't be like parasites for the host community. They are often viewed as bohemian druggies and alcoholics, so it is important to involve them in the community. "It is also integral because it is important to use brain in something other than producing arts," she feels.
---
4.00pm: Sarkari Urdu, Awami Urdu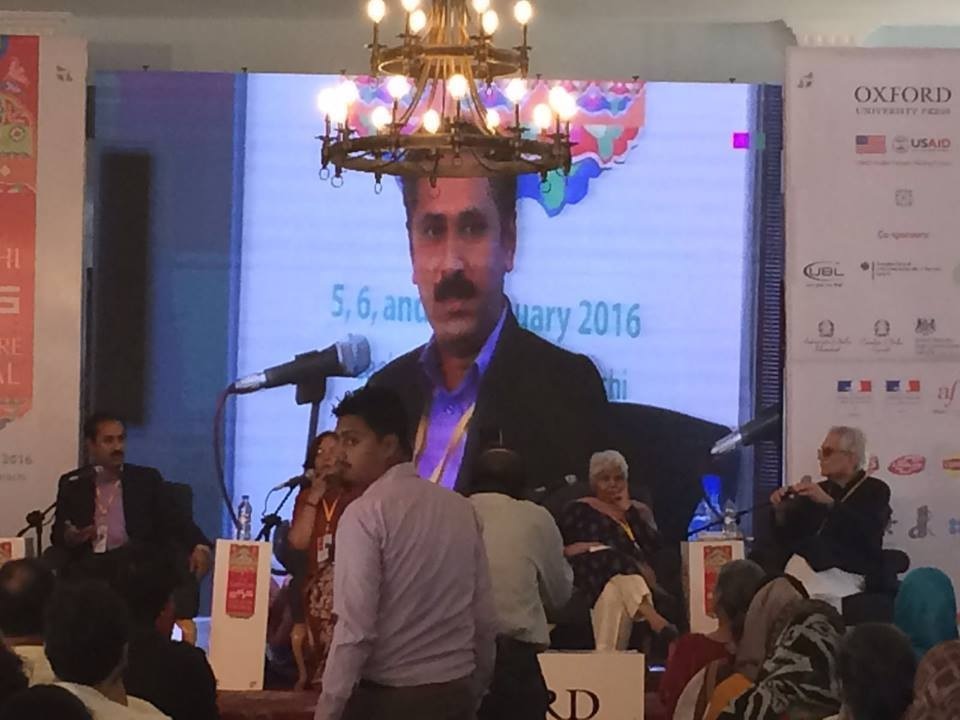 ---
Rajoura brings the house down
"We as a nation need to question authority, starting from our own homes to the governments, to religion and everything else. You can never evolve as a society if you never question authority or laugh at your own self. Our people get angry when you challenge your own heroes. People got angry yesterday when I said something about Quaid e Azam because they don't want to re-examine him. Aray yaar, koi Quaid e Azam se bhi pooch ley, maybe he wants to be re-examined! [Someone should ask Quaid e Azam if he even wants to be re-examined!]"
—Sanjay Rajoura during 'Laughter is the best medicine'
---
4.30pm: Celebrating the liberal arts
"In the modern world, a person has to reinvent themselves multiple times and pursue various careers. Undergraduade education should equip students with analytic thought, critical thinking, the ability to learn on their own, and the capacity for lifelong learning to be able to move in society today."
—Barbara Metcalf in 'What's liberal about the liberal arts?'
"How do you make people good human beings... [that] is the challenge of a good liberal arts education." —Aliya Iqbal Naqvi being on point in 'What's liberal about the liberal arts?'
---
Laxmi Tripathi rants about colonialism
Tripathi is certainly a favourite amidst the social media crowd this year. Here is a memorable moment from her session on transgender rights that a fan duly tweeted.
While most on Twitter are constantly praising both Tripathi and Dutt, some across the border are wondering why the latter was invited in the first place.
As Saad Haroon said earlier, let's show some love, guys.
---
4.50pm: Literary games at the Desi Writers' Lounge stall!
Like every year, DWL is back with their quirky literary games, so you can find out how well you really know your books and writers— of if you just pretend to (kidding!).
There is one game where you have to name the authors of several books, another one where you have to guess the character based on a sketch, and a new addition this year: the places in the world of Harry Potter!
Let's see who is the biggest fan of them all.
---
5.00pm: Chinoy reveals another fantastic project
In a surprise announcement, Sharmeen Obaid Chinoy tells the crowd that Meryl Streep is going to record a song to the music of Faiz Ahmed Faiz with Sachal Studios. Some months ago, Sharmeen released a trailer for her documentary on Sachal Studios, called Song of Lahore.
What a fantastic announcement... two powerhouses working together and directed by Chinoy, who herself has become a force to be reckoned with.
While talking to the audience, Chinoy briefly touches upon the source of her drive: "When I was 17, my father said to me: If you speak the truth, I will stand with you and the world will too."
After showing the trailer for A girl in the river: The price of forgiveness, which is Chinoy's second film to have been nominated for an Oscar, the director says shooting the film made her realise that Punjab authorities do their job well. "They were determined to get the subject of the story justice, and that's food for thought for the people of Sindh."
The film follows the life of one girl who survived a honour killing in Pakistan.
For the haters who tell her she paints a negative image of Pakistan, Chinoy has this to say: "Don't shoot the messenger. Instead, focus your energy on fixing the issues that plague this country."
---
The Things Panelists Say
"While the world is busy eliminating borders, we are still fussing over them." —Salman Khurshid, during his book launch of The Other Side of the Mountain
"Pakistan has a very strange obsession with honour and for some reason honour only rests with women. I wish honour rested with men." —Sharmeen Obaid Chinoy, during 'The Oscar Lady'
---
5.30pm: Crowds gather to the day's last sessions
As always, attendees flock to any hall with Mohammad Hanif.
Meanwhile others are thoroughly enjoying 'Ismail ka Urdu Shehar' led by Ali Safina. Ismail ka Urdu Shehar is the country's first music book-album by music composer and producer Zohaib Kazi, which was released last December. Published by Markings, it features the likes of Zoe Viccaji, Omran Shafique, Abbas Ali Khan and Kazi himself.
---
6.00pm: Day 2—The verdict
Here's what people loved and hated on social media from the second day. Obaid and Dutt were popular among most.
Many were happy with how the day was organised, despite severe claustrophobia and jam-packed houses. They did lament the absence of popular tweeters. Speaking of, where is the Twitterati crowd this year?
Some were just happy to be in their favourite stars' presence.
And why wouldn't they be, especially when you can catch them during moments like these:
---
Stay tuned for live coverage and follow the conversation on social media on day 3 tomorrow! #KLF2016 #KhiLF
Email