Vendors from Burns Road will be setting up shop this year in addition to old faves like The Pantry and Hoagies returning
This weekend, from Friday to Sunday, Frere Hall will turn into a haven for the foodies of Karachi.
From gifted chefs making succulent gourmet burgers or choux pastry ball-laden Croquembouche to street vendors preparing scrumptious dhaga kebabs and gol gappas on the spot, Karachi Eat is a festival which celebrates the full diversity of food that the city of lights has to offer.
We get the scoop from Omar Omari of CKO Event Architecture, the brains behind the food shindig that has gained a cult-like following in just the two years it's been around. It's one of those rare events in the year we all look forward to.
What stalls will be returning and what's new in store?
Omari reveals that this time around, they have over 20 more stalls participating.
"Last year, we had around 70 stalls. This year, we're looking at 92. We actually had to turn people away because we knew it would get too cluttered and then the existing vendors may have also gone home unhappy because it'll cut into their business."
"Old favourites will be returning this year: The Pantry, Hoagies, Chapli Kebab House to name a few and of course, the much buzzed about Spoonful aka the strawberry samosa guys will also be joining us again but with different products this time."
These strawberry samosas are not to be taken lightly. People attended Karachi Lit Fest solely to go munch on these because they had run out at one point at Karachi Eat last year, leaving a lot of hungry attendees disappointed. In fact, this year, Spoonful is bringing two brand new products: Nutella Gol Guppay and Banberry Ice Cream Roll Ups to titillate taste-buds.
Omari acknowledges this: "We plan on imposing a fine on any stall that runs out of food. We don't want any foodies to go home disappointed that they didn't get to try something they had their heart set on so hopefully that won't happen this year."
The man behind Hoagies, Saiem Nasir divulges, "We'll definitely be prepping for more food since we kept running out last year!"
Rayyan Durrani of Churros and Choc recalls his experience from last year: "The rush was endless and the crowd was amazing! That being said, setting up a kitchen in the middle of a park to cook live for thousands of people each day is always a challenge. Despite all challenges, quality food remains our priority and to do that we have scaled up on our equipment and improved the cold chain to ensure that it is not compromised."
Omari also tell us that a lot of new vendors from Burnes Road will be joining in on the fun this year so expect lots of nihari, kulfi, rabri; the whole 9 yards of the Burns Road experience.
"This time around, we've reduced the number of home bakers and increased the number of street food vendors."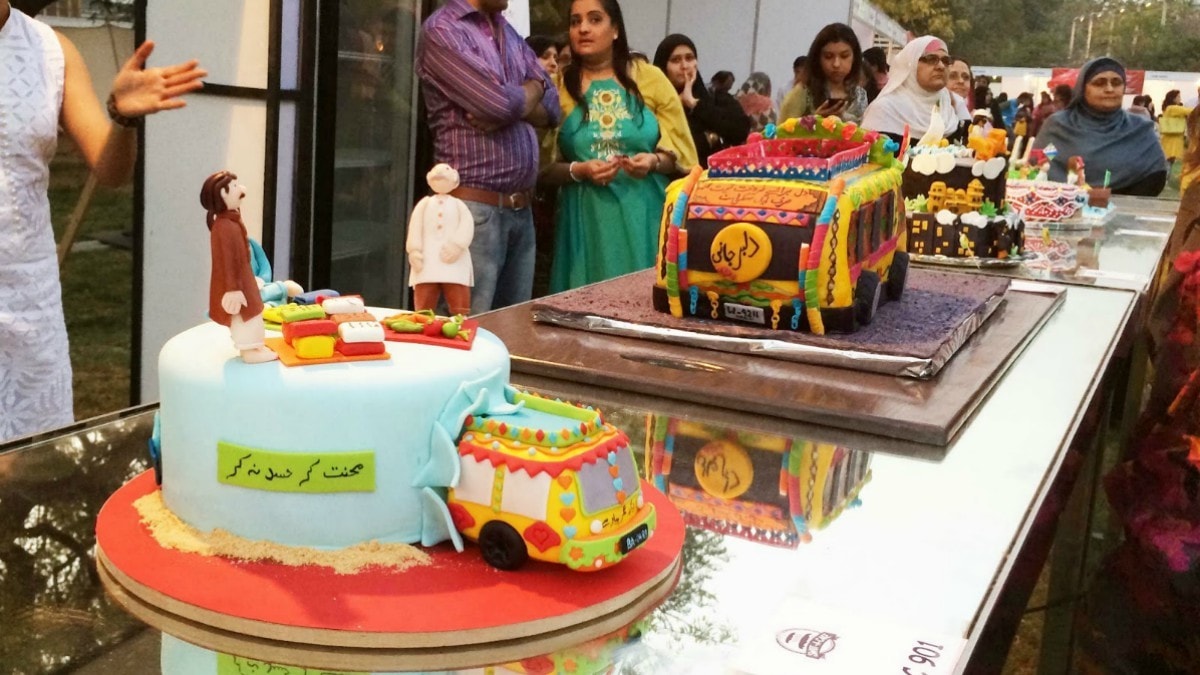 Learning from their mistakes
If you attended Karachi Eat last year, you know there were definitely some glitches in the system.
As mentioned earlier, some vendors ran out of food fairly early (and then there was Okra that didn't even manage to get prepped in time to serve on the first day!) and parking was a nightmare.
However, Omari reassures us they're on top of things and this year, we'll see a new and improved festival.
"We took away a lot of pointers from the last two years. We have a bigger lawn this year, we've booked empty plots around the venue, such as Faysal Bank's empty land across from Marriot, to facilitate some extra parking. We've also spoken to the Metropole Hotel so they'll be accommodating some vehicles. In addition to that, we've tripled our valet from last year so we're hoping it's smooth sailing for everyone attending."
He goes on to say they'll also be kicking off later this year.
"Last year, we opened doors around 10:30 am. This year, we'll start around noon. It's a 3 day event, vendors get tired and by the time the festival wraps up, it's late, so getting up early and setting up in time the next day becomes problematic. We've relaxed the timings a bit and also tried to make life easier for the restaurateurs."
Does the festival actually have real marketing value for these restaurants?
Nasir chimes in, "It definitely does help your brand. I believe there is a massive brand recall value with events like these. People were coming to Hoagies (on Saba Avenue) right after attending Karachi Eat last year. That was very humbling to see."
In a city where there is so much to grumble about, Karachi Eat gives people an opportunity to relax, spend the weekend soaking in the sun with family and friends, all the while enjoying some delicious grub. And it's the icing on the cake that this year, they'll have Fuzön taking over the music.
---
Tickets are available at the entrance gate for Rs. 250.