BCW didn't push the sartorial envelope but did give brides (and their posse) ideas for what to wear to every occasion
This weekend, I attended Telenor Bridal Couture Week with high hopes, expecting some quality fashion, a sizzling red carpet featuring the who's who of the fashion industry and a star-studded catwalk. Not all those expectations were met.
The bi-annual fashion week TBCW is meant to present designer bridal collections – and big names like HSY, Fahad Hussayn, Nilofer Shahid, Zaheer Abbas, Zainab Chottani and Nickie Nina showed on December 11-13, along with a host of others.
---
A great disappointment was the lack of quality on the catwalk – outfits showed their cancans under lehngas and shararas, pearls and other embellishments fell off outfits.
---
While the event itself was glitzy enough, no socialites or A-list celebrities were spotted on the red carpet. However, this is not to say that I didn't spot any celebrities at all... on the runway, showstoppers like Mira Sethi, Adnan Siddique, Humaima Mallick, QB, Maya Ali, Osman Khalid Butt, Wahab Riaz, Armeena Rana Khan and Resham partly made up for the absence of their peers on the red carpet.
I soon discovered that the lacklustre red carpet only foreshadowed the futility of the fashion week itself.
A great disappointment was the lack of quality on the catwalk – outfits showed their cancans under lehngas and shararas, pearls and other embellishments fell off outfits, unfinished dupattas were all around, and torn and dirty shoes were just the tip of this unsightly iceberg.
Apart from a few designers like HSY, Maria B, Nilofer Shahid, Fahad Hussayn, Zaheer Abbas and Saira Rizwan, most designers devoted their attention to putting on a show, and forgot all about maintaining quality.
Just like every year, TBCW turned out to be a completely entertainment-driven platform and consequently received a lot of public attention. This makes it a valuable forum for designers who are able to get traction as the shows' audience translates into actual buyers. So while there is little I found relevant in TBCW in terms of pushing the proverbial sartorial envelope, it was definitely a live-action performance of a bride's guide to winter weddings.
What to wear?
If there's one thing that Bridal Couture Week is good for, it's giving brides-to-be (and their posse) a decent selection of wedding wear. Here's what caught my eye:
1) Mehndi
There were plenty of options for the traditional mehndi bride, and also for those who wanted something different...
Zaheer Abbas:
A mehndi is nothing if not festive and that is the exact vibe one got from this ensemble by Zaheer Abbas. It is a beautiful shade of mustard yellow, which is kept light and dreamy without being overwhelmed by embroidery. This ensemble is ideal for a small, intimate mehendi.
Saira Rizwan:
Another outfit that caught my eye was this mehndi green lengha choli by Saira Rizwan. Not only do its accents of maroons make the jora pop, its embroidery is detailed and definitely worthy of a bride. This outfit was an absolute favourite from her collection.
Fahad Hussayn:
If you're a bride who's bored with the signature yellows and greens, Fahad Hussayn sent down this gorgeous ensemble just for your mehendi. Maybe. What I liked is the balance struck in the palette here: the magenta is muted by its contrast with the bronze, making it regal, not OTT girly. The mid-length shirt makes for a comfortable fit – essential for a bride who likes to move on her own mehndi! Fahad has paid exceptional attention to detail in this jora, which makes it a must-have in my book.
2) Barat
Gone are the days when the bride blushed in red on the Barat. TBCW offered plenty of bride-worthy alternatives:
Sahar Atif:
So many brides forgo colour for the sophistication of a metallic palette that this Sahar Atif ensemble had to be recommended. The gharara's bronze embellishment sets it apart from the gilded usual. Nobody will be able to say that they've seen this one before.
Maria B: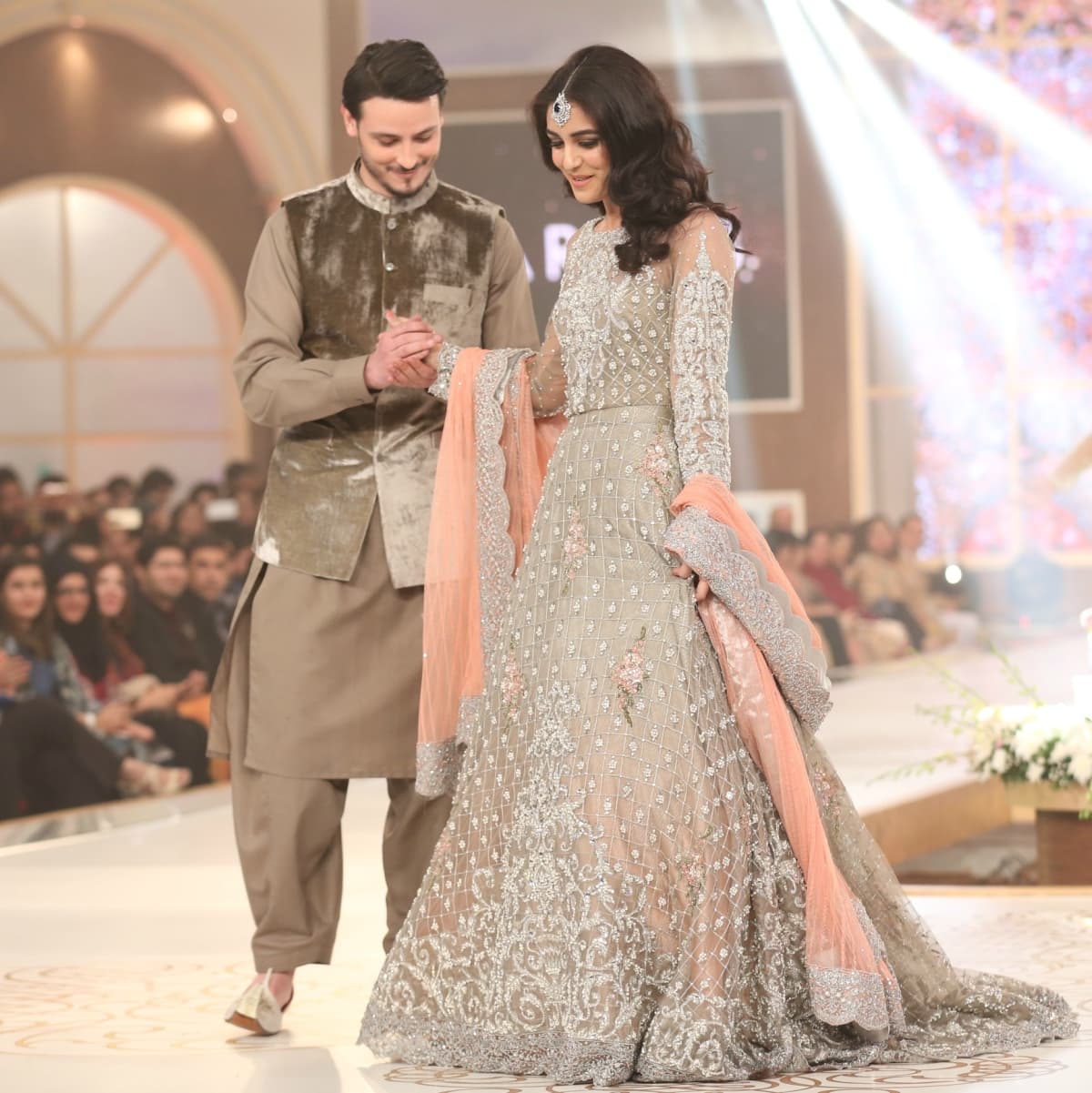 Designers sent down numerous pastel options for this winter's brides, but this Maria B ensemble, modelled by the lovely Maya Ali, caught our eye with its feminine appeal. A blush of pink complements the silvery base, and the floral embroidery makes it a good option for the girly girl.
Fahad Hussayn:
With impeccable finish, intricate details and a gorgeous plum color rarely ever seen on brides, this Fahad Hussayn ensembled knocked it out of the park. It's perfect for the bride who'd dare to be different.
3) Valima
Zainab Chottani:
Mint green and baby pink is a winning combination in this Zainab Chottani ensemble, which is perfect for a bride who wants a soft look on her Valima.
Maria B:
Maria B's sari pants are an excellent choice for someone who is looking for edgy contemporary wear while maintaining their traditional roots.
Nilofer Shahid:
Worn by the beautiful Humaima Mallick, this ethereal sharara by Nilofer Shahid was made for the statement-making bride.
What to Avoid
While there was a lot that looked beautiful, there were some outfits that made us cringe. Today's bride knows not to pile on the embellishment, but it appears that not all designers got that memo!
Lajwanti:
The trickiest colour combination in the book in red and silver, and Lajwanti completely missed the mark with this one. Not only is the combination jarring to the eyes, it is also completely overdone. The silhouette offered nothing new.
Asifa & Nabeel:
We wonder why multi-panelled shirts were 'in' a while ago, and were worn to death with trousers and chooridars. Asifa & Nabeel tried to resurrect the style with little success. While the flared pants is definitely a new twist, the two pieces just don't get along. Perhaps if the pants and shirt are worn separately, the pieces could be redeemed.
Sobia Nazir:
This ensemble by Sobia Nazir was another let-down. Hero capes are just not the right kind of cut for bridal wear or wedding wear. I am not sure what the designer was aiming for because the lehnga itself seemed to fall flat with no volume. This indecisiveness of the ensemble made it a complete miss.