You said, 'Pakistan main toh ab music nahi banta yaar'. Think again!
Have you ever been to parks abroad where you get to feed animals? Like a fish pond where you crouch down and throw the fish some food. As soon as they jump up, you turn your head towards the camera and give a toothy smile.
This is the image that came to my mind when one of Pakistan's much loved mainstream bands released their latest album.
It took Noori a decade to put together their new record, and when it was finally here last month, fans blithely supported the new release like fish in a pond.
Also read: Harking back: Story of a 'classical music' corner of old Lahore
After all, the release did remind us that some bands that broke through to become mainstream more than a decade ago, are still breathing. Not to take away anything from Noori, the band worked tirelessly and used the DIY (Do It Yourself) approach to create and market this album.
However, during the absence of Pakistan's mainstream rock 'n' rollers, there were some ardent dreamers cooped up in their rooms, endlessly creating music, holding on to the hopes of crossing the bridge that divides mainstream and independent music, but forever staying stuck in the middle.
Here are some albums and EPs (Extended Plays) that were released this year by musicians, stuck somewhere on the edge where underground ends and mainstream begins.
As 2015 comes to a close, come and let us feed on the sizzling music that came out this year.
1) Sulphur Man — Shorbanoor
Based in Lahore, Shehzad Noor aka Shorbanoor was previously known for his vocals and some lyrics he wrote for the band Poor Rich Boy.
This is his first solo release after he left the band and yes, it's unconventional, slightly bizarre, haunting and yet captivating and beautiful at the same time.
I wouldn't reduce it to a single genre. Are you in the mood for a story being sung to you? Listen to Sulphur Man. And this, of course, brings me to Poor Rich Boy.
2) We are Your Friends — Poor Rich Boy
How sweet. An album title that makes you feel a little less of a loser when you're alone at night obsessing over things past.
This 'indie-art rock' band taught me how to fall in love with music again, because their music sounds like nothing that has ever came out of Pakistan before.
Although 'We are Your Friends' is the band's last album with the original line-up, since Shehzad later left the band and Danish Khawaja was made to leave. This immensely underrated album was recorded and mixed by none other than Mekaal Hasan.
You're always looking for something 'Pakistani' to brag about while abroad, right? Well, this might be it.
3) Bahadur Yaar Jung — E Sharp
A couple of years ago, I used to refer to this band as the one that remade all the Beatles covers. Little did I know that these guys would go on to release their first album which consists of … wait for it … 21 songs!
Really guys, jackpot right here, enough to refute the much-heard 'Pakistan main toh ab music nahi banta yaar'.
E Sharp, which was known in Karachi's indie scene as a mere cover band, ended up releasing more original songs in an album than any other band, indie or mainstream.
The album was recorded and produced by the band itself and yeah, there are flaws, but this 60s-classic-rock inspired album deserves to go down in the history of the country's local music scene for being the very first to have more than 12 songs.
So what if it's by an 'underground' band? Perhaps this album will lead us to the day when music here isn't shrugged off for being underground.
This concept album revolves around the struggle faced by Bahadur who gives into society's expectations of becoming what they want him to be, only to find that the world is full of sorrow.
4) Sikandar Ka Mandar — Sikandar Ka Mandar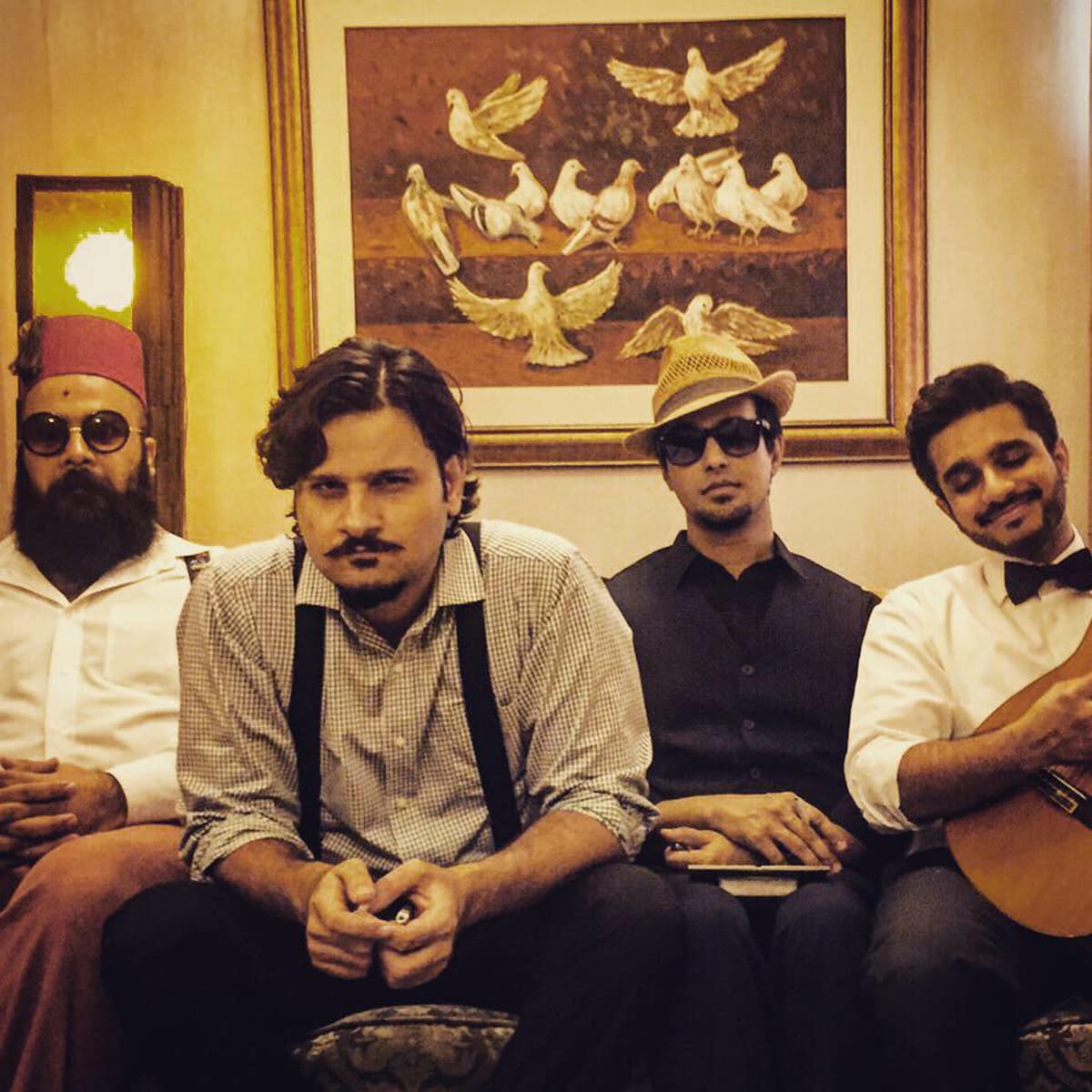 This self-titled album by Sikandar Ka Mandar comes from a band currently making waves in Karachi's music scene.
These musicians seem to be working hard to put their music out there and supporting themselves with gigs around town, and by selling merchandise to help fund their next album.
It's heartening to see how the band's following has grown from last year. For a change, we are seeing new faces at their gigs and I hope after listening to this album you will attend the next show, because the beauty of these songs are that almost half of them sound even better when they are played live – right in front of you.
Front man Nadir Shehzad wrote the lyrics for this album which was produced and mixed by guitarist Ali Suhail on his khattara PC — which brings us to our number 5.
5) Defragment / Desolve – Ali Suhail
For those who know him, Suhail has been very generous with his music. While some musicians take months or years to release an album or EP, Suhail released two EPs this year, just a few days apart, and has two other albums under his belt.
The first one is 'Words From Boxes' which was released in 2013 and 'Journal Entries' which was launched more or less a year later.
Desolve has four songs, (and before you question me on my lack of ability to spell, it is how the musician decided to spell his EP) — Defragment has five songs. Why isn't it one whole album like the previous two? It might begin to make some sense when you play them.
If you have been following Suhail's music since Words From Boxes, you'll notice how his music has evolved from cute indie-folk to darker, more difficult-to-digest alternative indie-rock.
This is music that kicks you in the face and requires your undivided attention while you think how all of this could be done in a bedroom and not an actual studio.
6) Budget Cuts – 6LA8
So, it turns out that drones aren't just aerial vehicles causing destruction in various parts of Pakistan, it's a style of music as well, and in Pakistan, the band 6LA8 gave us a taste of what that's like.
This experimental post-rock duo has been around for over eight years, has released 14 studio albums and 6 live ones (insane! I know right?) and is the answer to all those existential nights you spend lying in your bed looking for the perfect music to go as the soundtrack of your life.
Or when you're aimlessly driving around the city because it helps you think, or when you're driving aggressively across Karachi and your blood is boiling with anger — play this album in your car.
What I love the most about this band is their creative song titles. This particular album consists of songs titled 'Sardard, Sardard, Sardard' — a clever use of a famous phrase from an ad and 'Stock exchange woes' — a play on Pakistan's business and economic despairs.
Familiarity has its magical way of getting us to relate to something. I'm still not over the fact that they have so much music out, yet one rarely hears anyone talk about 6LA8.
7) Saturday Night Killing Machine — Adil Omer and Talal Qureshi
This five-track EP is collaboration between Adil Omer and Talal Qureshi, perhaps the only hip-hop EP to come out in Pakistan this year. The music video for a song from this EP titled Nighat and Paras was also screened at the Dil Phaink showcase in London, which was held in memory of Sabeen Mahmud.
It also features a number of other artists including Quratulain Baloch, who rose to popularity after she worked with Coke Studio.
While Adil Omer isn't seen playing live in Pakistan very often, he has been busy making a name for himself abroad by performing at renowned events like The South by Southwest (SXSW).
While his previous album titled 'The Mushroom Cloud Effect' was hardcore hip-hop, Saturday Night Killing Machine is hip-hop which is more on the experimental electronic side.
8) Between Shadows in Water — Slowspin
Slowspin is Karachi's only female electronic producer who is actively putting out music online. Her name is Zeerak Ahmed. 'Between Shadows in Water' is her third EP and apart from an online download, limited edition cassettes are also available.
Just the thought of that reminded me of my walkman days, but more than that it's the beautiful artwork for this album that enticed me to make a purchase. Last year, she released her second EP titled 'Biome' which is a personal favourite.
After listening to Between Shadows in Water, I instantly became a fan of her soothing vocals and the ambient, experimental sound that the EP has to offer.
Sometimes we all need a soundtrack for various moments in our lives, and Between Shadows in Water has become that for the current phase in my life where I seem to have all the time in the world to stress out, but not make something of this life. But then enters Slowspin, on repeat, while I lay awake at night, and somehow everything feels okay.
9) Till The End of Time – Natasha Humera Ejaz
Natasha Humera Ejaz, who is always up to something be it theatre or illustrating the cover for her upcoming EP, release her EP titled 'Till The End of Time' this weekend.
With just four songs, this EP portrays some aspects of the human condition in a number of ways. Be it coming to terms with trusting love again, or hopes and dreams deep within you that won't leave your side, this EP is a step forward for Natasha as it is lyrically and musically more impactful than her previous tracks.
Three songs were previously released online. The interesting part was that she planned a series of art installations around the four songs on her EP, giving viewers a chance to visually experience her songs.
---
There are some musicians I'd like to mention here who are set to release their albums in December this year.
Also read: Peace, love, music
Zoe Viccaji, who went AWOL after the release of her album Dareeche in 2014, recently came out with her disco-themed song Janay Do which is from an upcoming EP, so perhaps we can hope for something different from Zoe again.
Meanwhile, Zohaib Kazi's album Ismail Ka Urdu Sheher is also set to have its official release in December and this isn't just any album. This release is going to include a science fiction graphic novel, taking album releases in Pakistan to a whole new level.
So there you have it. Going through the list, one might get the impression that music never died down in Pakistan, don't you think? It has always been around, and it always will be (one can hope) as long as we have people like those mentioned above, sticking with what they do best year after year.