Does Mr Burger trump CHiPS? Will Obeez make us Obese? Read on and find out.
Is there any grub as deliciously medieval as a burger? It is, after all, a hunk of cooked meat, caught between two slabs of bread, and held together by a splatter of sauces and some greens. Made well, it has the potential to gratify the brain with a slow seduction of the taste buds. Prepared poorly though, and it feels like a blow to the guts from a morning star.
Pakistan's love affair with the burger has been interesting to observe. Visiting the country as a teenager over twenty years ago, I found street food dominated by the usual desi fare such as kebab rolls, bun kebabs, biryani, chaat, and the like, yet few eateries aside from the legendary Mr. Burger and a handful of other restaurants offered a good burger. In fact, Pakistanis at this time developed an aversion to the western meal.
Seen as a symbol of imperialist culture, the word 'burger' became a slur for countrymen who spoke a kichri of English and Urdu, only wore shalwar kameez on holy days, and believed Karachi began and ended with Defense Housing Authority.
The entry of the world's biggest fast food franchise, McDonald's, changed things by starting a burger revolution that our arteries are still paying for today.
As of this moment, aside from the world famous Hardees, Fatburger, Burger King and McDs, there are dozens of burger chains across the port city, the majority of which came to life recently. Hearteningly, most of these are local endeavors, and offer interesting food at reasonable prices.
Yes, we have converted from a nation of burger haters to burger lovers! Surely, our biryani loving ancestors must be rolling in their graves. Well, with the way we are consuming these fat-rich foods, we may be joining them in the not too distant future.
On that morbid note, let's start with my worst burger experience in Karachi.
1. Amigos Express
Both times I had the Rs. 290 Hickory Beef Burger I felt like I had taken a bite out of the rear end of a live stinky goat, screaming at the top of its lungs. To be fair, the well-cooked, thick beef patty was juicy, tastily seasoned, and went fine with the barbeque sauce and onion rings inside the sandwich. On the other hand, the meat carried distasteful bits of indigestible fat that had to be spat out with regularity.
To make matters worse, the lettuce, melted into a slimy paste, was sickening. A few mouthfuls of the food and I felt like I had French kissed Popeye after he had eaten a can of spinach.
Ordering food from Amigos Express was an adventure in itself. It took over an hour to for the delivery person to arrive close to my home after which it took thirty minutes of directions in Urdu, English, and Klingon before I finally decided to drive to him instead.
Final score: 1 out of 5 stars.
2. Hanifia Restaurant
Hanifia is one of the oldest restaurants in the country, and their signature burger tastes as good today as it did a decade ago.
The star of the simple sandwich is the eatery's famous hunter beef. The meat is perfectly cooked, spicy, and makes for a potent combination with Hanifia's signature sauce. The fried buns, on the other hand, are just a little too greasy. I also wished the burger had a larger helping of meat and sauce. That being said, at Rs. 140, as the phrase goes, jaan logay kiya?
Final score: 3 out of 5 stars.
3. Rowtisserie
This little hole in the wall has the best flame grilled chicken in town. Healthy and utterly delicious, Rowtisserie's mouthwatering chicken is on my plate at least once a week.
Sadly, their burger is a disappointing affair. The patty is mediocre, while the excessive sauce breaks the bun apart like the high seas engulfing a fragile ship. The sauce is so heavy, in fact, that the burger usually crumbles half-way through, leaving my face left looking like that of a performer in a Japanese fetish video.
The price, at over Rs. 650 after taxes, is twice as much as the burger realistically deserves, and seems like highway robbery considering the lower charge of the fabulous quarter chicken.
Final Score: 1.5 out of 5 stars.
4. Obeez
Obeez has to be one of the most ill-advised names for a restaurant. At a time when patrons are more concerned about their health than ever before, a word which rhymes with 'obese' doesn't sound very inviting.
The Rs. 650 Hercules is, hands down, the biggest burger I have ever tried to eat. Though perhaps a more appropriate name would have been 'Jabba the Hut', for Hercules was muscular and a specimen of good health. This thing, on the other hand, is well… look at it… it almost looks like it wants to put you in a Princess Leia slave outfit.
I must admit, the moment the Hercules arrived; I spent about ten minutes examining it from different angles, and even invited others to check it out. I then came to the conclusion that 'obese' was the perfect name for a restaurant selling this burger.
Taking a bite out of the Hercules was fairly difficult. The last time I had opened my mouth so wide, I was at the dentist's office. The burger itself was surprisingly enjoyable, at least initially. The creamy sauce, alongside the juicy beef patty and the delicious egg made for an interesting combination.
Too bad the feeling didn't last.
The meat patty was from a poor cut, full of indigestible bits of fat, especially closer to the nucleus of the burger. Hercules also carried a generous helping of uncooked mushrooms that felt out of place. Grilled mushrooms can be a pleasing component in a burger, but the raw variety, especially in a meaty sandwich, taste like the flesh of a long dead jellyfish.
Overall, I would still recommend this burger once for the novelty factor, especially to eaters who are about to go into hibernation for the winter, or have recently ended a hunger strike.
Yes Altaf Bhai, whenever you end your hunger strike, please call Obeez.
Final score: 2.5 out of 5 stars.
5. CHiPS
One of the most recognizable old-school franchises in Pakistan, CHiPS, was about to go out of business when a longtime fan, like a knight in shining armor, revived the eatery at a brand new location.
I felt quite excited as I drove to the reopened CHiPS, wondering if the food would still carry the same enticing taste. Upon my arrival, I couldn't help but notice how a certain Blossom Beauty Parlor was located right above the burger joint. Now, I know times are tough, and businesses are expanding to multiple markets to survive, but it was strange to see Blossom offer not only beauty services, but chicken tikka and Delhi degh biryani as well. I wondered how this worked.
On the inside, CHiPS sports a tasteful blue and yellow color scheme. Perplexingly, the restaurant manager barred me from taking any pictures within unless it was a selfie or involved my food.
It is possible CHiPS is having an identity crisis, believing itself to be a nuclear weapons facility rather than a fast food joint.
CHiPS' signature roast beef burger is certainly one of the most piquant sandwiches in Karachi. The spicy seasoning of the meat coupled with the melted cheese and greasy bun makes for a dynamite meal. Disappointingly, this is another Karachi burger let down by a key element — the meat.
Undoubtedly, the roast beef at CHiPS tastes like the leftover cut from last year's Eid sacrifices (you know, like the meat your khala was saving for a dinner party, and sort of forgot about for a year). This can't be put down to price, either. Hanifa, for one, at half the cost offers better meat quality.
Final score: 2.5 out of 5 stars.
6. Mr. Burger
Is there a burger franchise more quintessentially Pakistani than Mr.Burger?
While the other eateries offer their own westernized versions of the food, Mr. Burger is unapologetically desi. This, as I discovered on a trip to their Boat Basin branch, is right down to the lazy service.
Entering Mr. Burger's dilapidated Boat Basin branch is like entering the home of an aging rock star that hasn't had a hit in a while. Immediately noticeable is how the pink, purple, and white color scheme is more suitable for an ice-cream shop. Meanwhile, the chairs are so uncomfortable that you could expect the next king of Westeros to use one of them as a substitute replacement for the Iron Throne.
Most worrying though, is the glazed, faraway look the staff has on their faces, as if fantasizing about something sinister. When one of them steps closer to the shotgun of a security guard, you instantly hold your breath, fearing for the worse. The CNN headlines quickly take shape in the old noggin, "Disturbed lone wolf suspected in mass shooting. Motive unknown. Boredom suspected."
You can estimate the employees' level of disinterest when attempting to place an order. Standing at the counter, I was thrown off when one of the waiters asked me if I could pass a seated customer his cold drink.
"Can I keep the tip then?" I should have asked.
When I paid for my meal, I was surprised to see almost no money in the register. Here, the manager took out his own wallet to put together my change, eventually also borrowing some from the staff. It was like I was at Broke Donald's.
On the other hand, the modern looking Khayaban-e-Rahat Mr. Burger branch is a wonderful place to visit. None of the staff members, for one, look ready to make headlines on CNN. The restaurant is also clean and features contemporary decor.
Regardless of where you order, the Mr. Burger with egg and cheese is easily the most delightful sandwiches offered by this chain. The simple burger shines thanks to the delicious hot egg, and the scrumptiously juicy beef patty, seasoned to heavenly bliss with spices and salt.
Clearly, there is little consistency in terms of form between restaurants. While, as you can see, the Rahat Mr. Burger always looks the winner of a Mr. Universe (burger edition) contest, the Boat Basin branch has the tendency to produce a sorry looking deflated football of a burger. Thankfully, the taste is consistently good at either location.
Final score: 4 out of 5 stars
7. Burger Inc.
If you are looking for a burger joint with the best quality meat in Pakistan, cooked to medium rare perfection, then close your internet browsers and drive down to Burger Inc. for the nicely prepared Tribeca.
The meat patties offered by Burger Inc., stand apart from the rest. So succulent, so juicy, so rich, you'd think it wasn't cut from a cow, but from the bicep of The Rock himself (so that's what The Rock has been cooking).
What's more, the chefs at Burger Inc. know how to grill them. These are true medium rare burgers, finely cooked on the outside, a lovely pink in the center.
Tragically, the bread is pretty bad by comparison. Although the 'home baked' buns taste fine, they are simply unable to hold the sandwich together, invariably falling apart. The burgers themselves, which once tasted amazing when Burger Inc. and Big Thick Burgerz were the new kids on the block, lack the exciting flavors found in Karachi's newest burger champions.
But though Burger Inc. is an aging Pete Sampras in this age of young Roger Federers and Rafael Nadals, it still packs a mean serve and volley game, purely thanks to its superb beef patty.
Final score: 3.25 out of 5 stars.
8. Big Thick Burgerz
BTB's charcoal grilled burgers are tasty, yet not the most delectable. Its food looks nice, but isn't nearly the prettiest. The sandwiches are sizable, though not the biggest or thickest.
Yet, BTB's Most Wanted is my most eaten burger in Karachi.
This is because Big Thick Burgerz offers the healthiest burgers in Karach, prepared in the most sparkling kitchen of all the burger joints. The ingredients, from the meat patty, to the buns, to the crunchy fresh greens, are remarkably fresh. In fact, when my pregnant wife was craving a burger, the only food I dared risk feeding her from all the burger options in Karachi was BTB.
Yes, the food at Big Thick Burgerz is so healthy; you can safely pass them to your unborn fetus.
This focus on health is a double edged sword for BTB, however. For one, the meat patty is cooked to medium rather than the riskier yet tastier medium rare of Burger Inc. For the other, the fresh yet mundane components lend BTB a yummy home cooked, rather than a restaurant quality, feel.
Final score: 3.25 out of 5 stars.
9. Burger Shack
It took nearly an hour to get my Full House burger from Burger Shack in what was the most frustrating burger ordering experiences I've had yet.
Upon arrival at this rather unhygienic looking eatery at Seher Commerical I was told payment by plastic wasn't an option. Confused, I examined my calendar and told the cashier that it was the year 2015, and not 100 B.C. (B.C. as in Before Christ… no, I wasn't cursing at him).
The closest ATM, a five-minute drive away, wasn't working, so I ended up driving for fifteen minutes to and back from a slightly further ATM.
When I returned, the cashier told me to wait some more, since the entire staff was away for prayers. Here, I took a seat in my car in front of the cashier, following his advice. Meanwhile, Christ had spread religion through half of Jerusalem.
Finally, the staff arrived, but the cashier didn't bother to inform me. When I made another trip to the cashier, he told me, "Oh, they finished five minutes ago. Why didn't you come?"
Just as I starting placing an order the cashier sheepishly asked me to linger for another five minutes, as the manager with the keys to the register was still praying.
At this point I realized why they had named it Burger 'Shack', for it was truly ghetto. In fact, I think a better name would have been Burger Kachi Abadi.
Of course, I would have been willing to forgive Burger Kachi Abadi had their food been good, but sadly, it wasn't. The bun was soft at one end, yet slightly stale on the other. The beef patty was skillfully charred from one end, but lacking consistency from the other. Yes, it was almost as if one side of the burger had been cooked by Tom, while the other by Jerry.
What's more, the burger had overdosed on sauce like a 50's Hollywood star. Worse still was the perplexing addition of sweet pickles in the sandwich. Burger Shack should realize that only little children and the elderly like sweet pickles…yes, basically, people with no teeth.
Final score: 1.5 out of 5 stars.
10. Burger Mafia
Located at Shahbaz Commericial, Burger Mafia is one slick establishment; the décor is made up of glossy yellow and black colors with art inspired by the classic Francis Ford Coppola film; mugs of movie wise guys decorate a wall; management is dressed to kill; orders are punched in through a large touchscreen.
Most importantly, the efficient staff served me like I was the godfather himself; it took less than fifteen minutes for my cheeseburger to arrive. Alas, the waiter did not press his lips down on my hand out of respect like I was Marlon Brando… next time when I show up with a purring Persian cat, perhaps.
For around Rs. 259, the Burger Mafia cheeseburger is an offer you can't refuse. Certainly, the Burger Mafia bun is the most aesthetically pleasing breads of all the burgers I had in Karachi. Just look at this work of art:
Not only does the bun look gorgeous, but it manages to hold form throughout a meal. It is also soft, supple, and tasty … wait… what 'bun' were we talking again?
The other core ingredient, the beef patty, is beautifully cooked, juicy, and from a prime cut of meat. In terms of taste, the burger was seasoned with enough spices and salt to add flavor, but not enough to overpower the high quality core ingredients. And appreciably, Burger Mafia didn't overkill with the sauces. Clearly, this eatery's philosophy is one bullet to the head rather than twenty five to the chest.
My only concern was the burger's sauces, which weren't as electrifying as OMGs or Burger Lab's, ultimately holding back the establishment's cheeseburger from a higher score.
Final score: 4 out of 5 stars.
11. Oh My Grill
Alongside Burger Lab, OMG is the most recommended burger restaurant in Pakistan. Their food receives glowing reviews on Facebook pages such as Karachi Food Diaries, and they are so crowded they sometimes run out of buns and burger patties on the weekends as the complaints go.
The two burgers I tried were the Classic with Aged English Cheddar, sporting cheese, tomatoes, onions, and a delicious slice of aged cheese, as well as the Gouda Burger that featured tasty turkey strips, and a generous helping of Gouda cheese. Both sandwiches carried a nice serving of the eatery's signature sauce, and were massive enough to shut Donald Trump's pie hole.
Just kidding… nothing is that big.
For the purpose of this review, I am going to score the Gouda Burger, though both burgers were delightful on the first bite. Certainly, no burger joint in Karachi does cheese like OMG, and the slightly sweet Dutch cheese in their Gouda Burger is to die for alongside the OMG sauce.
Unfortunately, the meat patties in both the sandwiches suffered from the same quality issues. For one, both patties were full of sinew. These difficult to chew bits were stringy, fibrous, and demanded to be spat out. While sinew was the Gouda Burger's worst crime, it wasn't as cardinal as the sin committed by Classic with Aged English Cheddar.
To my surprise, I was met with a tiny sharp piercing piece of bone from the meat of OMG's flagship burger. It is inexcusable for an eatery selling burgers costing around Rs. 700 to use meat cut from near the bone of an animal. And yes, it was most certainly bone.
I believe the massive demand for OMG's delicious food as resulted in the business outsourcing to less reliable suppliers in order to meet meat demand. But of course, I am speculating.
Although this eatery has a tremendous reputation, I can only review what was on my plate. Just to confirm, when I had the Gouda Burger again a few nights later the fibrous tissue was still a fixture in this otherwise tasty burger, which is a shame, because the thick lightly seasoned beef patties are otherwise d-e-l-i-c-i-o-u-s.
When I had the Classic with Aged English Cheddar again a few days ago there was almost no sinew. Yes, this is the sort of weird unpredictability Shahid Afridi would be proud of.
Final Score: 3 - 4 stars… depending on the mood of the lalas at Oh My Grill.
12. Burger Lab
If you eat with your eyes then Burger Lab will have you at 'hello', for the presentation from Burger Lab is without parallel.
To begin with, the wonderfully nifty packaging enclosed the food in a clever flower like box. Open the box and you see an undeniably pretty burger, boasting beautiful form from all sides.
Thrice, I had the eatery's Big Bang, and every time I was amazed by the steadiness in shape.
There are beautiful looking burgers you see in magazines from big franchises, but they don't quite look the same on the plate, yet Burger Lab manages to maintain visual homogeneity with all the consistency of a North Korean team performing under the fear of Kim Jong-Un at the Olympics.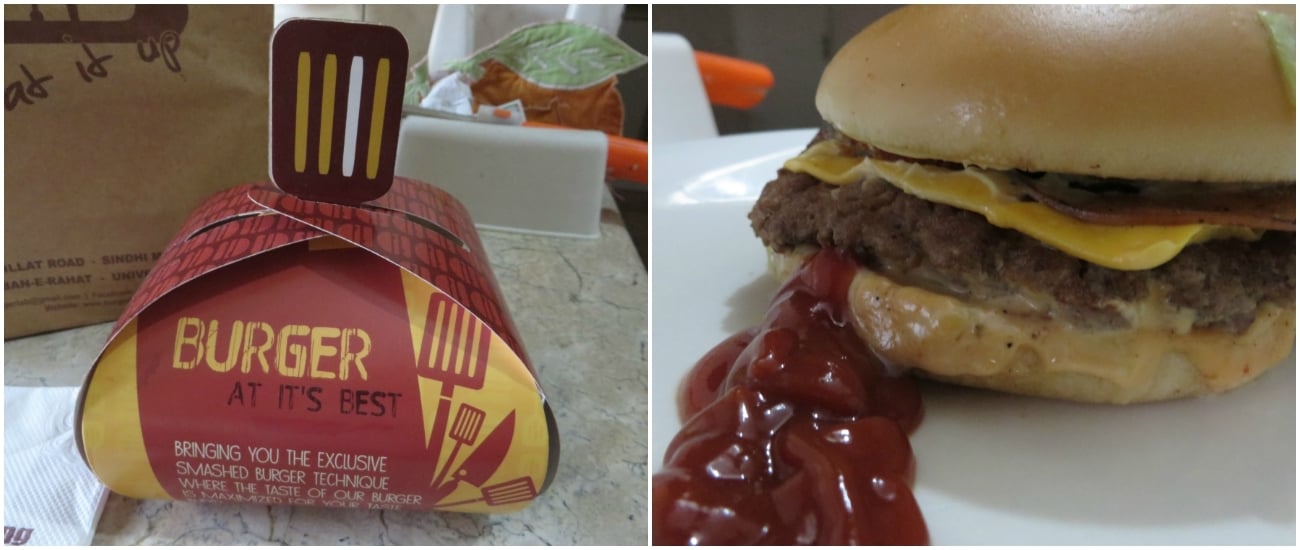 So consistent, in fact, that I imagine an Asian military dictator screaming at workers in the kitchen of Burger Lab, "You make good-looking burger or your family die!"
Needless to say, visual fidelity would be meaningless if the food wasn't good, and thankfully, Big Bang tastes even better than it looks. The meat is thick, juicy, from a prime cut, and expertly cooked to medium grill. The lettuce is fresh, the onion rings crispy, and the pepperoni coupled with the spicy Burger Lab sauce adds a slightly candied spicy taste.
The only way to make a saucy burger sing is to exercise restraint in the dressing, and Burger Lab balances the Big Bang to perfection. At Rs. 350, the sandwich is not only tasty, but incredible value.
In my book, the food doctors at Burger Lab manufacture some of the best burgers in Karachi.
Final score: 4.5 out of 5 stars.
The winner? Burger Lab!
---
Do you agree with the author? Take our poll and share your best burger experience in the comments below.