Humayun Saeed, Mahira Khan and more talk about a hush-hush subject: who's making money, and how much, in film today?
This past October, in an essay now gone viral, Jennifer Lawrence wrote about her frustration when she found out – vis-a-vis the great email hack of Sony last year – that she and co-star Amy Adams were paid less than the rest of the (male) American Hustle cast.
Despite Jennifer being an Oscar winner and Amy being an Oscar nominee, and, in the case of Amy Adams, having far more screen time than most of the men in American Hustle, the women still took an approximate 7% hit on pay day compared to their male co-stars.
Doesn't seem like much except we're talking about millions of dollars, in which case – well, that's a whole lot of money.
In the aftermath of Jennifer Lawrence's essay, plenty of Hollywood starlets (and a couple of prominent actors) have opened up about the injustice of male co-stars consistently out-earning female actors.
Bollywood celebrities have also spoken up about the salary imbalance at home with Aishwarya Rai Bachchan tackling the issue alongside Salma Hayek at a Cannes Film Festival panel.
Though a fledgling industry, it's been a great year to be an actor or actress in Lollywood. As actor-producer Humayun Saeed puts it, "Pakistani artists are very well paid with the average actor making 10 lakh rupees a month (Rs 1 million) and some lead actors making 25-30 lakh rupees (Rs 2-3.5 million)."
Most artists interviewed for this piece agreed that yes, there is a pay gap between male and female co-stars in Pakistan. But opinions on the extent and countervailing factors behind this wage gap disparity vary.
What's the biggest factor: star power or gender?
Humayun Saeed admits to having been the highest paid cast member of Bin Roye (also featuring the very bankable superstar Mahira Khan). But, according to Saeed, other factors influence an artist's salary other than just gender.
"Pay is dependent on how much value one has at the box office," says Saeed, who attributes his seniority in the industry as the main reason for why his superstar-female colleague was paid less.
Veteran actress Atiqa Odho's experience echoes that of Humayun Saeed.
---
"Pay is dependent on how much value one has at the box office," says Humayun Saeed. However, he has also said he walked away with the biggest paycheck from Bin Roye, which also starred the very bankable Mahira Khan
---
"If you're a senior artist with box office pull, you can dictate in your contract everything from hygienic food, AC, working toilets to your paycheck. If you do your craft well, the money follows," says Odho, adding that she has "never been in a project where a man has been paid more than [her]."
Upfront, Atiqa Odho's claim that she earns more than her male colleagues might seem like a stretch. Instantly, her very famous, on-screen son Fawad Khan comes to mind. But, based on anecdotal evidence provided by all artists interviewed for this piece, it is quite possible that someone like Atiqa Odho would walk away on payday with the heaviest pockets.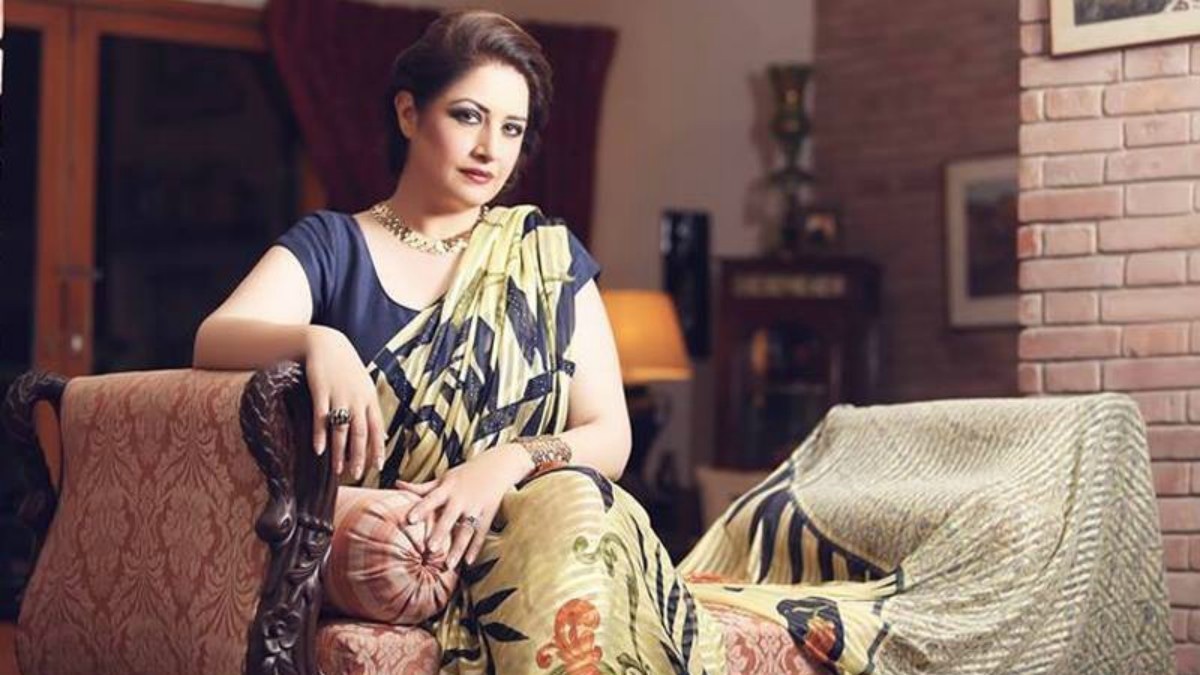 "Don't take female actors lightly these days," says Ali Kazmi. "Since the late '90s, early 2000s and for sure in this past decade, our TV industry has [greatly] empowered our female actors."
"Pakistan's film and TV industry is surprisingly progressive because women have been a powerful presence in the media for some time," says Kazmi listing a long roster of successful women who dominate Pakistan's entertainment industry; from Hum TV network owner Sultana Siddiqui to the abundantly creative, internationally renowned director-producer Mehreen Jabbar to the bold and brilliant Oscar-winning documentary maker Sharmeen Obaid-Chinoy.
When it comes to both the silver and small screen, Pakistani actresses do dominate in terms of presence, no doubt. But whether this means they get to pack up and go home with the big bucks is not as clear.
Is it all about the money, or is there something else?
You can't have a conversation about Pakistani films and gender-based wage gaps without bringing in Mahira Khan, arguably one of Pakistan's most popular and most bankable stars.
This past year, Mahira Khan starred in Bin Roye (opposite Humayun Saeed), played a small part in Sarmad Khoosat's Manto, is set to appear in upcoming film Ho Mann Jahaan, and filmed Bollywood flick Raees opposite the king himself, Shahrukh Khan.
"Actresses have always been in a position of power," says Khan. "In fact, both male and female actors are in that position now."
Still, the actress confesses that money isn't the deciding factor for her when it comes to choosing roles. "Money is not a driving force for me when it comes to my passion, that is, dramas and films," she says. "How much money I demand -- or don't demand -- is my prerogative as an actor. However, when it comes to commercials my outlook is different. And in that area, I do try to set certain standards, financially or otherwise."
---
"How much money I demand -- or don't demand -- is my prerogative as an actor," says Mahira Khan. "However, when it comes to commercials my outlook is different. And in that area, I do try to set certain standards, financially or otherwise."
---
Khan reveals that the financial standards she sets for herself as a brand ambassador were inspired by a conversation she had with Atiqa Odho, when the two appeared in Humsafar together. "Atiqa Odho is one of first people to set standards for in the industry for how actors are paid and treated," says Khan. "She told me: 'even if you don't do it for yourself -- do it for the others."
Indeed, Khan is of the opinion that what's even more important than cold hard cash right now is the creation of an infrastructure that supports actors and their creative endeavors. "We don't have managers, we don't have agencies, we don't have any investment in that area. That's where the problem lies. It's very hard for an artist to negotiate their fees. My job is to act, my manager's job should be to handle the business side of it."
Are female actors really paid less?
Without a formal salary reporting system – unlike Bollywood, where Indian media frequently reports on the incomes of the Deepikas and Kareenas versus the Akshays and Ranbirs, and Hollywood, which generates an annual Forbes' list of highest paid actors and actresses – Pakistan only has anecdotal evidence provided by its own artists.
According to veteran actress Hina Bayat, "Women are consistently paid less and made to feel that they don't really need the money since they are not the primary bread earners of the family." Bayat personally negotiates her financials and readily turns down roles if she feels the fee is not justifiable.
However, Humayun Saeed holds that "actresses like Mahira Khan, Aisha Khan, Mehwish Hayat, Sajjal, Sohai Ali Abroo, and veterans like Saba Hameed, Bushra Ansari and Atiqa Odho are equally as expensive as male actors."
---
"The [wage] disparity is definitely there when it comes to genders, but also between 'lead roles' vs. 'supporting roles'," says veteran actress Hina Bayat
---
Ali Kazmi reaches the same conclusion while relaying his recent Jackson Heights experience.
"Aminah Sheikh and Marina Khan are the show," he says. "Noman Ejaz, myself and Adeel are there, yes. And because the industry respects its elders by paying them more, veteran artists Noman and Marina's paycheck would reflect that. But otherwise, Aminah was paid higher than Adeel and I. And that's not something any of us contested or sat and thought of."
"Man or woman, a professional deserves to be paid in accordance with his or her contribution to the work," says Bayat. "The [wage] disparity is definitely there when it comes to genders, but also between 'lead roles' vs. 'supporting roles'. Many times it is not so much 'the leads' but the supporting ensemble cast which gives credibility to a production and truly sells the project yet they won't be given [their] due."
Training the new crop of actors
Atiqa Odho speaks of the importance of mentoring young newcomers to check their egos and vanity at the door and to focus on their craft and negotiating for the better treatment of actors across the board.
"In Pakistan the modeling industry crosses over into TV and film a lot. But a model's lifespan is shorter than an actor's because we can work till the day we drop. It's our responsibility to tell youngsters coming in they have a huge potential, the scale is amazing so don't limit yourself," says Odho who charges a premium compared to other actors.
"Even in my midlife as an actor, where I am doing more mature roles, I continue to negotiate and pick my work carefully. I know too many youngsters that aren't making enough demands financially because they are overly keen to please producers."
To Atiqa Odho, who does not have full details of the Bin Roye production, it is still indisputably obvious that a reigning actress like Mahira Khan should've negotiated for more money.
"She's at the top of the game right now. If she doesn't do it at this stage when will she do it?" says Odho matter-of-factly.
---
"Mahira Khan, Ayesha Omar, Amina Sheikh, Hina Dilpazeer, Mehwish Hayat… these are savvy, smart women. I have seen them negotiate and handle their own," says actor Ali Kazmi
---
However, Ali Kazmi gives props to the current generation of actresses on their financial savvy.
"Mahira Khan, Ayesha Omar, Amina Sheikh, Hina Dilpazeer, Mehwish Hayat… these are savvy, smart women. I have seen them negotiate and handle their own," says Kazmi.
Kazmi, who is close friends with rising actress Ayesha Omar, says she has an admirable ability to hold her own when it comes to asking for what she wants.
"Most artists in Pakistan don't have a representative. Ayesha Omar has blown up so she's now started looking for one, but she herself knows how to get what she wants. She's not scared to say she wants a first class flight, certain food, not to have to sit in a certain place, and a certain amount of money if she works extra days."
But is negotiating for equal pay the job of an actress alone or should her male costars be taking a leaf from the book of Bradley Cooper and opt to share their financials with her to ensure everyone gets paid equally and fairly?
For Humayun Saeed the answer is no.
"I would never ask female costars to share their financials with me. I ask for an amount because I feel I deserve it, and the producers pay me that amount because they agree with me. If any of my female costars charge more than me, more power to them!"
Is the time ripe for an actors' union?
All four artists interviewed hint at the need for a formal union to oversee and regulate the rights of all actors irrespective of whether they are one or more of the male, female, senior, junior, lead, supporting pigeonholes that artists can be slotted into.
Atiqa Odho thinks she has the solution.
"We are maturing as a trade," points out Odho who is currently spearheading a group of Lollywood stars rallying to create a formal actors union "ACT" that will confront all issues including gender wage disparity.
"Hollywood has the Actors Guild and SAG. We need to bring sense and system into our trade instead of working as artists in our own individual capacity with no rules to the game," says Odho who has never shied away from righting wrongs and using the law as her shield (she speaks candidly of "many times suing individuals and multinationals for mistreating talent").
---
Of supporting the creation of an actor's union, Atiqa Odho says: "It's not only about ensuring actors are paid and paid equally. It's about improving the business, the ethics and the quality of our programming."
---
"People have asked me why actors in this country feel the need to unionize. I ask them 'If an actor lets you down by not showing up or being committed — supposing you are producer or a network — don't you want to have a place to go? It's not only about ensuring actors are paid and paid equally. It's about improving the business, the ethics and the quality of our programming," says Odho.
ACT is in its infancy. There's still a year and a half to go before the union can apply for a trade license, which would grant it recognition (and legitimacy) in the eyes of the Government of Pakistan.
For the average reader it may seem churlish for an industry to demand equal pay when the difference in getting paid is $8 million instead of $10 million. But it's important that actresses speak out against the system by demanding their right to commensurate wages.
Making a lot of money shouldn't be a bar to asking for more money and, frankly, actresses enjoy a platform and position of power from which they can make the specter of equal pay an important issue not just for the already rich and famous but for all women.
"Women have always given in and they have not stood up against [unequal pay] individually or collectively. If they do not agree with what they are being paid, they can just refuse to do the project until they are paid what they want. Women demand far less than what they deserve and so are paid accordingly — they need to know their own worth and not settle for anything less than what their worth is," notes Saeed.
"Things are changing. A large number of well-educated actors and actresses have the desire for things to be run more professionally. A certain work ethic is taking shape and we are working towards developing better working conditions and standardized contracts that will benefit the industry as a whole," points out a cautiously optimistic Bayat.
It's a globally acknowledged fact that virtually every industry in the world (save for modeling and porn) pays women less than their male counterparts.
In fact, the lowest paid actor on this year's Forbes' Top 20 list (Matt Damon at $25 million) would be third on an equivalent actresses' list.
Similarly, even though 2014 was the Year of Women in Bollywood, with box office hits and packed cinema houses for female-centric films like Queen, Mary Kom and Mardaani, India's current most highly paid actress Deepika Padukone (who signed a film for 70m rupees), is still making a tenth of her male costars.
Sure, in its current incarnation, Pakistan's entertainment industry pales in comparison on all fronts against the giants that are Hollywood and Bollywood.
But, a fight for women in film is a fight for women everywhere.
Perhaps when a women-centric film as a box office success story becomes the norm and not a novelty, the pay gap will inevitably begin to narrow. But until then, to quote yet another disgruntled, underpaid female actor, "change has to start with regular pay, not just for movie stars, but regular pay for the regular woman in the regular job."
---
Additional reporting was conducted by Images Staff