Yesterday's finale cemented their characters Wali and Faarah's position as the 'It' couple on Pakistani TV
Screen chemistry is difficult to define; a strange, elusive equation that defies logic.
Some actors create magic on screen when they may be nothing more than casual acquaintances when the camera stops rolling. The opposite is also true: some couples may be in a relationship but can never quite project the intensity on the screen.
While many actors share a good rapport, there are some couples that audiences just can't get enough of. The drama serial Humsafar is a great case in point where the screen chemistry between Fawad Khan and Mahira Khan as Asher and Khirad kept the entire country enthralled. Imran Abbas and Sanam Jung are another popular couple that keeps the drawing the crowds in serials like Dil-e-Muzter and their latest hit Alvida .
Hum TV's latest super hit serial Diyar-e-Dil has been trending on Twitter and the biggest reason is the equally super hit jori of Osman Khalid Butt and Maya Ali as Wali and Faarah. These two are old favourites, wowing viewers with their first pairing in Aik Naeey Cinderella and then winning hearts on both sides of the border with their spectacular screen chemistry in the blockbuster Aunn Zara.
Osman Khalid Butt and Maya Ali bring a fresh, modern flavour to every couple they play. Their witty, no-holds-barred verbal sparring and smart aleck one-upmanship keeps audiences coming back for more. Recently, we caught up with them to find out what exactly makes them tick!
Osman Khalid Butt
What advice would you have given to Wali?
Stop fretting over Agha Jaan's health; he'll probably outlive you and your saat pushten.
Oh, and this is less advice, more warning: beware the infamous Faarah-waterworks.
What has been your most difficult role so far?
Probably Mayer (from Aik Nayee Cinderella). The transition from stage to screen was particularly difficult; reining in both expressions and body language.
Your favorite Hollywood actor?
This is a difficult one: I'd say Johnny Depp, particularly for his brilliant turns in Ed Wood, Fear and Loathing in Las Vegas, Sweeney Todd, and a childhood favorite: Edward Scissorhands. He's such a malleable actor; the way he sinks his teeth into every role is inspiring.
There are other actors on my perennial favorites list because of just one film: like Jack Nicholson for The Shining, Anthony Hopkins for Silence of the Lambs, and Bjork for her devastating turn as Selma in Dancer in the Dark (aka my favorite film of all time.)
As you can see, I am drawn to the macabre and the twisted. Which really says a lot about me, (unfortunately).
Your favorite Doctor (from Doctor Who)?
It's a tossup between David Tennant and Matt Smith, but I'll go with the former because of the sheer gravitas Tennant brought to the Doctor's sweeping monologues. Also because some of my favorite episodes are from his era (though the best episode was ironically a Doctor-light Blink, which I urge even non-fans of the show to watch.)
What would be your superpower?
Why just the one: just give me an unlimited supply of NZT-48 (the 'smart' drug from Limitless). But if I had to choose, telepathy.
What do you really, secretly, truly, deeply wish people understood about you?
That I'm not 'difficult' or complicated, just a bit intense at times.
What leaves you speechless?
A well-constructed, well-rounded argument. A great performance, particularly on stage.
Glamorous party with the stars or a night out with a few good friends?
Definitely the latter. Specifically (nerd alert!*) game nights – from *Taboo to Avalon, Citadels to King of Tokyo, Ticket to Ride to Archipelago (*told you) – with close friends.
What would be a deal-breaker for you in a relationship?
The lack of personal space – and an absence of wit.
Are you a man with a plan or do you take life as it comes?
I'm a man who lives vicariously through his daydreams. Seriously, though, while I do have a loose five-year-plan, life throws so many curveballs it's hard to stick to them.
When you are sad what or who makes you smile?
The solace I find in a good book. My siblings. Re-watching Arrested Development.
What kind of role do you wish producers offered you?
An amazing horror-movie villain a la Freddy Krueger (a man can dream). I'm drawn to negative roles – but only if they're fully fleshed-out ones.
Sri Devi or Madhuri Dixit?
Sri Devi, always and forever.
Music that moves you?
Anything that has violin as a central instrument and powerful lyrics. Generally I prefer stripped-down, melancholic melodies.
Slytherin or Gryffindor?
I know Gryffindor's a popular choice but I'd be a Slytherin-Ravenclaw hybrid.
Your satires and v-logs (for example, the Humsafar parody) are famous; what is the purpose of satire, to make us laugh or to make us think?
Both, most definitely. (Thus spake the great satirist?)
Who don't you want to be in ten years' time?
Haha, single? Honestly it's been so long I've been in a committed relationship I've forgotten how to ride the proverbial bicycle.
But on a serious note: I don't want to look back and regret the risks I didn't end up taking; the thoughts and ideas that never materialized.
Shalwar-kameez or jeans and a t-shirt?
Jeans and a t-shirt. Shalwar-kameez ki saari kasar Wali pe poori kar di hai.
The book you keep going back to read?
Most of Stephen King's works, but particularly The Shining or It. These days I'm revisiting The Long Walk. The Hitchhiker's Guide to the Galaxy. (#dontpanic) Bridget Jones' Diary for a quick laugh (sorry I'm not sorry)
Have you ever been in love?
Fewer times than I should have been.
Maya Ali
What advice would you have given to Faarah?
Faarah has to believe in the purity of her heart. She will definitely get her love.
What has been your most difficult role so far?
Without any doubt, Faarah! I never thought it would be so difficult to perform this character, but it was.
Your favourite Hollywood actor?
Brad Pitt
What would be your superpower?
Good question! Wish I could read minds and see inside hearts.
What leaves you speechless?
When I know I have been betrayed...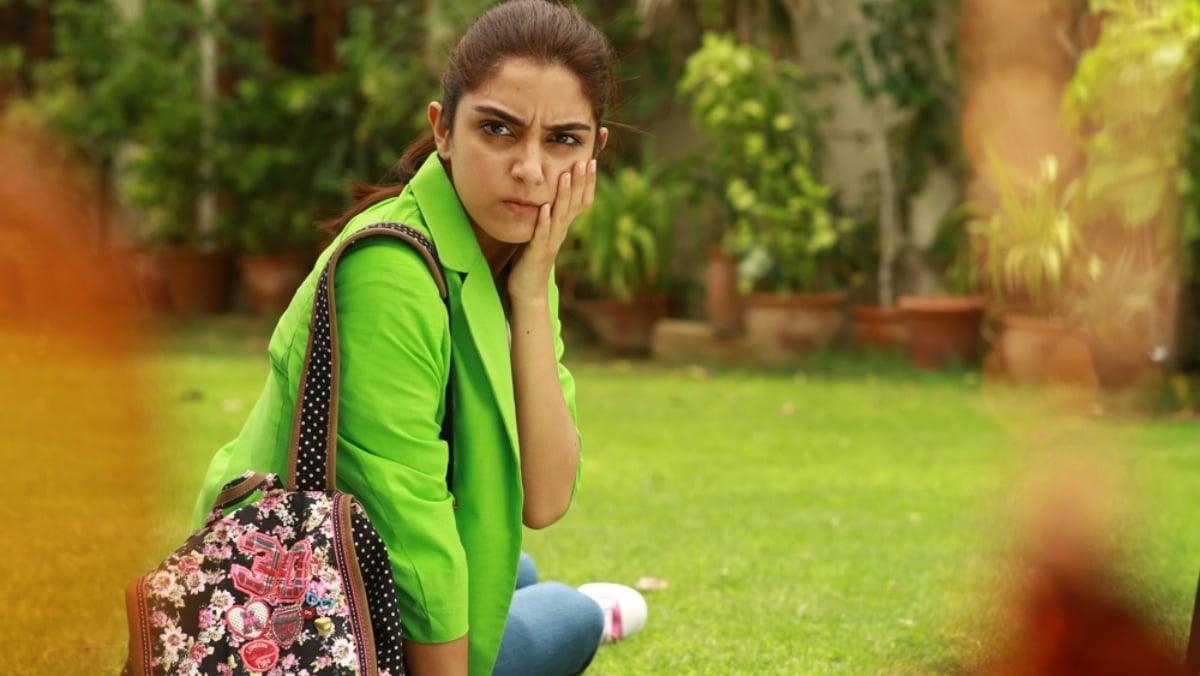 What do you really, truly, secretly wish people understood about you?
I am not an overactor! [Laughs]
Catwalk glamour queen or sweet girl next door?
You won't believe me, but both.
What would be a deal-breaker for you in a relationship?
Dual behaviours and selfishishness
Are you a planner or do you take life as it comes ?
Well, I always plan things and make them work according to me.
When you are sad what makes you smile? What's your remedy for a bad day?
Music and long walks are my remedies.
What kind of role do you wish producers would offer you but don't?
I wish they would offer me a proper negative role. Actually I liked Deepika's role in Cocktail. It was so different. And I want to play a girl who cannot speak.
Asher (from Humsafar) or Pyaray Afzal?
Without a doubt, Pyaray Afzal!
Music that moves you?
It depends on my mood.
Your all-time favourite movie?
Dil Walay Dulhaniya Leyjayge
Who DON'T you want to be in 10 years' time?
That is a tricky question! Hmm, let's say... I don't want to be a politician! [Laughs]
Are you an organic actress or a director's actress?
I think it is very important to be a director's actress and I am totally a director's actress.
Shalwar Qameez or Jeans and a T-shirt? Again, both!
What are you afraid of?
Everyone has to leave this world but the biggest fear in my heart is losing my parents.
Have you ever been in love?
I won't lie... I have once.