Fashion isn't dead and the second day of the TDAP show at Expo Centre Karachi proved it.
You can't say that fashion is dead in Pakistan. Designers may have become too commerce-oriented and the number of fashion shows taking place every year may have dwindled abysmally but you can't denounce fashion altogether. Not when every now and again, there are collections that entrance and excite. The second and final day of the TEXPO 2023 fashion show organised by the Trade Development Authority Pakistan (TDAP) featured a few such collections.
There were seasoned veterans making a comeback to the spotlight, young designers making interesting statements and even a show, curated by students, which stood out. On the other hand, there were other collections that very evidently lacked basic design know-how, with generic, badly-fitted clothing scattered out on the runway. There were some fantastic designers and some abysmal ones.
So, there were highs and lows. There have always been highs and lows. Fifteen odd years ago, when I was reviewing fashion weeks, back when they were still in their fledgling years, I would write about highs and lows. The reviews continue to be the same. Fashion may not be dead, but the industry, overall, hasn't really progressed in terms of design — although it has mushroomed into a giant, retail-wise.
Here's a look at the designs showcased on the second day of TEXPO 2023, the good ones and the bad ones.
Shamaeel Ansari
Shamaeel Ansari has always marched to the beat of her own drum. It's what one has always appreciated about her designs and what draws clients to her atelier. The fashion industry at large may bandwagon onto whatever is trending at the time but Shamaeel will always create what is true to her aesthetic.
Shamaeel's show, the first in a long designer lineup, was a testament to the elements that define her work — bold floral prints, unique embroidery patterns and a mixing and merging of rich hues. There were dresses, edgy coords, elaborately collared shirts, jackets and frequent references to the Orient.
Fierce, vivacious, glamorous — it was a powerful start to the day.
MEME
The power trip was short-lived.
High-street brand MEME trooped out on the runway, simply having taken off clothes from retail racks and fitted them on to models. There was no apparent effort to amp up the designs by means of styling, which is strange considering that the clothes were quite casual and uninspiring.
Perhaps the only memorable part of the show were the sweet little girls and boys that came out walking with the models.
Indus Valley School of Art and Architecture (IVS)
The students of IVS came and conquered. With a series of well-conceived, edgy designs, they banished the myth that collections from fashion schools are meant to be entirely experimental and not necessarily appealing.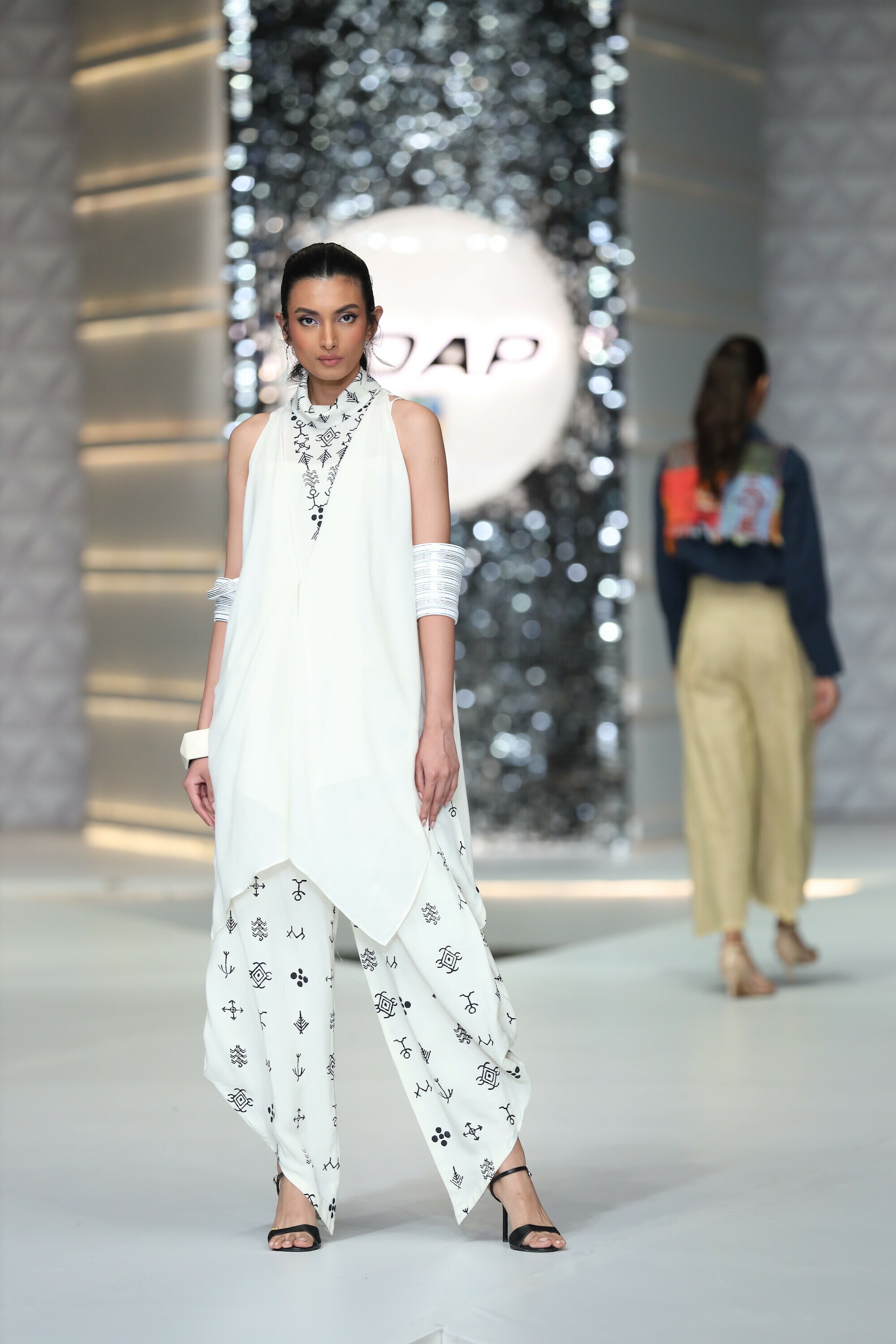 There was layering, reconstruction of ageing denim, fabric manipulation and experimentation with silhouette. The asymetric skirts, jackets, flowing capes and easy breezy cowl shalwars were all refreshing.
On a personal note, as a critic, the collection prompted me to heave a sigh of relief. One wants to support fashion's emerging lot of young designers but it becomes nearly impossible to do so when they present atrocious collections on the catwalk. The IVS lineup exemplified a range of skills while also showcasing design that you'd want to buy, right there and then.
Almirah
Almirah took a departure from the minimal, very wearable kurta-shalwars that one associates with its high-street stores and chose to dabble with men's Western suiting and some inventive takes on the kurta shalwar.
The waistcoats worn over the kurtas looked good and will sell well. They weren't impactful enough, however, for the catwalk. The Western-wear, on the other hand, lacked finesse in stitching — something which is so absolutely necessary for menswear.
The best part of the show were celebrities Jan Rambo and his son Ahsan Afzal Khan walking out as showstoppers and Rambo doing a little happy jig for the cameras. Gotta love that guy. When the clothes aren't great, the celebrity helps in selling the show.
The Pink Tree Company
There was colour and monochrome black and white, bursts of blingy embroidery and traditional gold and silver chhapa, clothes that you'd wear to an island vacation and others that you'd twirl out on Eid.
The Pink Tree Company lineup started off with ebullient prints created by Mahin Hussain emblazoned on flowing shirts and pants, followed by pastels worked with silver and gold and then, a range of party dresses, with traditional resham, sequins and dabka etching on quirky, untraditional patterns. One spotted a stork, an elephant, a reindeer, little whales and whimsical butterflies flitting about the silk canvas.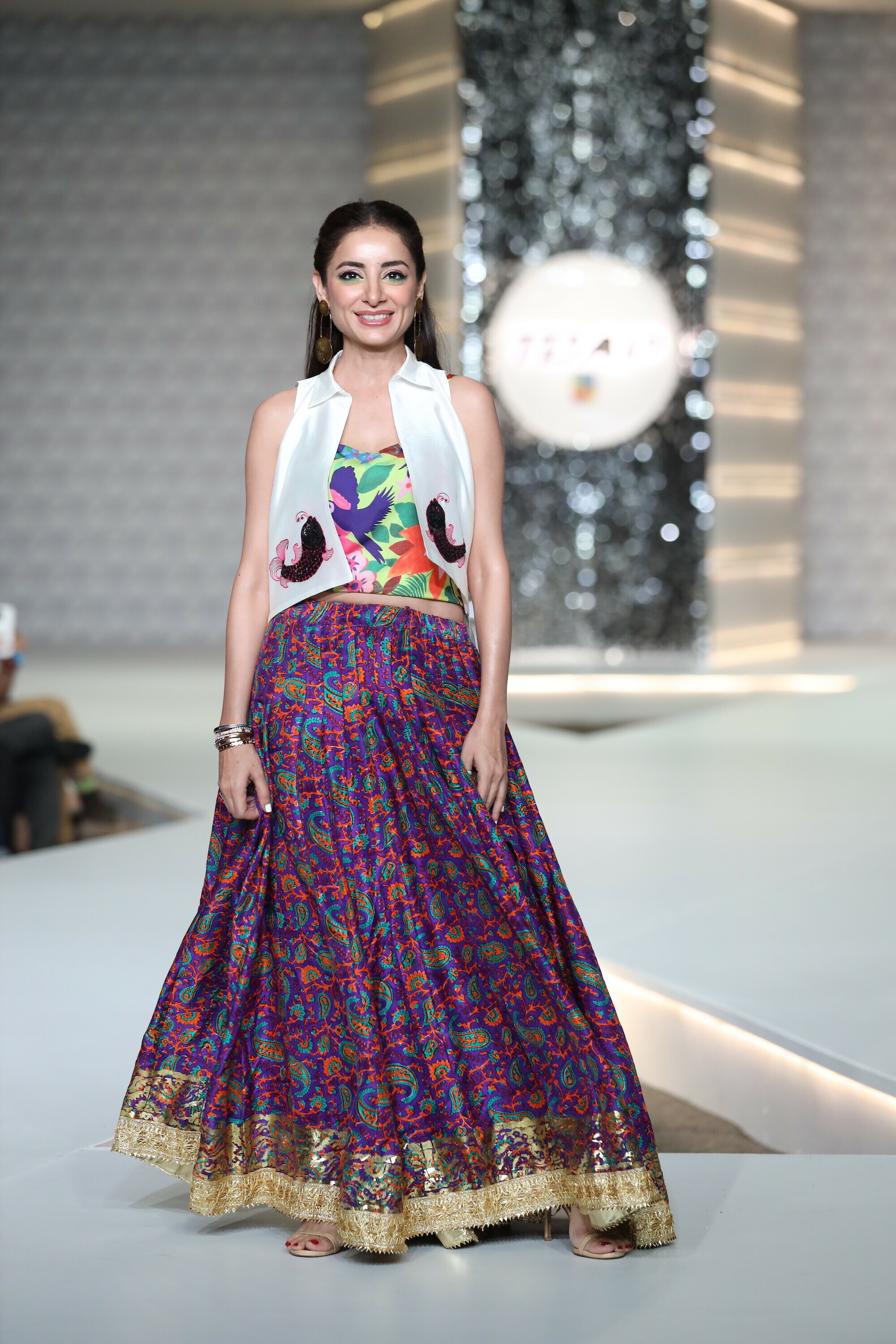 Showstopper Sarwat Gillani wore an outfit that combined all three design aesthetics seen in the collection. Nevertheless, while I loved The Pink Tree Company's effervescent spin on design, the collection lacked cohesion. What made up for it was the fact that all the clothes really were quite lovely.
Sanam Chaudhri
We need to see so much more of Sanam Chaudhri on the catwalk. The designer has a unique high fashion signature and an effortless eye for design. She tweaks silhouettes and pattern and plays with colour with a confidence that one only associates with genuinely intuitive design. I have often admired Sanam's ethos in the shoots that she frequently puts out on social media and it was all the more evident when highlighted on the catwalk.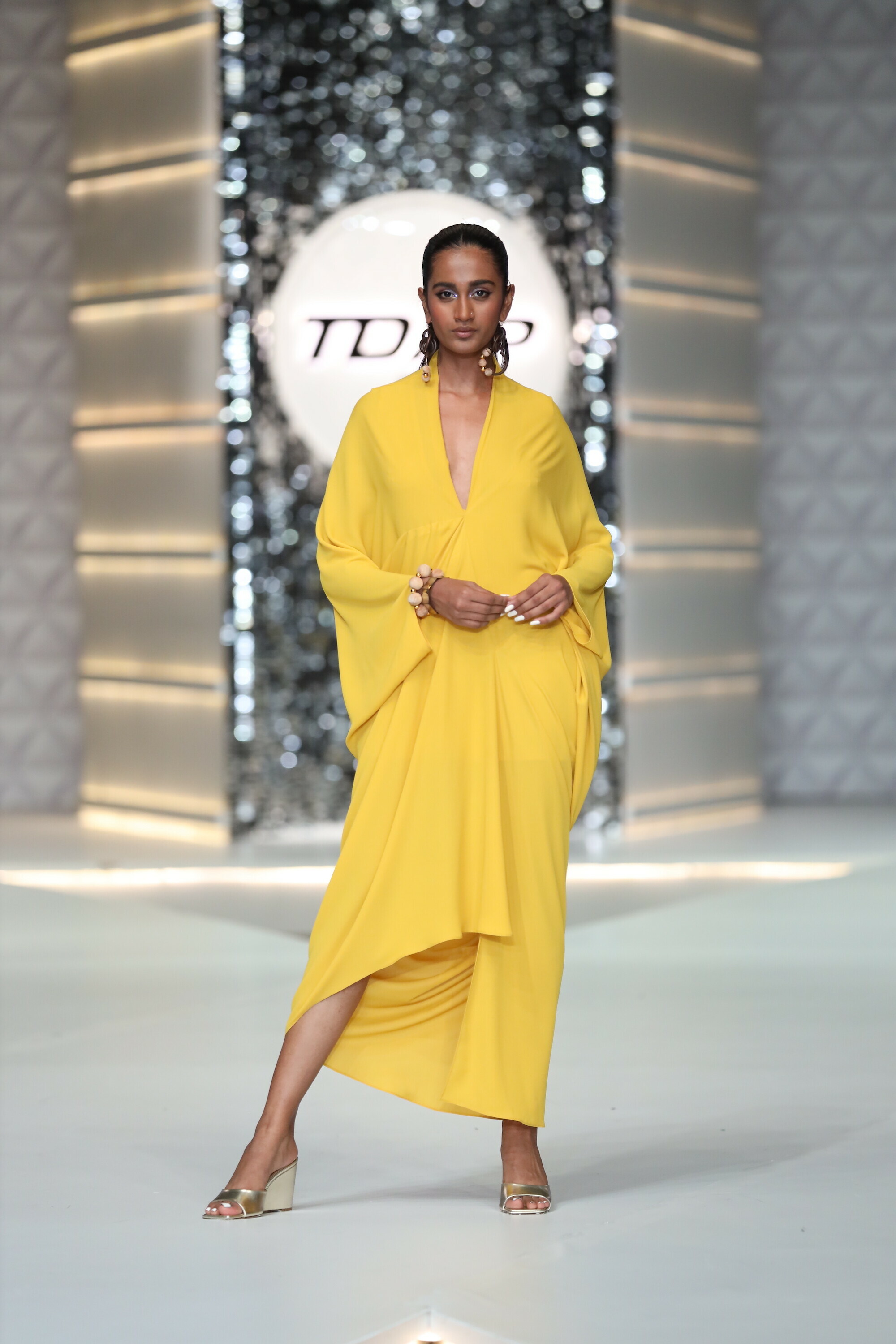 These were designs that swept you off to a party in the summer — preferably on an exotic island. Cotton and crepe in brilliant colours were moulded into dresses and slouchy, elegant tunics. The focus was entirely on the silhouette, with clamp and resist dyeing adding effect. There were cowl necks, laidback jumpsuits, dresses, sarong skirts, kaftans, breezy thigh-high harems and wide-legged cowl pants.
Eschewing the domains of embroidery altogether, relying solely on sartorial expertise, these were clothes that you wanted to have in your closet — even if you weren't going to a summer party on an exotic island.
Parishae Adnan
The young Parishae Adnan, daughter of stalwarts Amir Adnan and Huma Adnan, is slowly and surely building her design career with successive shows and collections. And over time, one is beginning to realise that her designing vision is fierce and unabashed.
These weren't clothes for the shrinking violet. I liked the straight high collars, the sleek pants, the neatly-cut blouse with the tapered sari and the gender fluidity exhibited in the shirt and pant sets. There were other designs that I didn't find perhaps as striking but regardless, I feel that Parishae's strength particularly lies in the neatness and finesse of her design. The collection was very well-stitched — it might be a skill that she has learnt from her father, whose atelier has always been associated with impeccable cuts.
Diner's
Shortly afterwards, in the Diner's show, the stitching went amiss. The collection focused on Western menswear and therefore, it was to be expected that the pants would fit just right. They very glaringly did not in some of the outfits. And what was the point of showing basic tees and polos with pants?
How does all this befit the catwalk? Even if you're a high-street brand, you have to create some elements of drama on the runway in order to make an impact.
Textile Institute of Pakistan (TIP)
If this collection was indicative of what is being taught at the Textile Institute of Pakistan (TIP), then the future of Pakistani fashion really is quite dark. There were badly stitched gowns that you'd associate with a darzigner (desi fashion lingo for a tailor trying to be a designer) rather than a designer. There were jackets that didn't fit well and dresses that were instantly forgettable.
Whatever are students being taught? And don't they vet their collections before they declare them to be worthy of the spotlight?
Spartan Athletics
Finally, a high street brand got the memo on how to put out a show.
It helped that the sportswear created at Spartan Athletics was very well-constructed, fitting the models just right and mixing basic monochromes with pops of neon. Jackets and loose sweatshirts were tied up over sports bras and fitted T-shirts. Models wore caps, sunshades, exercise bags and headphones around their necks; accessories that fit well with an exercise brand.
With fitness becoming an increasingly essential lifestyle choice and the rise of athleisure in fashion industries around the world, the Spartan show was a great addition to the lineup. Shoaib Malik walked out in the end as showstopper but even without the celebrity appeal, the collection was a good one all on its own.
Ali Xeeshan
There is an irrefutable energy to an Ali Xeeshan show, an innate joie de vivre that makes you wait in anticipation for the designs as the initial music begins to play out on the catwalk. The designer himself has everything to do with this. Ali, for as long as I have known him, has always been excited by design and creating theatrics on the catwalk. He'll devise new ways of accessorising and creating drama, come up with accessories and a back-story for the collection. Ultimately, his innate belief in all that he does makes you want to believe in him too.
On that tangent, the hearts and the stars and the caricatures on the clothes may have only looked zany if created by some other designer — but Ali Xeeshan made them look like statements. The collection was a mixed bag — there was a bit of active-wear, a range of funky easy breezy kurtas, jumpsuits, saris and heavily embellished wedding-wear. Ali's signature bold floral embroideries nudged shoulders with shiny stars in gold and silver, hearts, asymetric printed stripes and another print which appeared to be a caricature of Ali.
The models clutched stuffed toys in their hands as a nod to Tinkoo, an organisation dedicated to educating underprivileged women in Baltistan. Six per cent of all the proceeds from the sales of the collection are going to be dedicated to the organisation.
Was there any cohesion in the lineup? Not really. Ali evidently just put forth clothes that he felt would fit into the TEXPO narrative. The wedding-wear acted as embroidery samples that could be ordered by exporters and the knit-wear and prints are all part of his brand, most of them available on order through his e-store.
It was certainly not the best Ali Xeeshan collection that I have ever seen. But it worked really well as the show's finale because of the energy that it had. Ali walked out in the end with his showstoppers — stylist Tariq Amin and director Adnan Qazi — holding a blackboard that read "Pakistan Zindabad". It made for a great visual marking the end of TEXPO2023 — a designer and the models wearing his collection, surrounded by gold and silver confetti, holding the blackboard high.
But can we also say "Fashion Zindabad" at this point in Pakistan? I am not too sure. Pakistan's fashion fraternity is headlined by some brilliant designers but outnumbering them is an entire entourage that will probably never figure out how to cut a neat pant or stitch together a gown or the importance of neat finishing.
Will they ever learn? Fashion Zindabad, yes — like I said in the beginning, the industry isn't dead — but for how much longer?